In general, I'm a perennial type of girl, being the most pleased over the reliable hard workers in my garden that get bigger and better each year, without a lot of care from me. Oh, who am I fooling? I get excited over any tree, shrub, plant, or bulb that catches my eye for any number of reasons. But this time of year, it's the bulbs that get my attention.

Two autumns ago, I got into a friendly bulb planting frenzy with Christopher Tidrick (From the Soil), and we both ended up planting over 1000 spring bulbs. Each. It was a friendly competition - the kind where both people win. We had fun watching the succession of blooms that ushered in the long-awaited spring.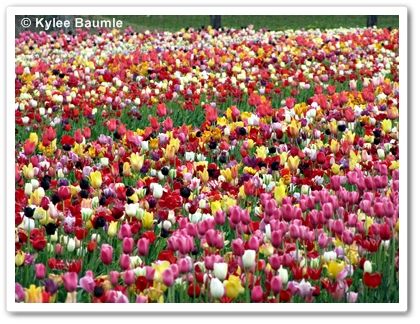 One of the tulip fields in Holland, Michigan
I was never much for tulips - the hybrid types - until
I made my first pilgrimage to Holland, Michigan in 2010 for the annual Tulip Festival
. We hit it just right that year, with the mid-season bloomers in full swing and the late-seasons just beginning. It was glorious.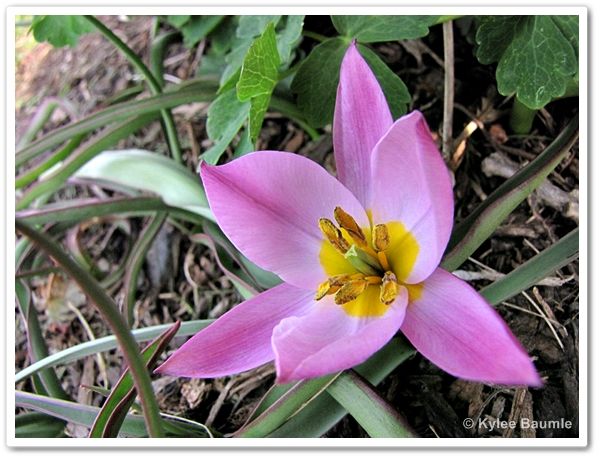 Tulipa bakeri 'Lilac Wonder'
I know this will come as a shock to some of you, but tulips didn't originate in The Netherlands. And the species tulips don't look like their hybrid descendants, though they do resemble them. They're much smaller and the foliage is more grass-like than the big-leaved, large-bloomed hybrids. There are 16 divisions of tulips, and species tulips are grouped in Division 15. They can be grown in Zones 3-9, depending on the variety. See? You
can
grow that!
Species tulips are native to the higher elevations of what is now Turkey, as well as northern Africa and central Asia. In fact, tulips didn't arrive in The Netherlands until the 16th century, when they began hybridizing them. Then, in the 1630s, the tulip became so prized that it became a means of currency and the phenomenon known as
Tulipomania
began. Fortunes were made and lost on the tulip during that decade.
I discovered species tulips about five years ago and I fell in love with them. The colors are vibrant, the diminutive blooms are charming, and they return and naturalize quite reliably in my Zone 5b garden. Today, I have somewhere around a dozen different varieties of them.
In this crazy winter/spring, the species tulips have begun emerging from the earth earlier than usual. It will be several weeks before they bloom, but oh, when they do...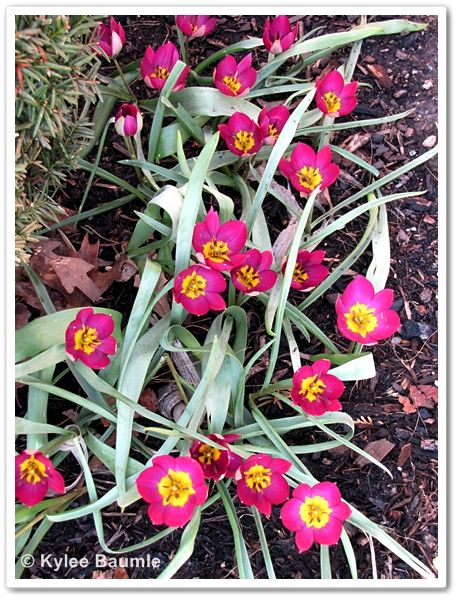 Tulipa humilis 'Persian Pearl'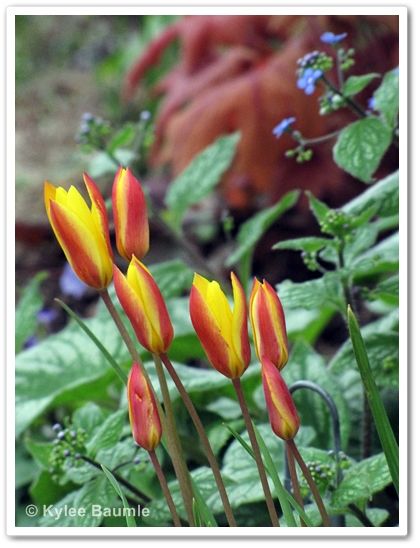 Tulipa clusiana var. chrysantha 'Tubergen's Gem'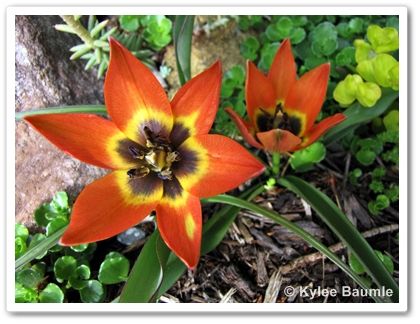 Tulipa hageri x aucheriana 'Little Princess'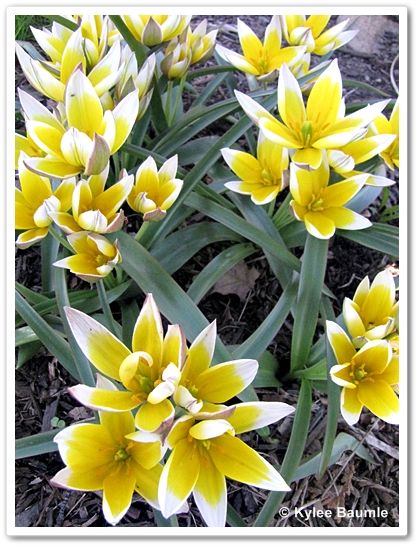 Tulipa tarda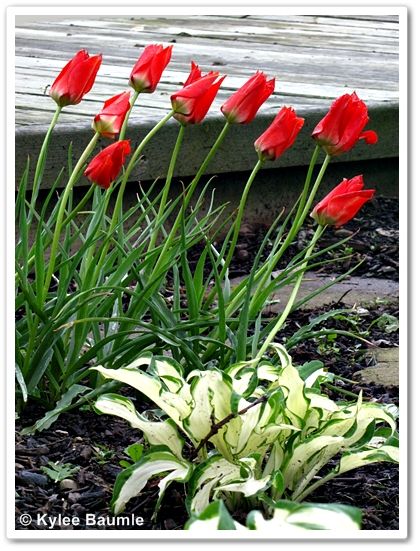 Tulipa linifolia 'Red Gem'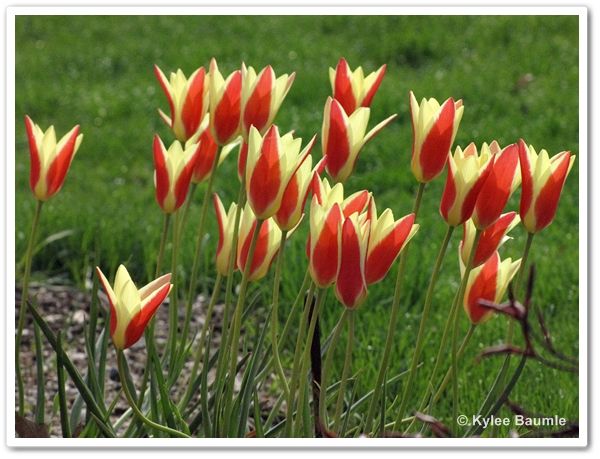 Tulipa clusiana 'Tinka'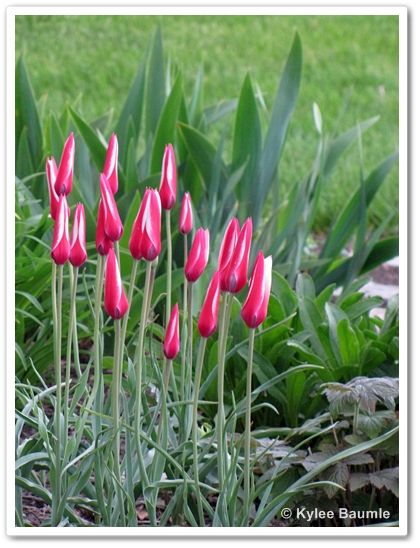 Tulipa 'Lady Jane'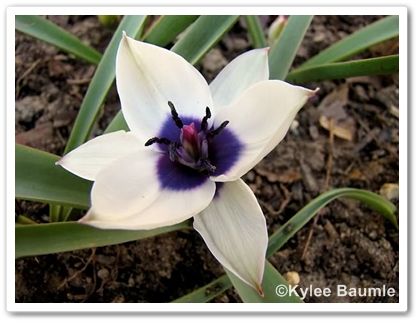 Tulipa humilis alba coerulea oculata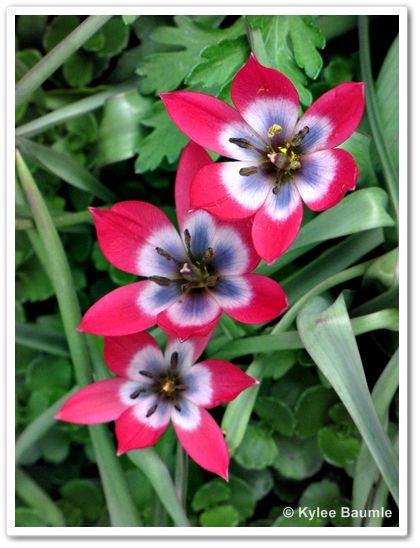 Tulipa hageri 'Little Beauty'
(My favorite!)
~~~~~~~~~~~~~~~~~~~~~~~~~~~~~~~
You Can Grow That!
is a blogging meme begun by C. L. Fornari (of
Whole Life Gardening
), in which bloggers post about a favorite plant, a favorite gardening activity...anything that encourages others to just grow something! Join in on the 4th of each month!