If there's one thing that nearly all gardeners have in common, it's that we try to grow things that we know darn well aren't suited for our gardens. There are various reasons why we do this, but mostly it's because we see a plant that we love and we want it. It's sort of like falling in love with someone that we know isn't good for us, but we can't help ourselves, even when we know that down the road we're likely to part ways. We think with our heart and not our heads. Don't we all have "favorite mistakes?"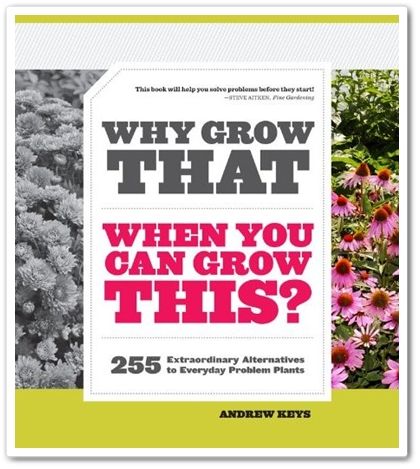 Andrew Keys has help for us. Not for the human kind - you're on your own there - but he's written a book that suggests other choices when it comes to choosing plants for our gardens.
Why Grow That When You Can Grow This?
takes a look at those plants that we've had, we have, or we want, for which there are alternatives that may work better.
Be prepared to change your way of thinking though, because sometimes he suggests plants that do not give the same appearance as the one it's supposed to replace. For example, one that jumped out at me personally was
Daphne
. It's a beautiful little shrub that I tried to grow one year and by spring, it was dead. Anyone who has tried to grow this and failed is in good company.
Daphne
is definitely a fussy plant and if you happen to satisfy its needs and grow it successfully, you can pat yourself on the back and thank the plant gods. That's what I'm doing right now, as my
Daphne burkwoodii
'Carol Mackie' just finished its second summer (and what a brutal summer it was!) and prepares to deal with its second winter here. It's looking quite good.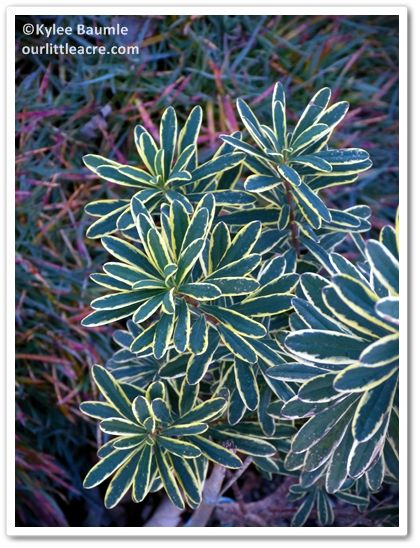 Daphne burkwoodii 'Carol Mackie'
Since I wanted to grow this
Daphne
because I love the little ivory-edged leaves, the alternatives to it that are suggested really don't appeal to me, since they don't give the same look. Still, if you can't grow it, then the Carolina Allspice (
Calycanthus floridus
) or Summersweet (
Clethra alnifolia
) might work in its place if you can keep them trimmed to stay on the small side. Daphne's mature size is just 3-4 feet high and wide.
(The third alternative, Sweet Olive (
Osmanthus fragrans
), won't work for me at all, since it's only hardy to Zone 8 and I'm in Zone 5. It also has a mature size of 8-15 feet high and wide.)
There are some plants which he declares to be problems, that for me (and possibly for you), simply aren't, by virtue of my location and particular growing conditions. But there are still some great possibilities that I never would have considered had he not brought them to my attention.
It's nice to have this as a source book for choosing plants for my garden when I'm tired of pandering to something I already have or I'm ready for a change. Andrew's book can be a help towards gardening smarter, not harder!
The Giveaway!
Timber Press has graciously agreed to give a free copy of
Why Grow That When You Can Grow This?
to one of my readers! To be entered in the giveaway, just leave a comment to this blog post, telling me what the biggest problem plant in your garden is that you still grow for whatever reason. (You can share that too, if you want to!) Also be sure to provide some way for me to contact you if you're the winner.
Enter by midnight EST on Friday, December 14, 2012, and then I'll use Random.org to pick a winner.
UPDATE:
We have a winner! I used Random.org for winner-picking and it chose
Pamela
! Please contact me at ourlittleacre at gmail dot com with your mailing address so that Timber Press can send your book to you.
Thank you to all who entered! I've got another giveaway coming up very soon! And thank you, Timber Press, for providing a copy of Andrew's book!
______________________________
Timber Press provided me with a free copy of Why Grow That When You Can Grow This? for review. All opinions are my own.