We've been thrilled that Pippa has been laying eggs for over two weeks now. She's given us an egg for 13 days out of the 16 that she's been laying. Since all our hens are within a week of each other in age, I've begun to wonder when the others will start laying, too. I expect to find two eggs one of these days when I check around mid-day.


Pippa, one of our Silver Laced Wyandottes
I was working outside today near the coop, around 11:30. Pippa hadn't laid her egg for the day yet, which wasn't really unusual, as she varies the time of laying. It's usually by noon, but a few times it's been mid-afternoon. I happened to notice that all the hens were in the run as I walked by and only Pippa was in the coop. I peeked in and I saw her go into one of the nesting boxes, so I figured she was going to lay.
Sure enough, when I checked about 10 minutes later, she'd laid an egg and was out in the run with her coopmates. I love when I can gather that egg and it's still very warm from her body!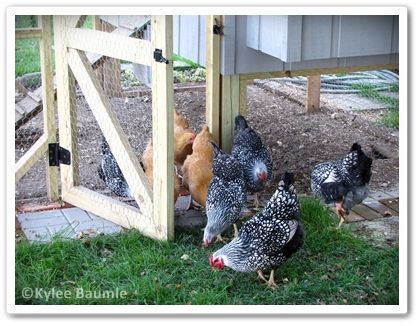 The girls are let out for recess!
We've been letting the hens out of the run to free-range for half an hour or so in the last few days. The weather has been glorious and they seemed like they wanted a bit of freedom. We've only done it when we're there to keep an eye on them, although they haven't wandered far from the coop at all. It's fun to see them wander about, scratching and eating grass and bugs and the crab apples that fall from the tree beside their coop.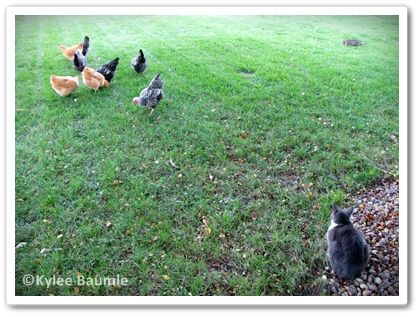 Lily watches the hens from the upper right and Jack keeps an eye on them
at the lower right.
I put them back in before we left to go to town for a few hours. When we returned, I went out to shut the hatch door to the coop and make sure they had food and water. I opened the large doors at the back of the coop and noticed an egg laying on the floor by the food tray! I filled the tray and picked up the egg...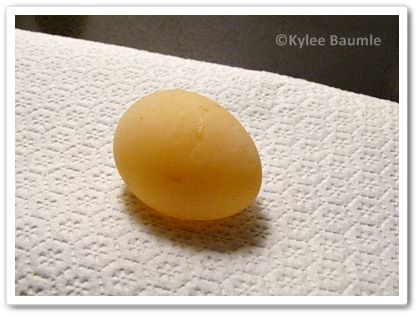 It didn't feel right. There was
no shell
! I'd heard about shell-less eggs, in fact, someone had asked me if any of the first eggs that Pippa had laid were missing a shell. (No, none were.) Since Pippa had laid an egg around 11:30 this morning, I figured it wasn't laid by her. Plus, Pippa has laid the last 11 eggs in a nesting box.
So, it would appear that one of the other hens has begun to lay eggs! Apparently, it's not uncommon for this no-shell thing to happen when a hen begins laying. We'll see what the next few days brings. In the meantime, I'll add this to a couple of Pippa's eggs and scramble them for breakfast tomorrow.
Yes, it's safe to eat an egg that is missing the shell, as long as it's eaten soon and the membrane isn't leaking. It's not; in fact, it's a pretty thick membrane. The egg feels like a water balloon!