When we moved to Our Little Acre, one of the drawing points was the mature trees on the property. There were four huge oaks and one shagbark hickory tree. When I say huge, I mean oak trees that have been estimated to be over 200 years old.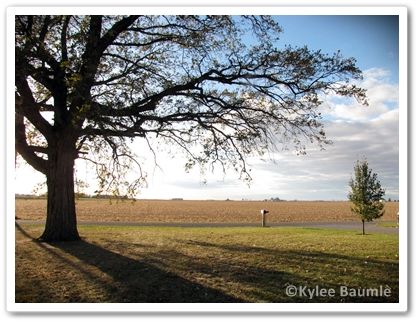 Our property was once native woods and it wasn't that long ago (1975) that it was cleared a bit to make room for homes to be built. But five trees on an acre aren't that many, no matter how large they are. We immediately began to plant trees of our own the year after we moved in (1977). We are still planting trees, and we tell people we're "rewoodsing the woods."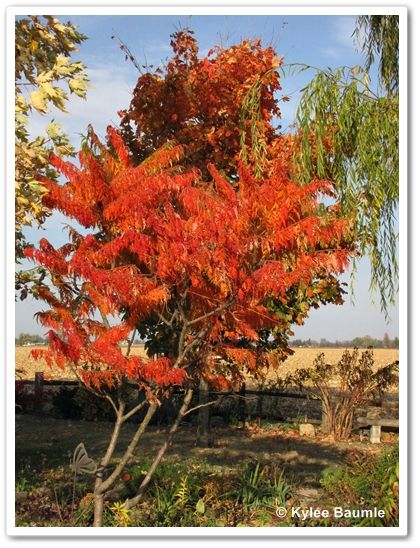 This Staghorn Sumac (Rhus typhina) always
lights up Max's Garden in the fall.
We now have close to 100 trees on Our Little Acre, including ginkgo, sweet gum, Washington hawthorn, maple, willow, ash, cedar, crabapple, ornamental pear, white pine, larch, buckeye, apple, cherry, spruce, bald cypress, dawn redwood, sumac, dogwood, serviceberry, and more oaks.
Some of the trees have special meaning to us. The buckeye tree was a gift from my parents on the birth of our first child, Kara, in 1980. A white pine was carried home in a suitcase from Maine in 1979 and now towers more than 30 feet over our home. A small oak was harvested from Romie's parents' farm. A cornelian cherry is a descendant from one that Indiana author Gene Stratton Porter planted in her own garden in Rome City, IN. A Japanese maple was a gift from my 96-year-old grandmother.
It recently came to my attention that there's a new organization dedicated to planting more trees - everywhere, but especially in urban areas. Planting trees for the greater good isn't a new concept, so what's special about
The Grove
? They tell us:
"The Grove (www.americangrove.org) is an online community for tree enthusiasts, enabling members to share tree planting experiences and commemorate life moments online with family, friends and their communities. Members can upload pictures, videos and captions of their tree planting experiences, discuss tree-related issues and get updates on local planting events. The Grove also offers a tree match tool to choose the right tree to commemorate a special event, as well as information on planting and care tips.

The Grove is created and funded by the Georgia Urban Forest Council (GUFC), the Georgia Forestry Commission (GFC) and the USDA Forest Service and was beta tested in the Southeast in 2009 and 2010 before its national launch in March 2011. The community is now expanding to all 50 states along with three U.S. territories, and Ohio is one of the first to be included in the 2011 expansion."
Ohio's Grove is sponsored by
The Johnny Appleseed Society
at Urbana University. They are helping promote tree planting in urban areas to help preserve the urban tree canopy. To join the community in Ohio, visit the
Ohio Grove website
.
There are currently "groves" in 39 states and the District Of Columbia and the U.S. Virgin Islands. To find your own state grove, click on the
Groups
tab at the top of the home page of
The Grove
. This community can be a great source of information about planting trees, no matter which growing zone you're in.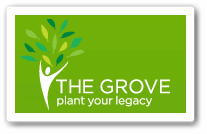 According to FTC rules, I'm disclosing that I have been compensated for this blog post. However, I only agreed to promote it because I believe in what this organization is doing and am a member myself.