This has been the ideal year for growing many things here in Ohio because we've gotten regular rains just when the plants needed them. I can't remember the last time we had a "normal" year like this and to be honest, I don't think this is normal anymore. For the last three or four years, we've had hot and dry, hot and dry, and more hot and dry - complete with a bonafide drought last year.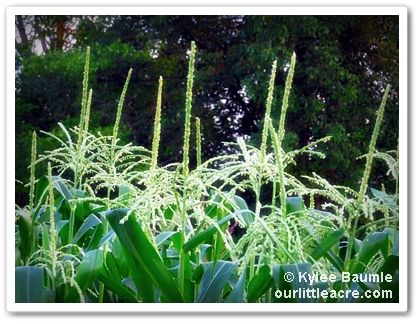 Because of those hot and dry years, and because this year has been a wet one, the corn has been drawing a lot of attention around these parts. Why? Because it looks like it's on steroids. Because it's so dang TALL!
Max's Garden here at Our Little Acre has a field as its backdrop and what is grown in that field varies from year to year. The crops are rotated as a matter of good farming practice: beans, wheat, corn - in that order. Beans fix the nitrogen in the soil and the corn that grows there after that takes advantage of it.
There was either a whole lot of nitrogen fixing going on or we've had good, nourishing rains. Maybe both? (Anhydrous ammonia helps, too.) In any case, the corn is as high as an elephant's eye. You could actually stack two of five-feet-four-inch me, top-to-toe, and the top of the tassel would be at
my
eye level.
I'm not kidding. It's that tall. And no one is trying to break any records. We're just trying to grow corn.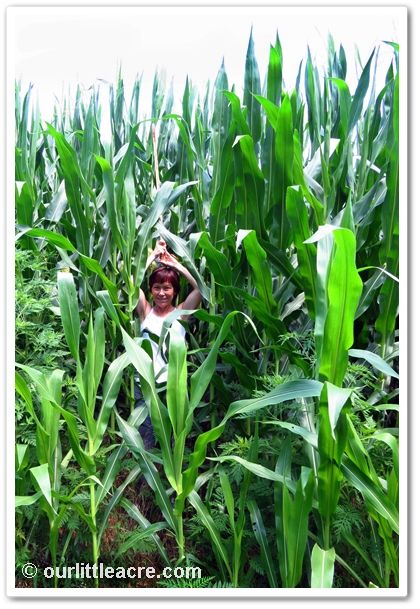 The tassels are washed out by the bright sunlight in this photo, but that's me with a
yardstick on top of my head. After Romie took this photo, I measured the corn and
it measured more than 10 feet tall! Last year's corn was lucky if it reached six feet.
I don't know if it will grow any taller, but we're going to watch it and see. According to the Guiness people, "the tallest sweetcorn (maize) plant measures 10.74 m (35 ft 3 inches) and was grown by Jason Karl of Allegany, NY, USA. It was measured on 22 December 2011."
"Oh What a Beautiful Morning"
*Edited due to repeated comments (published and unpublished) from a reader regarding my earlier version of this blog post implying ambiguity over who holds the world's record for the tallest corn. I have chosen to simply go with the Guinness report and will not edit again, nor will I publish any more comments regarding the issue of who has grown the tallest corn on record. It was not my intent to stir up trouble. A lot of people grow some pretty tall corn and my point was that the corn behind our house is taller than any I've ever seen in the 56 years I've lived here.