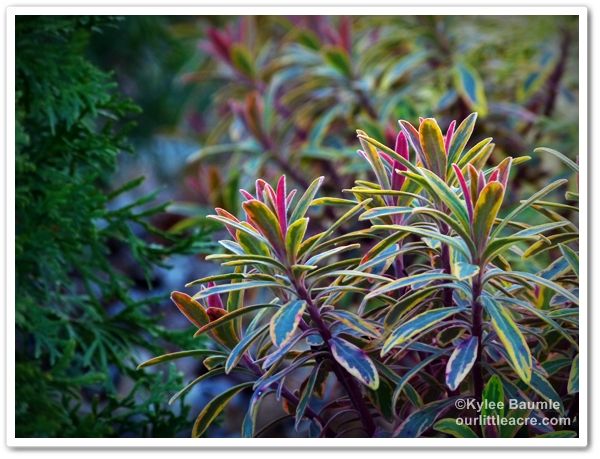 Spring growth on Euphorbia x martinii 'Ascot Rainbow'

Euphorbia x martinii 'Ascot Rainbow'
Common name:
Spurge
Type of plant:
Perennial
USDA Hardiness Zone:
5-9
Height:
18-24 inches
Spread:
18-24 inches
Light:
Full sun to part shade
Soil:
Acidic, Neutral, or Alkaline
Water:
Average to dry
Bloom time:
Spring (late April, early May in my Ohio garden)
Why I like it...
I bought this plant on the recommendation of Heidi Grasman from
Garden Crossings
. At the time that she was raving to me about it and its unique blooms, the plants I was looking at weren't
in
bloom and I'd already spent a fair amount of money on plants already. But I never forgot about her gushing over it, so when I saw it later and I had the dollars to spare, I snatched it up. Three of them, in fact.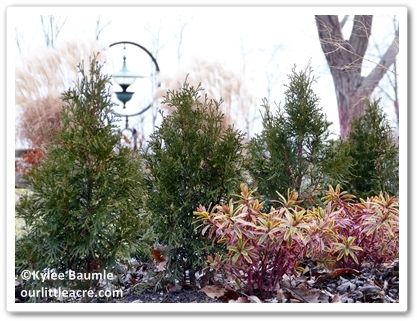 Euphorbia x martinii 'Ascot Rainbow' in winter in Zone 5b
Even if 'Ascot Rainbow' never bloomed, this is a plant worth setting aside some real estate for. I'm a sucker for variegated foliage and this plant sure delivers. Not only is it gorgeous all summer long, it sports lovely colors in the fall too. It will stay evergreen in warmer climates, but it keeps its color for the most part well into our winter here in Zone 5b too.
Now, about those flowers...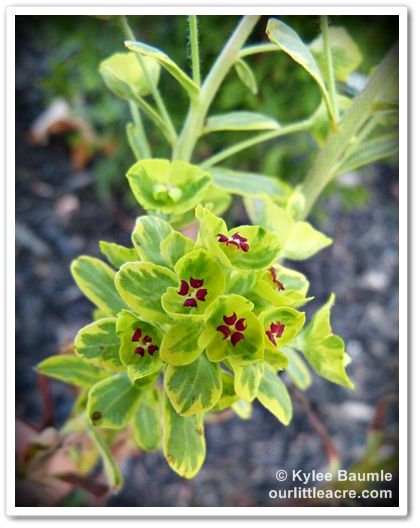 Blooms on Euphorbia x martinii 'Ascot Rainbow' grow in clusters at the ends of the stems.
This
Euphorbia
has a lot going for it besides its good looks. It's hardly ever bothered by pests or disease and it earns a spot on the deer and rabbit resistant lists. If you find
Daphne
'Carol Mackie' difficult to grow, this might be a decent substitute.
Word of caution
: As with all euphorbias, it contains a milky latex sap that can be very irritating to the skin, so wear gloves when handling it. Don't let that scare you away. You'd be missing out on a fabulous plant.