It's Garden Bloggers' Bloom Day once again, and finally we have real flowers blooming in the gardens outside! We've emerged from the depths of winter relatively unscathed, in spite of it coughing up its one final breath this week. Monday and Tuesday brought damp wet, cold, dreary conditions and we were whining as hard as it was raining at times.


I went out at the end of the work day on Tuesday, to check on blooms for Bloom Day, and there was a new one that I hadn't expected. I hadn't even seen it coming. The

Rock Cress

(

Arabis alpina

) has begun to show its petite white blooms that it will wear for the next couple of months.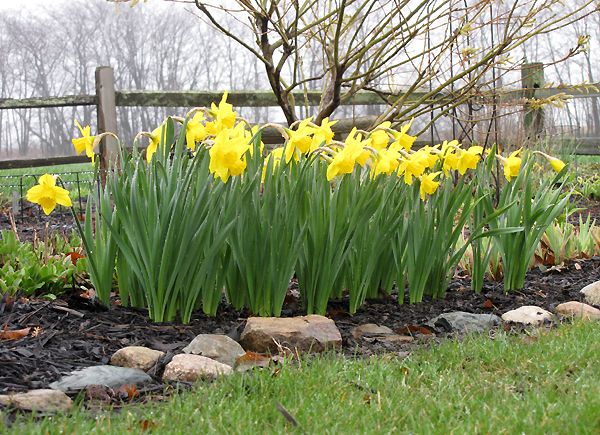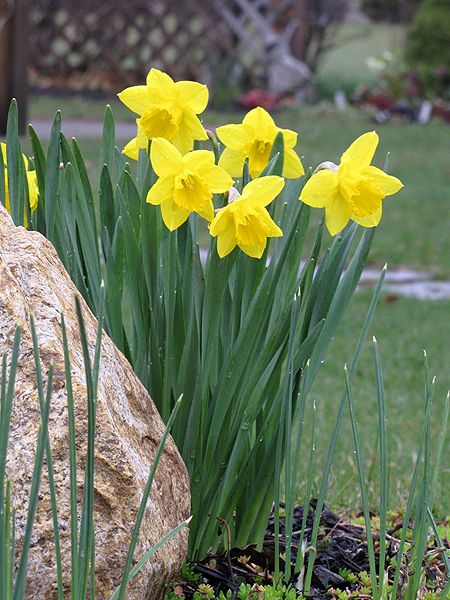 The daffodils are still looking good, although a bit waterlogged at the moment, like everything else. It's just the early ones that are blooming, but the mid- and late season daffs are putting on buds.












'Replete' is in full bloom, but I just can't post another photo of its ugliness. If you really want to see them, you can see a photo here that I took yesterday.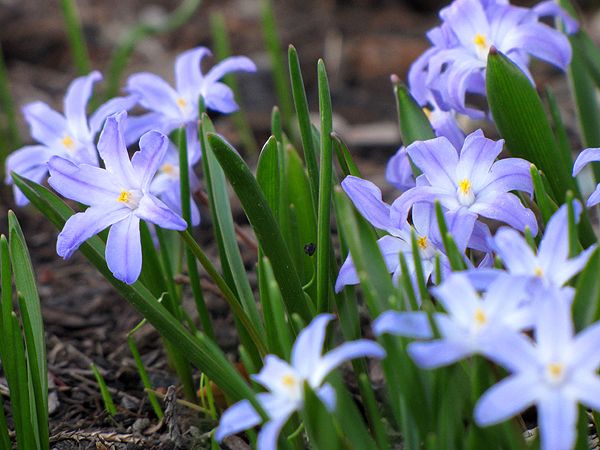 Though the

Chionodoxas

that first bloomed are looking weary, they're at their best in another location where they opened later, beneath the cypress shrubs.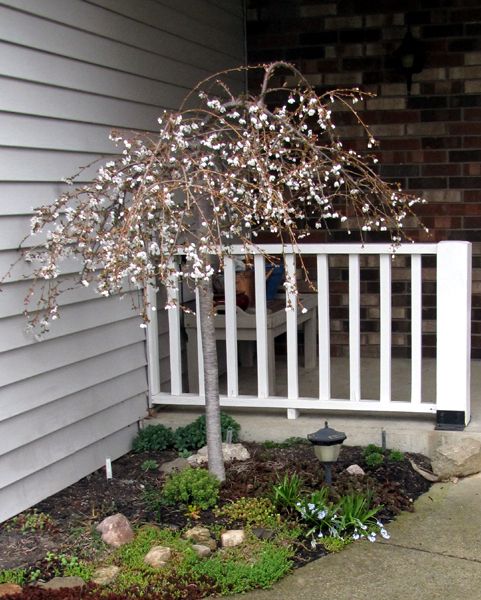 Last week's cold temperatures had me pulling out the sheets and covering the Magnolias and the

Snow Fountain Japanese Weeping Cherry

tree (

Prunus

'Snow Fountain'). Once we got over that, I took the sheets off and the weekend's warmth and sunshine brought out the blooms.

They're still opening and though the cold did a bit of damage to the 'Leonard Messel' Magnolia, it would have been worse had I not covered them.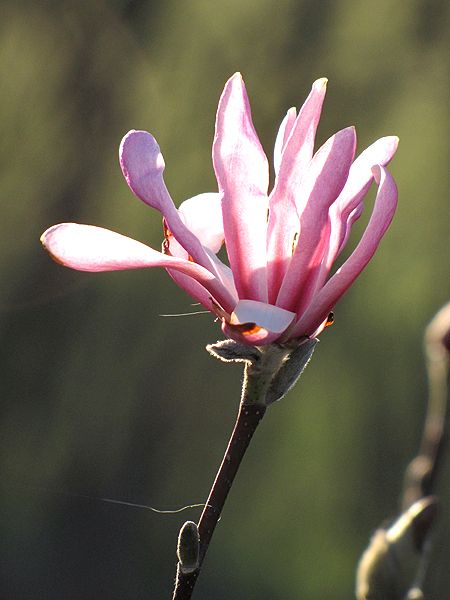 Magnolia x. loebneri

'Leonard Messel'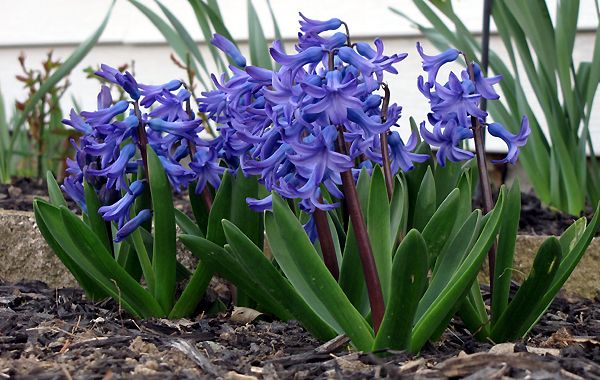 Hyacinth

'Festival Blue'
There are hyacinths and there are grape hyacinths. We have some of both. While I wish the larger hyacinths would multiply, they really don't much. The grape hyacinths? Can't get rid of 'em. I tried one year and everywhere I dug, those teeny tiny bulbs showed up everywhere.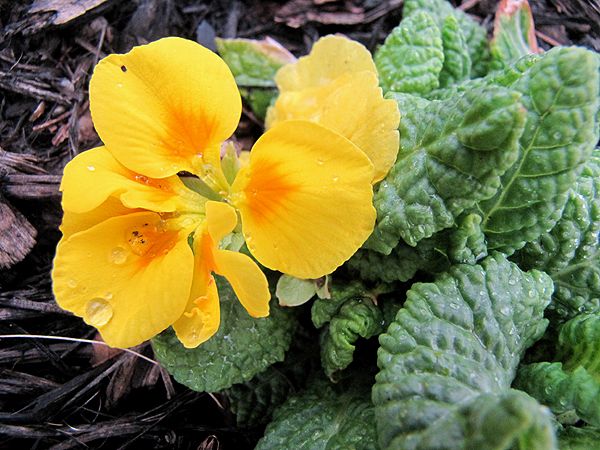 Another bright yellow spot in the trellis garden is the lone blooming
Primrose
(
Primula x polyantha
). There are also a red one and a blue one, but they aren't blooming yet.
In Ohio,

Vinca minor

is considered to be an invasive vine. You can go to just about any rural cemetery that's located next to a woods or creek and find it growing in abundance. It's still sold in nurseries and garden centers, however. I'm not sure how that is, but I wasn't going to buy it when I saw it every other day, out and about. We have a bit of it at the back corner of Max's Garden (around that other invasive - Morrow's Honeysuckle) and we can keep our small patch of it under control easily by just tearing it out when it starts to creep out of bounds.
In one of the triangle gardens, the

Donkey Tail Spurge

(
Euphorbia myrsinites
) has settled in very nicely after planting it for the first, last spring. It's begun to bloom and while I wasn't sure I was going to like it when I got it, I couldn't be happier with it. It's one of those "plant it and forget it" kind of plants, and I like the unique appearance it has.
It's dramatic, like those giant agaves, except that it's not nearly as large or spiky.
The wonderful

Hellebores

are weathering the weather like the troupers they are and we'll enjoy their blooms for quite a few more weeks.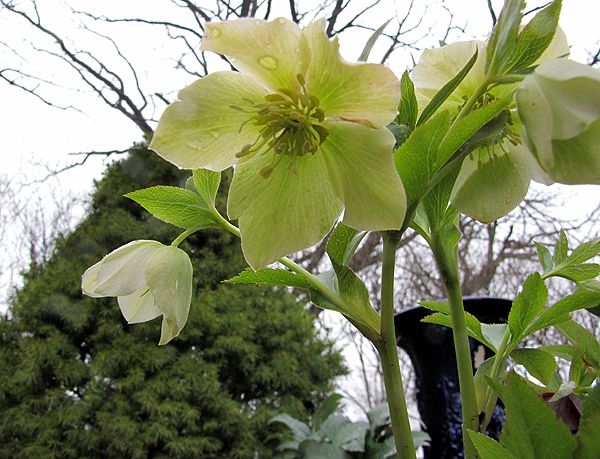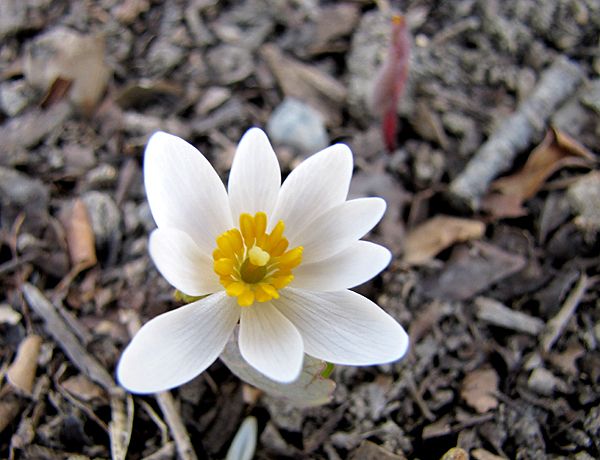 Finally, the wonderful spring wildflowers are just beginning to come to life. First to bloom in the Wildflower Way garden is the

Bloodroot

(
Sanguinaria canadensis
), with many others soon to follow suit, but I'll leave those for a future post.
Be sure to visit Carol at
May Dreams Gardens
to see her list of other Garden Bloggers' Bloom Day posts.