I know that spring is supposed to be a fickle season. Rain, sun, wind, snow, tornadoes, frost, floods, hail, sleet, thunder, just for starters. (What else is there?) But gardeners are eternal optimists and we don't think the ugly stuff will happen to us. Ugly as in well-below-freezing temperatures and snow. Not in April! Not in my garden!

But it's somewhat like labor pains. We moms who have experienced them remember what labor's like, but we really don't remember the intensity of the pain. Not until we're in its throes once again. The weather forecasters had predicted snow for today and nighttime temperatures as low as 26° F for the next couple of nights. Ouch.

As much as I would have liked to dismiss that information and stick my head in the sand, yesterday I took what little preventive measures I could and I covered a few of the spring bloomers.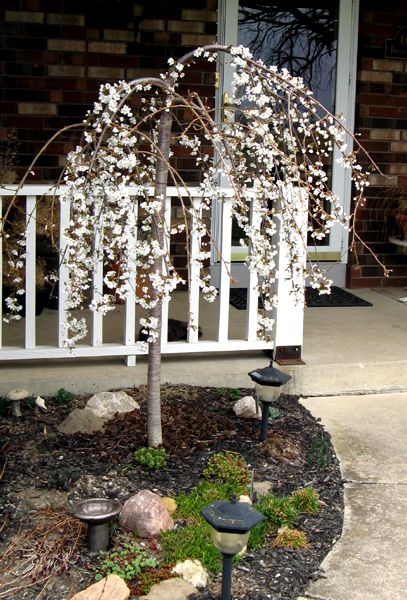 At the front of our house, we have a beautiful snow fountain cherry tree that is absolutely stunning when it's in full bloom. (Seen here in April of 2007.) But for the last couple of years, its bloom has been cut short by strong winds or has been stopped altogether by a late freeze. At the moment, its buds are showing its white color at the edges and if we get what they're predicting, its blooming is in danger of being destroyed.

In our back yard, we have two Magnolia trees, newly planted last spring, and one of them - 'Jane' - is showing pink around the edges of its buds. The other - 'Leonard Messel' - is loaded with buds, but no color showing yet.

The snow didn't worry me much, but strong cold winds and plunging night temperatures did, so I grabbed a couple of old sheets and a mattress cover and wrapped the shrubs, securing them with clothes pins.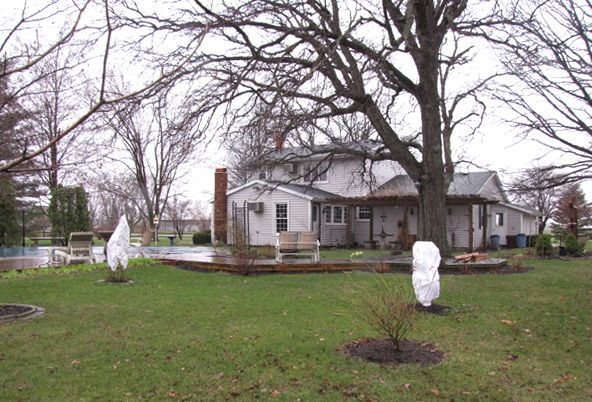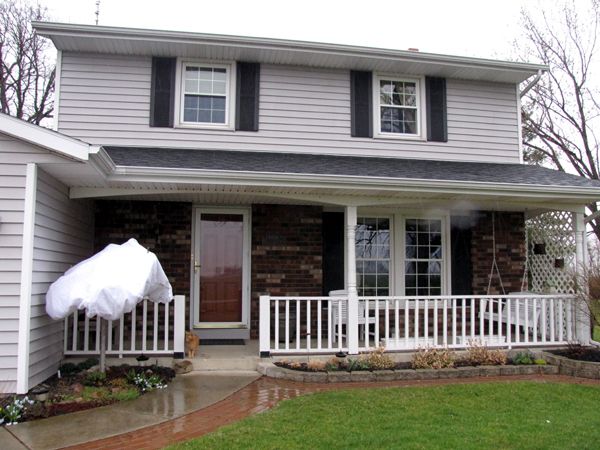 I'm glad I did. When I woke up this morning and looked out the window, I saw white on the roof, white on the grass, and white on the trees and shrubs. Not a lot, but enough to make me glad I'd covered things. By mid-day, the snow was gone, but the temperature didn't rise much and it's tonight and tomorrow night that will be cold enough to stunt budded blooms.

The spring bulbs that are flowering take this kind of thing in stride much better than the flowering shrubs and trees, perhaps because they're closer to the ground and avoid the strongest winds. They laugh in the face of a little snow.

Me? I'm staying inside and avoiding it altogether. This will all be over soon.