I do many product reviews on this site. I do them for a couple of reasons:


I currently own a garden product that I like and I want to share that information with my readers.
I've been given a garden item to trial and review, which is a good way for me to try new things and offer readers my "get down and dirty" gardener's opinion - good or bad.
I've done business with a company and I've had a great experience, or one not so great.

After several orders with
Easy To Grow Bulbs
, I just have to share my extreme satisfaction with this company. They have not contacted me in any way relating to my blogging about their company, nor have I told them that I was going to do it. This is just me - a pleased customer - wanting to give a great company their due.
I first did business with
Easy To Grow Bulbs
in January 2007, when I ordered some amaryllis (
Hippeastrum
) bulbs. I was pleased with the quality of the bulbs and got some gorgeous blooms from them that year, and later years too, because I keep my bulbs from year to year, planting them outside in summer.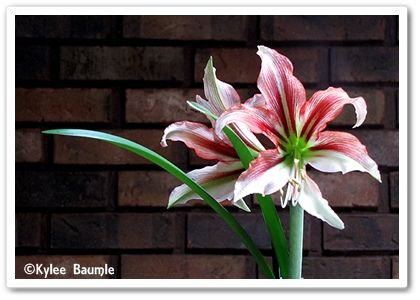 Hippeastrum 'Grandeur' in 2009, purchased in 2007 from Easy To Grow Bulbs
Subsequent orders to the company were made, with once again, great results. A variety of bulb types have been in those orders and this year, I ended up placing two separate fall orders. The first arrived in good time and with the highest quality of bulbs.
Their bulbs come in nice mesh bags that I keep and use for storing summer bulbs over the winter. Attached to the top of the bags are the name of the bulb, with planting instructions. Only one thing could be done that would make the packing complete, and that would be to include a plastic plant marker that could be planted with the bulbs for easy identification. (
Brent and Becky's Bulbs
and
High Country Gardens
- also great companies that I do business with - do this.) But a grease pencil on popsicle sticks works well, too. After the bulbs flower in the spring, they get a more permanent marker.
Besides the great quality bulbs, which are some of the largest I've ever seen, what has me raving about
Easy To Grow Bulbs
right now comes under the label of customer service. I've always had great customer service from Kathleen and her bunch, and perhaps this isn't out of the norm, but I'm pleased all the same and wanted to say so.
First of all,
Easy To Grow Bulbs
has their fall-planted bulbs "on sale" earlier than most companies. Their prices are good anyway, but who doesn't love a sale? I think this is smart on their part, especially with so much competition out there. Personally, this allows me to buy them early, when the weather is still good for planting, yet not
too
warm to plant. Once that weather turns chilly, I'm out of the mood, and I'm less likely to buy bulbs, period. (Translation: Warm weather + Bulb sale = Larger order)
Second, if your order is over a certain amount - a reasonable $50 - you get a bonus pack of bulbs. Since I placed two orders this fall, I got two different bonus packs. They call them "Adventure Packs" and many of them are from
The Flower Fields at Carlsbad Ranch
. They're the only online distributor of bulbs from there, along with a handful of gardening catalogs and select garden centers there in California.
And third, they say they have speedy shipping, and it's true. I placed my last order on Tuesday and the bulbs were here by Friday. All the way from California to Ohio. We had Indian Summer all week and knew that it was to end abruptly on Saturday, so that quick service was important. This time of year, we could just as easily be shoveling snow. I was really, really happy when the mailman delivered those bulbs on Friday.
By the way, my Adventure Packs contained good stuff! In the first order, they included a 10-count package of
Tulipa dasystemon
'Tarda', a species tulip. I LOVE species tulips, and have many, but not this one. I do now! In the second order, I nearly jumped up and down, because my Adventure Pack contained five of something I very nearly ordered -
Leucojum aestivum
'Gravetye Giant', often called "summer snowflake," since they are a late-blooming spring bulb.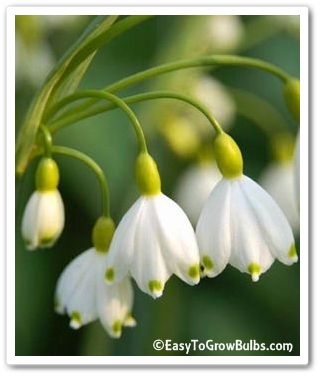 Leucojum aestivum 'Gravetye Giant'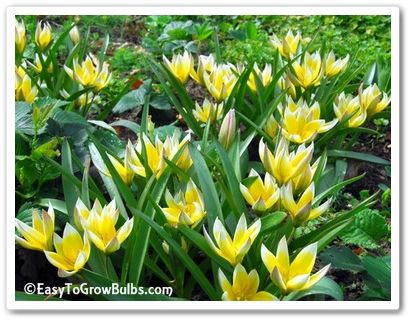 Tulipa dasystemon 'Tarda'
Easy To Grow Bulbs
markets themselves as sellers of "Bigger, better bulbs for warm weather gardens." Don't let that "warm weather" part keep you away, if you're a northern gardener like I am. The bulbs I've received from them are first quality and grow just fine in my zone 5 garden.
They are also in the Dave's Garden
"Watchdog 30"
list of the highest-rated companies in their entire database of 1,172 mail order garden companies. That's saying something. You know who rates them? Customers like me.