People often ask me, "How do you think of so many things to write about?" After more than five years of writing here at Our Little Acre, you might think I'd run out of things to say. Those of you who know me personally are snickering and muttering, "Fat chance!"

Though there are times when it seems that subject matter is at a lower level, there's always something, to paraphrase Roseanne Roseannadanna. Usually, just spending a short time in the garden inspires me to expound on something or another and yesterday was just such a day.

I've often said that I know nearly every inch of the property here intimately. I keep my eyes and ears open at all times and have discovered wondrous things this way. I also find not so wondrous things going on. As I went out to move the sprinkler in the vegetable garden last evening, I took a lap through the flower garden and noticed something had been eating the leaves on the Baptisia. A closer look revealed these - LOTS of these: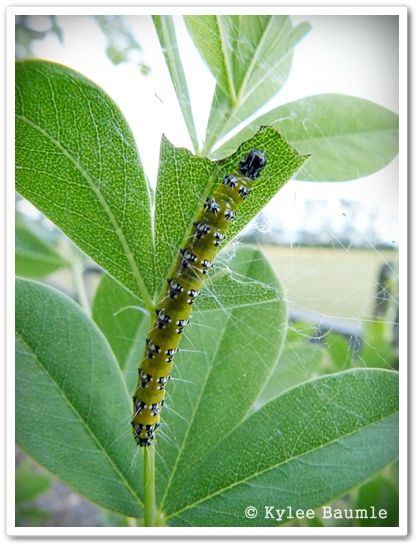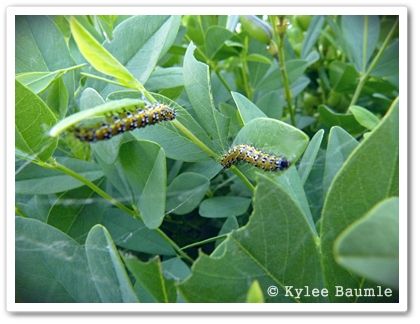 Genista Broom Moth (Uresiphita reversalis) caterpillar
on Baptisia x variicolor Twilite Prairieblues

™




Some research revealed the caterpillar to be that of the Genista Broom Moth. The caterpillar isn't a particularly beneficial insect; they can certainly wreak havoc on a
Baptisia
(as well as
Genista
,
Sophora
and
Lupinus
) and it doesn't take very long for them to do it either. So I spent over an hour cutting them and the webs they'd formed off.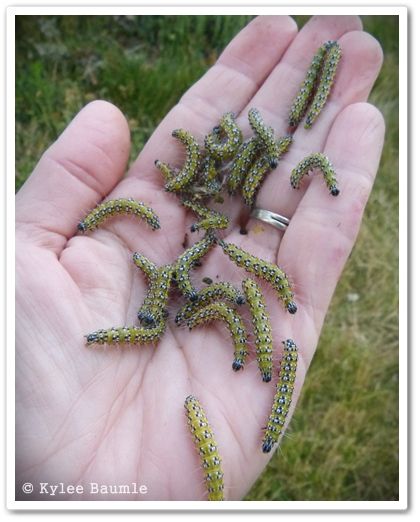 I thought maybe the chickens would like them as a treat. They like grubs and worms, so why not a caterpillar? I called them to the fence in my best falsetto, "Heeeere, chick chick chicks! I've got a treat for youuuuuuuuu!" That always gets them running to me, because they know I've got goodies.
Well.
They are not fans of the fuzzy caterpillars.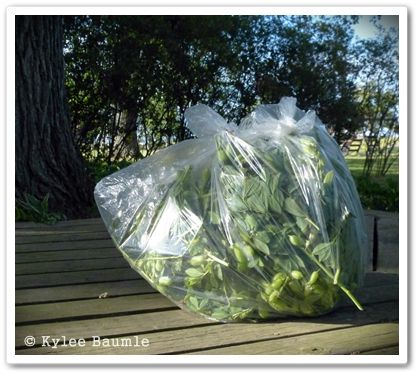 I bagged up the cuttings and the caterpillars and tied them in a plastic bag, then placed it in the garbage, which will be picked up tomorrow. I'm not taking any chances of them finding their way back to the
Baptisia
.
It's interesting that of the three baptisias I have, so far only two of them are infested. Of the two largest, which are also quite close to each other (6 or 7 feet apart), only the Twilite Prairieblues
™
had the caterpillars. The straight species
Baptisia australis
did not. Yet, a much smaller
B. australis
that I grew from seed several years ago, and 40 feet away, had a pretty heavy infestation.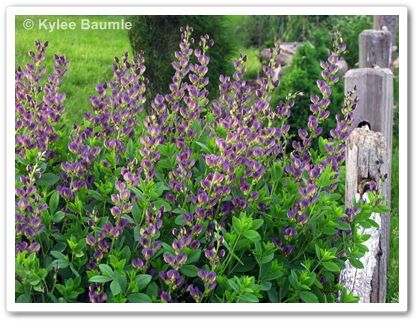 Baptisia x variicolor Twilite Prairieblues

™

in bloom - May 2012
Other than manual removal such as I did, you can use
Bacillus thuringiensis
to control these pests. It wasn't hard to cut the ends of the branches off, which is where the caterpillars were (they like the tender new growth) so I prefer that method. Older established plants may survive the defoliation they cause if left uncontrolled, but younger plants likely won't. I'll check each day for cats that I missed and remove those as I find them.