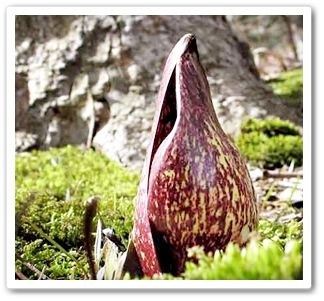 Eastern skunk cabbage
(Photo from Wikimedia Commons)
In my quest to see skunk cabbage in its natural environment, Romie and I headed down the road to the woods where we go to see the wildflowers in spring. Eastern skunk cabbage (
Symplocarpus foetidus
) is the first to appear here, usually appearing in late February or early March.
Skunk cabbage smells funky because one of its pollinators is flies. They're attracted to stinky stuff. This plant has a cool trait though; its flower buds generate heat - enough to melt snow! The temperature inside the plant can reach as high as 70° F on a cold winter's day.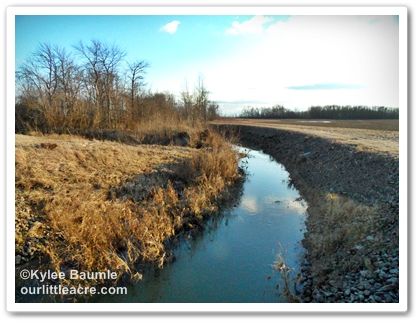 We cross Poohsticks Bridge on the way to the woods.
I've never seen it in this woods, in fact, I've never seen it in person anywhere, in spite of it being native to our part of Ohio. I suspect I've just never been out and about during the time when it emerges. Only the prospect of seeing a wildflower would get me out in the woods at a time of year when I've thoroughly had it with winter.
We didn't find any skunk cabbage - mostly just some grasses and moss were greening up - but we did see some lovely lichens growing on fallen trees. It will be another month before we start to see much in the way of wildflowers on the woods' floor.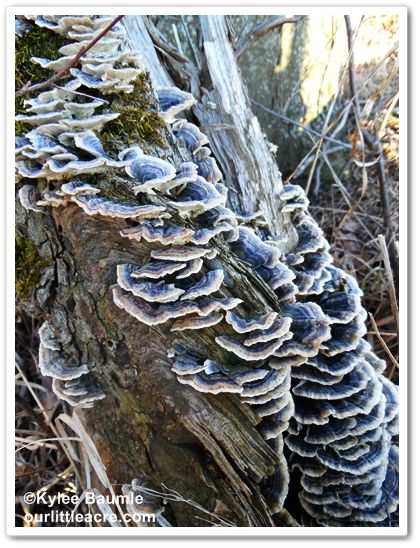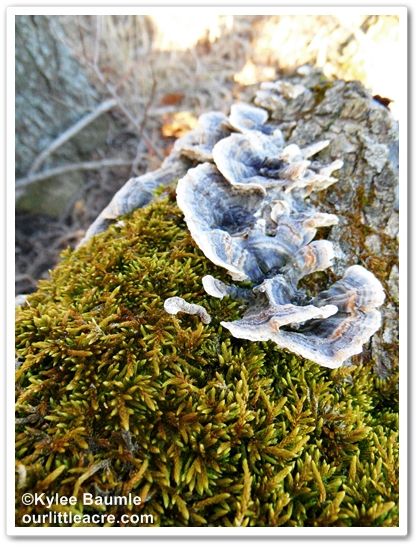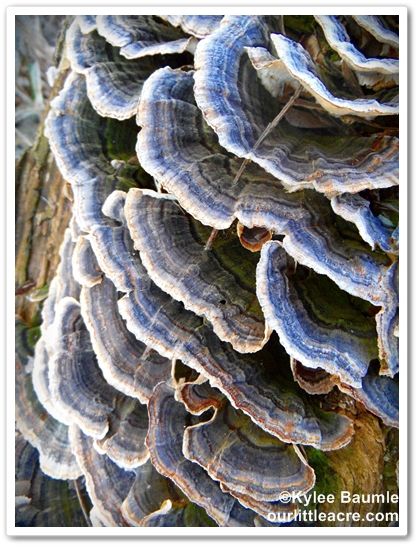 Note the small stick that's threaded all the way through several layers.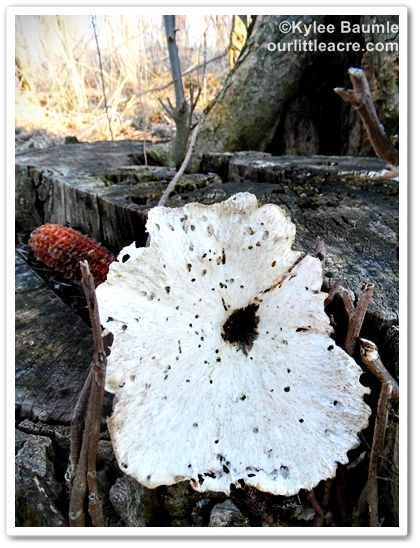 I'm not sure what type of fungus this is. It has a black stem and the cap
measures about four inches across.
One of the things I like about our walks down the road is that we have the most interesting - and strange - conversations. Yesterday's went like this:
Romie:
(Standing, facing south) I wonder if I took my gloves off and held them against my stomach in the sun, if they'd get warm enough to keep my gloves off.
Me:
I think it would depend on if there's wind or not.
Romie:
Yeah, I mean out of the wind.
Me:
Probably at this temperature (30°), they'd stay warm enough. But having your hands inside your gloves holds your body heat there too, so it's probably a wash as to which would be warmer.
You know, there are people who think about these things when they're kids and then they grow up to become scientists because they want to know the answers. I want to know the answers, but I don't want to devote my life's work to finding them.
Thank God for scientists.
Romie:
Yeah.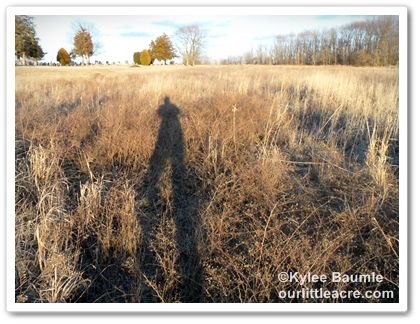 And an earlier one:
Me:
I wonder where the snakes are.
Romie:
I don't.
___________________________________________