When many home and garden shows are falling by the wayside, Defiance, Ohio, stepped out with one of their own with the Home & Garden Spring Show, in its debut year. Held in March at the Defiance College Athletic Center, more than 100 vendors opened the spring season with plenty of ideas for homeowners.

My husband and I, with granddaughter Hannah in tow, spent some time at the show on a sunny Saturday.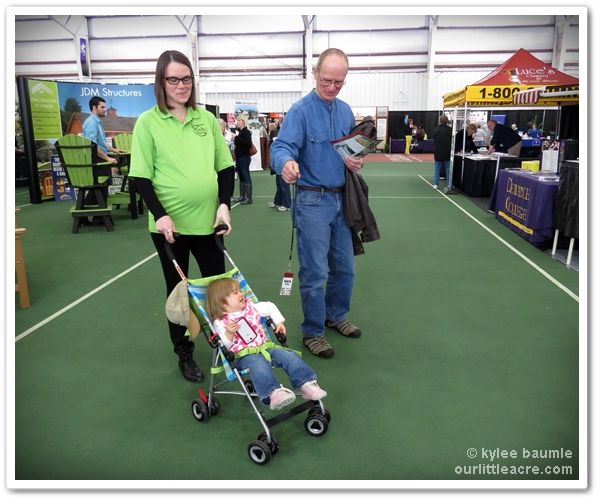 Expecting daughter, Kara, joined us and gave us a personal tour of the show, as she works for
Clear Channel Media+ Entertainment
, presenters of the show in conjunction with
ProMedica Defiance Regional Hospital
and
Mercy Hospital
.
As soon as we entered the show, we felt that air of optimism, as many spring shows exude after a long, cold winter. We're all just ready to emerge from hibernation and DO SOMETHING!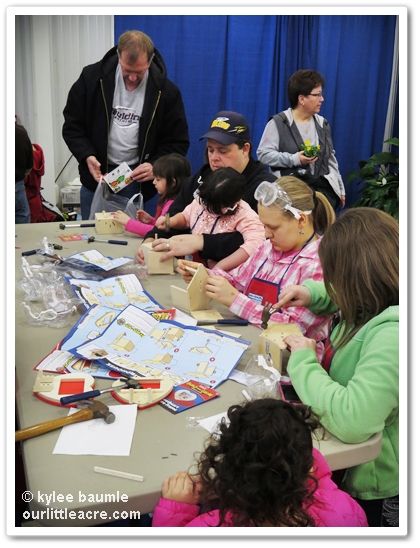 Lowe's Home Improvement
was sponsoring a free workshop where kids and parents could build a birdhouse or an airplane with materials and tools Lowe's provided. Hannah was a bit too young for that activity, but lots of kids were taking part in it and seemed to be having a lot of fun.
There was also a planner there from Lowe's that we talked with about remodeling our kitchen - something we've been wanting to do for several years. They'll come to our house, assess the situation, draw up a plan, and give us an estimate.
Area wineries were there with tasting opportunities, including
Stoney Ridge
,
Hillside
, and
Knotty Vines
. We didn't partake, but I've personally had wine from Stoney Ridge and can testify to its goodness. Next to the Wine Garden, the local
Chief Supermarket
had an assortment of cheeses and hard sausage to go with the wine.
Various other businesses of interest to present and future homeowners had booths and we saw things that we didn't know we had an interest in until we came across them, such as
Quality Coatings, LLC
. The winter took a terrible toll on our already aging driveway and we took their business card for future reference.
Kircher's grocery garden begs for a fork!
I was lamenting the lack of "garden" at this show, but it seems to be a trend in home and garden shows these days. Only two garden centers were in attendance:
Kircher's Flowers Garden Center
from Defiance and
April's Greenhouse
from Bryan.
Kircher's was offering a giveaway and had coupons for future use at the garden center. April's was giving away small containers of yellow violas, which were very popular, judging by the number of people I saw walking around with them.
I was told that other garden centers were contacted but were hesitant to participate and wanted to see how the show went, being the first year. But I wish they'd come, because the show would have been all the better had they been there! Next year! Please!
April's Greenhouse looked springy!
All in all, we had a fun afternoon in a spacious and comfortable venue. I applaud the show's presenters and my hope is that each year the show just gets bigger and better. (Did I mention "more garden?")
The Old Red Barn had a display of repurposed and refinished antique furniture on display.