Five! Five dollar! Five dollar foot looooong...

Okay, now you hate me for putting that jingle into your head, don't you? I figure I might as well have company while I "enjoy" that ear worm. As I walked about the garden yesterday, it was that annoying little tune that kept popping into my head. What prompted it?

This: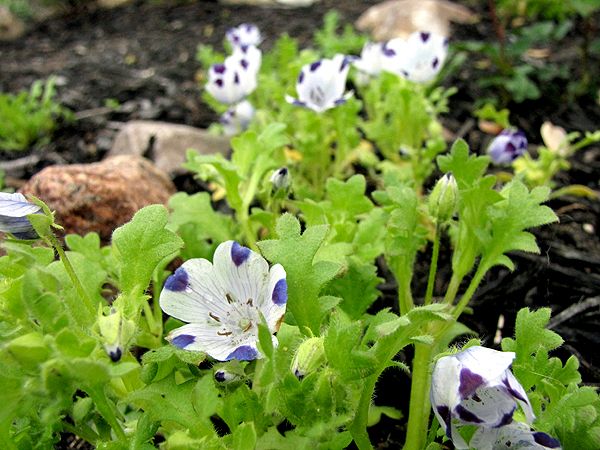 Five Spot
(
Nemophila maculata
)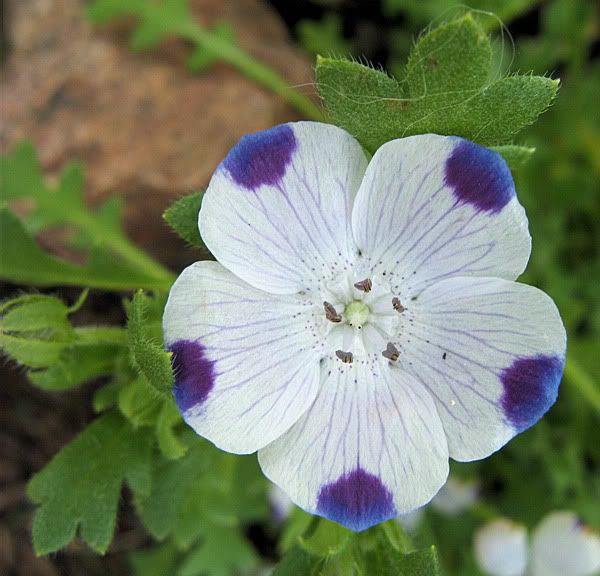 Here's the story about my Five Spot: It took two tries in two separate years for me to get this to grow from seed. Last year, it finally decided our amended clay soil was good enough to grow in. We had lovely blooms, each with five spots, except for the ones that had seven. Maybe the ones with seven spots are akin to finding a four-leaf clover?
The weird thing about Five Spot is that it's growing and blooming right now, in spite of not planting it this year. It's an annual and I didn't save any of last year's seed, but it turns out that I really didn't need to. It self-seeded and I have just as many plants this year as I did last year. And I didn't have to do a thing!
Now, if I can just get Baby Blue Eyes (
Nemophila menziesii
) to do the same thing.
On the "five" theme, here's another: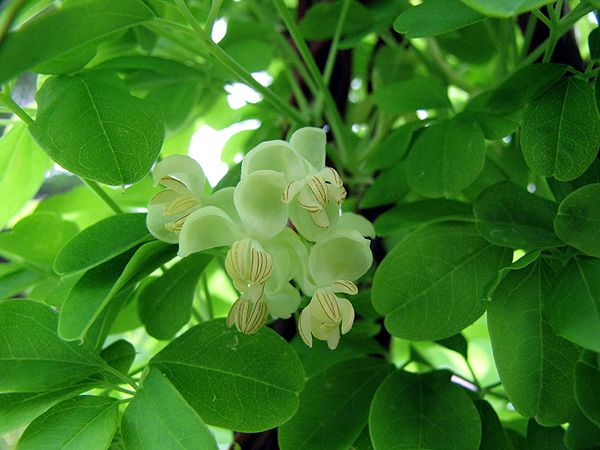 This vine would be cool to do time-lapse photography with. As it grows, it twines around the trellis, then when it reaches the top, it seems to twirl around itself, looking for something to grab onto. It has that "wild hair" look to it.


There are five leaves on each stem and when it blooms, there are five individual flowers in a group. Notice the little stripes on part of the bloom? I'll bet there are five of those, too. Just guessing though - I didn't take the time to count.


Another quirky thing about this
Akebia
is that I found it a couple of years ago at Home Depot at the end of the season for guess how much? FIVE dollars.


Have you had enough of the five stuff? There's more! One of my roses is called 'Cinco de Mayo.' Oh, it's not blooming yet, but it's got vigorous new growth and promises to look fabulous when bloom time comes. In case you didn't know, "cinco" is the Spanish word for "five." And May is the fifth month.
And this starts my fifth year of gardening.

This blog post is brought to you by the
Number 5
.