Four days ago, I was hanging out in Twitter, when someone tweeted that The Martha Stewart Show was "calling all bloggers" to apply for tickets to attend the taping of a special show she was doing in January on blogging. Having never been to New York City and being a blogger, I gave some brief thought to this and filled out the form for tickets.




No date was given for the show; it was only stated that it would be in January. It was required that you give an explanation as to what your blogging passion was, in as much detail as possible. Only two tickets would be given for this show, instead of the usual four-ticket limit and you had to tell who was accompanying you to the show and why.

Of course, my mom was the person I wanted to go with me. We've actually half-heartedly talked about going to New York someday, since neither of us had ever been there. Of all the people in the world, my mom is the one I most enjoy traveling with. She's always up for any adventure and we have such similar interests that it's like we're one person when it comes to making decisions about what to do and where to do it.

This afternoon, after I returned from spending the day with my mom, I checked my e-mail and found this:



OMG. How cool is that?? I called Mom immediately and after sharing the excitement of getting to visit
The Martha Stewart Show
, a little bit of reality set in. Living the entire width of Ohio and Pennsylvania away from New York City meant we'd have to fly there. ($) And then there's the matter of ground transportation. ($) And hotel accommodations. ($) I'm pretty good at creative financing, but I'm not sure this is doable.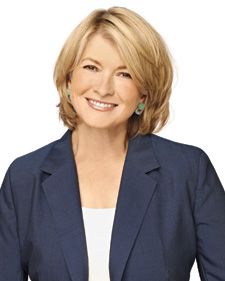 I've got until December 23rd to confirm our attendance, so between now and then, I've got to figure this out. I've just GOT to. How often does an opportunity such as this come along? Sure, I might be able to secure tickets to the taping of a show, but this one is special. All in attendance will be bloggers. Blogging. On the show. Just too much FUN!
There are strict dress guidelines to be followed. Solid colors recommended and no
black, gray, tan or any muted colors, T-shirts, prints, logos, hats, or sleeveless tops. We are to bring our laptop, iPhone or Blackberry and must let them know which of these we'll be bringing. We are to be prepared to be photographed and since Martha likes audience participation, there is the possibility that any of us could be chosen to be an active part of the show. There are questions to answer about our blogging that must accompany our confirmation.
Whew. This is all somewhat overwhelming, because by next Wednesday, we need to figure out if we can make this happen on our end. It's not only a monetary issue, but I'm scheduled to work the day of the show and the day before. I've got great employers, but I work at a research facility and when a study is to be done and you have a specific role to play in that study, you have to be there.
So...a lot has to happen between now and then for this to become a reality. I've always said that I never want to let an opportunity go by if I can help it at all. If it's meant to be, it will be. If it's not, well, it was nice to dream about how fun it would have been.
UPDATE:
Just one more hurdle to jump before this happens! I'll find out on Monday if the work situation will be resolved. If so, NYC here we come!