It's amazing the things that come to your attention once you decide to raise chickens. I just wanted eggs, but the world of backyard chickens is a quickly-growing subculture all its own that I'm now a part of. I've met some pretty cool chicks, some with feathers and some without. One of the best conversations I had while in Seattle for the Bloggers' Fling was in the middle of Ravenna Gardens with Jessi Bloom (Garden Fowl) and Melanthia Peterman (Garden Muse), about chickens.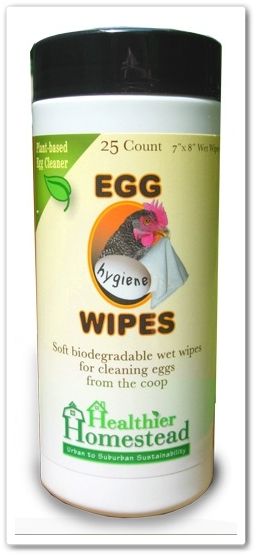 I was contacted recently about testing a new product used for cleaning the sometimes poopy chicken eggs. (Well hey. That's what it is.) I have no aversion to these dirty eggs; after all, they wash and so do my hands, but wouldn't it be nice if there was something available to make this task easier? There is.
Sam Jeffries, one of
The Garden Guys
, sent me a container of Healthier Homestead's Egg Wipes to try. Since our chickens aren't old enough to be laying eggs yet, I had to go to the neighbor's house and try them out on their eggs. They have about 50 hens (and a few roosters) and plenty of eggs for trying out the wipes.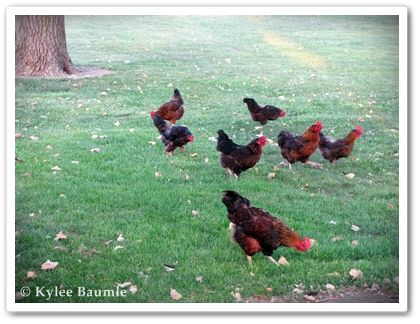 Some of our neighbor's chickens
The best way to tell you how well these wipes work is to show you:
Egg Wipes come in a container of 25 and sell for $7.99. Each wipe cleans up to a dozen eggs, making it perfect for the average backyard chicken owner owning a dozen hens or less. When you're finished with the wipe, it can be tossed into the compost, as it's made of biodegradable materials. The cleaner's active ingredients are derived from palm, corn, and coconut oils and the product is
USDA Biopreferred
.
For more information about Egg Wipes, visit
The Garden Guys
' website at
http://www.garden-guys.com/egg-wipes.html
.
________________
The Egg Wipes were sent to me free of charge. I was not required to blog about this product or any other product that The Garden Guys sent to me. The opinions expressed here are my own.