I fell in love with a rose in July. Many people love roses and if you watch as they make their way through a rose garden, you'll hear, "Ooooh, look at this one!" and "Wow, this smells really good." Roses have been said to be the most beloved of all flowers.

I don't particularly love roses. I like them just fine and I have many in my gardens that have spectacular blooms most of the summer. But what's most unusual about my burgeoning love affair with this particular rose is that it wasn't even blooming when I saw it. In fact, I couldn't even have told you what its bloom looked like until I did a little research for this blog post. One of the things that many object to about roses was the very thing that drew me in - its thorns.


The wingthorn rose -
Rosa sericea var. ptericantha - is a species rose from China, introduced for sale in 1890. It blooms in the spring with a small, white, slightly fragrant flower. But those ruby red thorns - when the sun shines through them, they're stunning. Red is my favorite color, so of course I loved them, but I'm not the only one. When I first saw them in Seattle in July while attending the Bloggers' Fling, my fellow garden writers oohed and ahhed right along with me.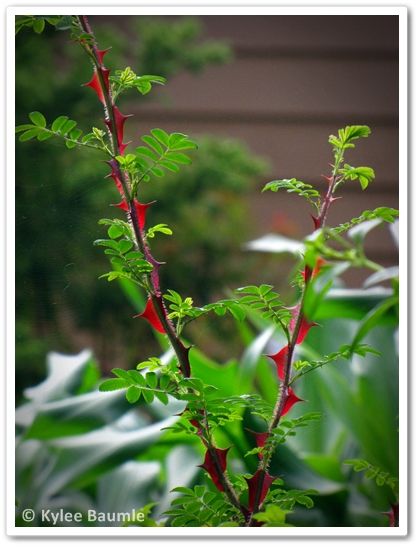 Those flaming red thorns of the wingthorn rose, as seen in the Birrell
garden in Seattle
I did some research on the rose when I got home and found that it's only hardy to zone 6. I'm in 5b. But gardeners are notorious for pushing zone limits and I found gardeners who have been successful at growing it in my zone. Yes, it experiences a great deal of die-back, but with sufficient mulching, the root survives and it puts up canes with those glorious thorns. And really...5b isn't that far from 6, right?
Cistus Nursery, near Portland, OR, supplied me with my very own wingthorn rose at a decent price. A nice-sized plant arrived in mid-August, which I promptly planted after soaking the roots for several hours. I chose a relatively protected area on the southeast side of the gazebo, where it will get full sun most of the day, but will be out of the way of our harsh westerly winter winds.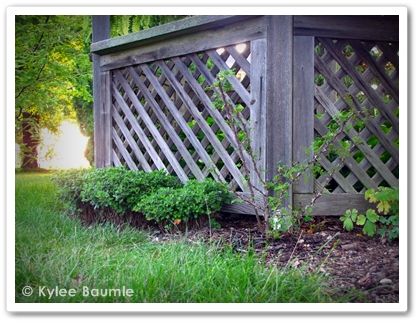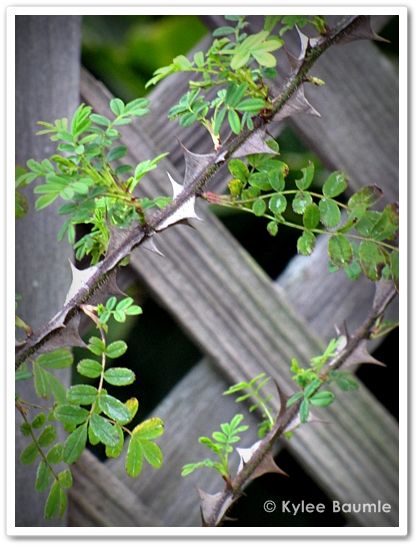 Even though the bloom time is short, the foliage on the wingthorn is nice enough to look at the rest of the time. It's fern-like, which provides a nice contrast to those prickly red thorns. And from what I've read, this rose is very resistant to the problems some roses have, like black spot. The thorns do turn brown later in the season, but it's worth it just to see them when they're red.
When the proper mulching time comes, I'll pile it up well around the base and I'll wrap the plant itself in a Plumstone ShrubJacket. I used one of those last year on my azalea, which generally has a hard time with our winters. I had less winter kill on that, so I'm hoping it will also be beneficial for the wingthorn.
I find it challenging and fun to try to grow something that's unusual for our area, even though this probably goes against my new vow to try and garden smarter, not harder. After three difficult, hot, dry summers in a row, I told myself I'm not going to grow anything that requires babying. If it didn't survive this year, I'm just not going to grow it anymore. We'll see whether the wingthorn makes the cut.