The first day of the Seattle Fling began with hugs and smiles all around, as we greeted our fellow flingers at breakfast in the hotel and in the lobby. The feeling was that of a family reunion of sorts, which wasn't surprising, given how we've gotten to know each other through our individual blogs over the months and years. Many of us see one another at other garden events throughout the year as well.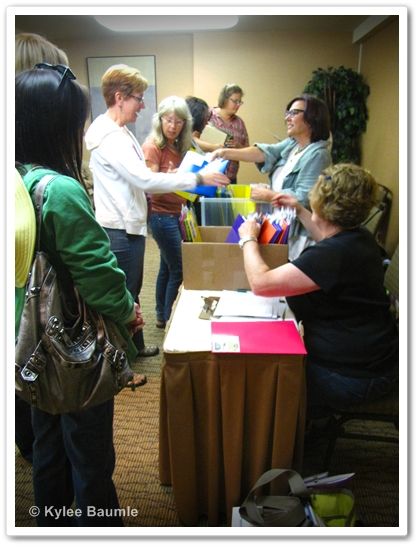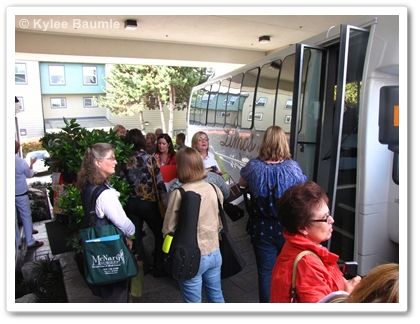 We boarded the buses and headed for two private gardens located next door to each other. The first belonged to
Jim and Suzette Birrell
. The focal point of the back yard was the bright blue shed, with contrasting trim. Set atop a hill, it overlooks an extensive vegetable garden.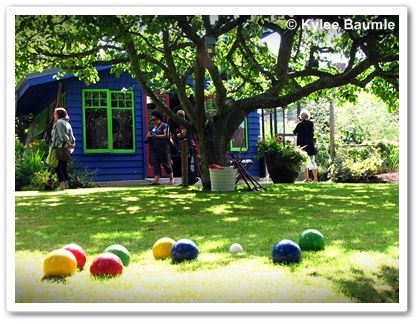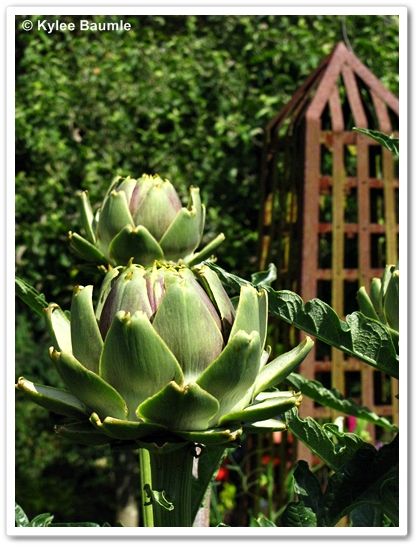 Artichokes!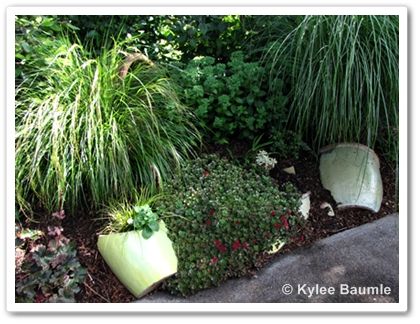 Broken pot? Use it anyway!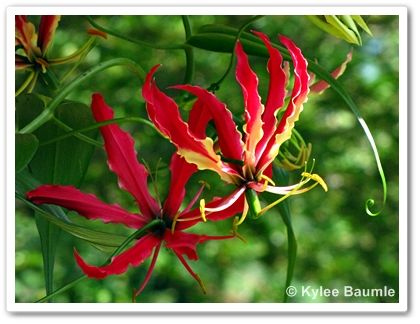 One of my favorite exotic tropical vines - Gloriosa Lily (Gloriosa
superba 'Rothschildiana') - was wending its way up the downspout.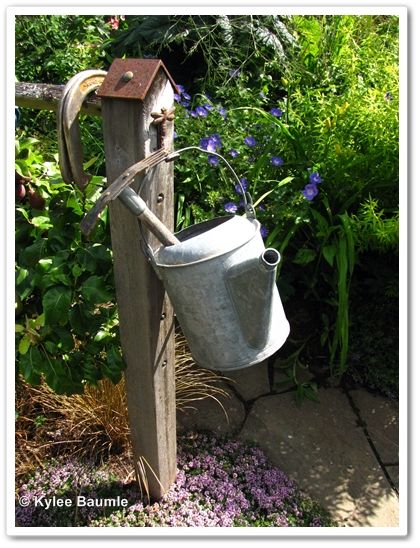 I found a new "must have" - the Wingthorn Rose (Rosa sericea)
The back of the home consists of mostly windows, which belong to the master bedroom, giving a beautiful view of the gardens upon waking in the morning.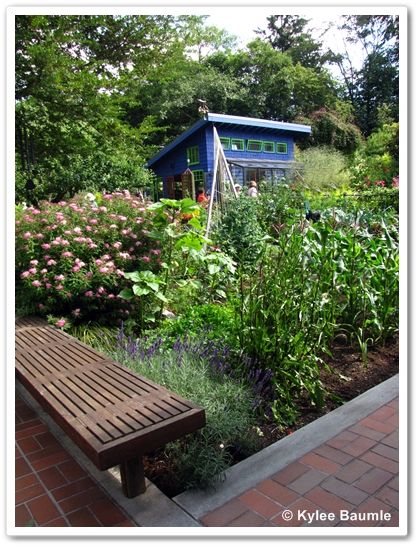 Next door were the gardens of
Shelagh Tucker
. The front yard is different in style from the back, with the front being a drought tolerant, mostly rock garden along with some raised beds.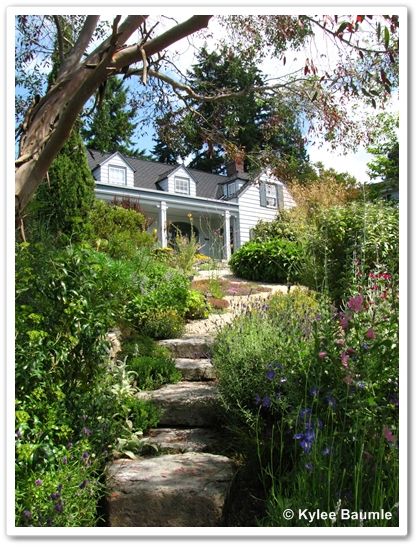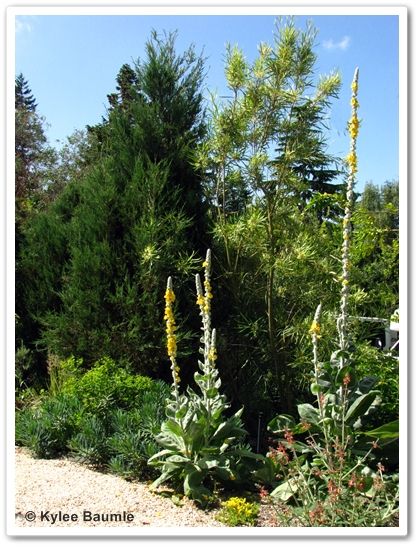 This made me think twice about pulling out the mullein
in my own garden.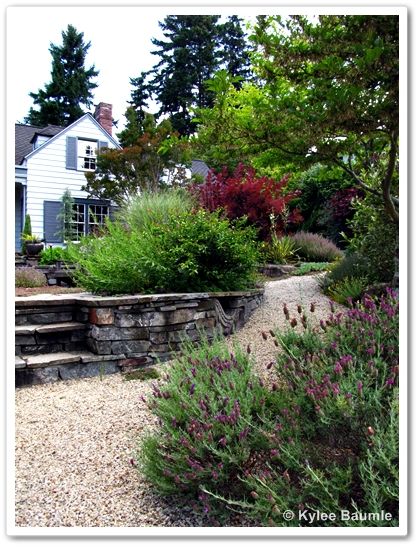 The back of the property is tiered and makes use of stacked stone which serves to delineate cozy spaces and provides contrast to the lush perennials and trees and shrubs.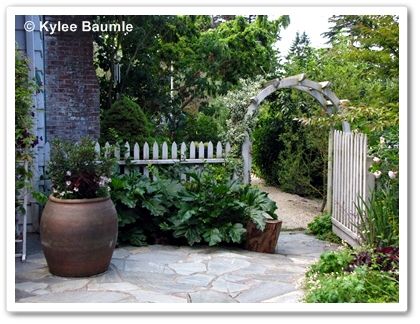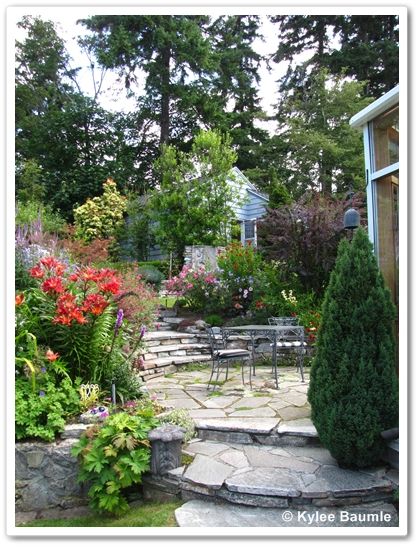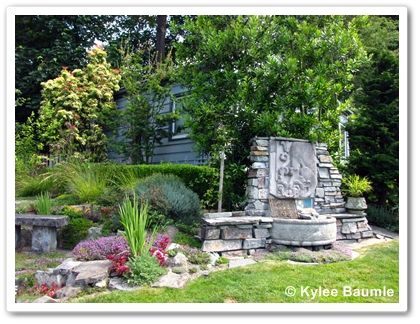 Tucked away to one side of the back yard is a water feature large enough in which to grow water plants.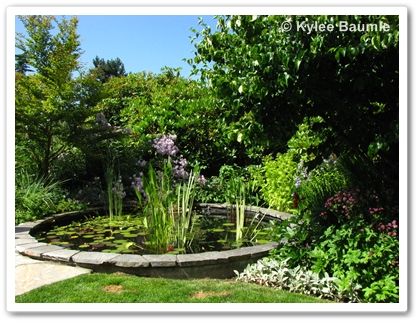 A beautiful large conservatory provides a comfortable living space while viewing the gardens from three sides. I love the look that the shade cloths give, in addition to being functional.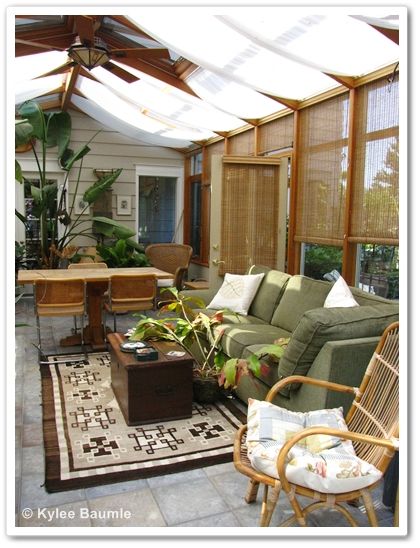 Besides being envious of the Seattle weather, I'm also coveting the trees and the terrain and the access to beautiful waterfront. Coming from the pancake-flat, wide-open, landlocked space of Ohio farm country, it can be challenging to create the interest that such natural features help provide. But it's the "grass is always greener" thing, isn't it? (This summer, the grass really
is
greener in Seattle!)
We had our lunch at The Dunn Gardens, then toured the Center for Urban Horticulture, both of which I'll share in the next Seattle Fling blog post.