I recently shared lunch on a beautiful sunny day that was the perfect temperature (unlike Ohio, where we were melting), in the middle of an historic Seattle garden with 70+ gardeners who were in town for the Seattle Bloggers' Fling. The grass was inviting enough to picnic without a blanket and we relished in the beauty of our surroundings before exploring the Dunn Gardens.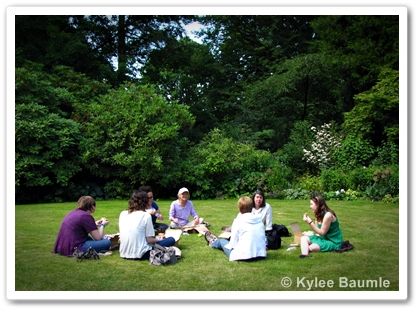 Docents were on hand to take us on a strolling tour of the gardens, designed nearly 100 years ago, by the famous Olmsted Brothers. If the Olmsted name sounds familiar to you, it's because they were responsible for the design of so many public places throughout the United States, including the Cleveland Metroparks and The Ohio State University campus here in Ohio.
The property was purchased in 1914 by businessman Arthur Dunn, who contracted the Olmsteds to design the landscape for what would be his family's summer home until his death in 1945. The property was donated for the public enjoyment by Arthur's second son Edward, who lived on the property until he died in 1991.
As I walked through the gardens, with many open spaces that allowed the garden plantings to stand out and be viewed from a distance, then drawing me in for a closer look, my first thought was that these were gardens of texture.
Combinations of shades of green in the foliage had a calming effect and compelled me to look closely at the foliage shapes and patterns and how well they played together.
Yes, this was a garden of texture...
The hydrangeas are mostly blue here, due to the acidic soil.

Ferns of all sorts abound, as they love the climate.

There were surprises here and there, as all good gardens should have,
such as this living roof, covered with mosses.
Glass art can be found in nearly every garden, due to the abundance of
glass artists residing in and near Seattle.
But it was also a garden of color.
Who needs autumn when you have summer color from trees like these?
Most of the plants blooming this time of the year were in gardens near the homes on the property and most especially in the Curator's Garden.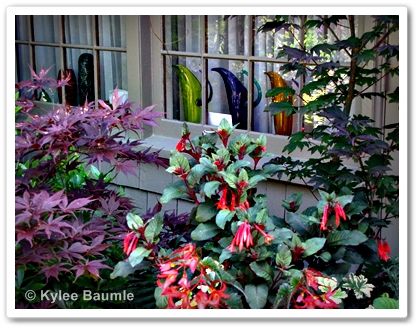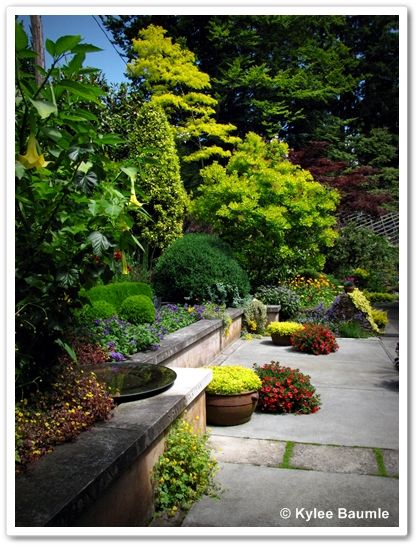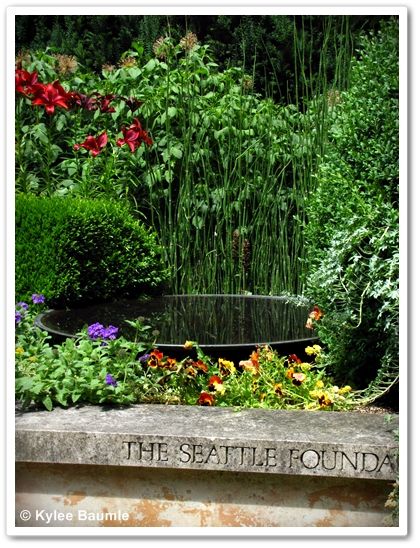 More color and texture from the Dunn Gardens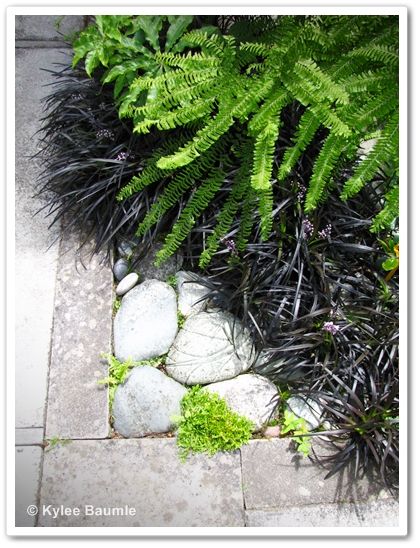 Alstroemeria

Triteleia sp.

Meconopsis betonicifolia var alba

Alstroemeria
Sedum

Bright red poppies amongst the lacecap hydrangeas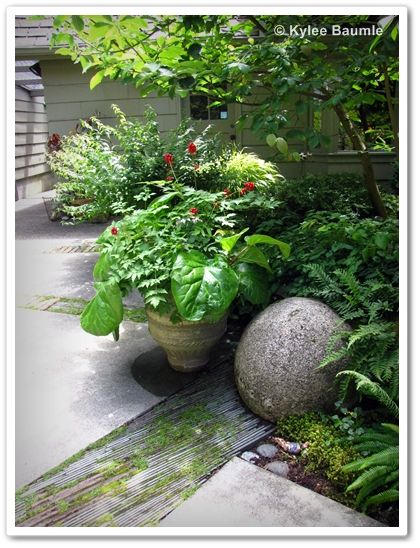 Our next stop was at the University of Washington Center for Urban Horticulture...