There's a low rumbling of garden angst across the blogosphere and Twitter is full of it, too. It's late August and for many of us, our gardens have seen better days. Way better. A summer of not enough rain and too many degrees has left us with gardens that look worse than usual this time of the year. And they almost never look great now, even in a good year.

My roses have black spot, yellowing leaves and some stems have no leaves at all. Miraculously, they're still managing to push out a few blooms.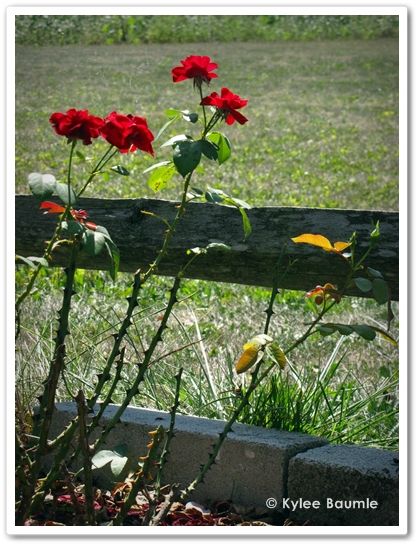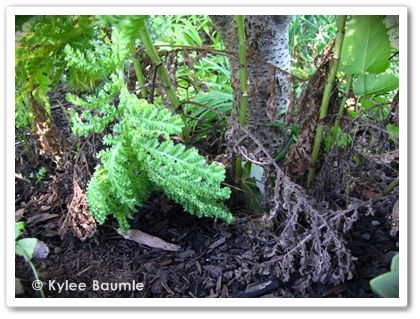 Tansy (

Tanacetum vulgare

)
We've had to do a lot of watering all summer long here in Ohio, despite my vow to stop doing that. I simply can't bear to see plants suffer, so here we go again. But all that watering also takes its toll, because watering from the well isn't the same as rain from the sky. It does a number on the garden in the form of black, mushy foliage from the ground up and it exhausts the gardener. I just want to be done with it.
That leads to the garden crabbiness I'm experiencing and from the sounds of it, so are others. I just want to rip everything out and wait for spring to start all over. But deep down I know I don't
really
want to do that. Gardening isn't all fluff and flutter, although it can be that also. But fun things can be like work things - there are times when you just don't want to do it. Be honest...you've felt this too, right?
So. What if I take a break from the garden? What's the worst that can happen? Some weeds will grow for sure. A few plants might die (or they might surprise me and live). I'll get more rest and be able to handle the late summer decline better and I'll one day soon be refreshed and rejuvenated by the cooler fall weather and I'll be loving my time in the garden again. Right.
But there is one thing I can do to help both my garden and my mood. I love pruning and deadheading. I'm going to go to the garden and trim back some of the ratty looking perennials such as the daylilies. (Can you really kill a daylily?) I'm going to cut the foliage down to about four inches tall and by the time the glorious fall weather arrives, they'll be shooting up lots of beautiful new growth.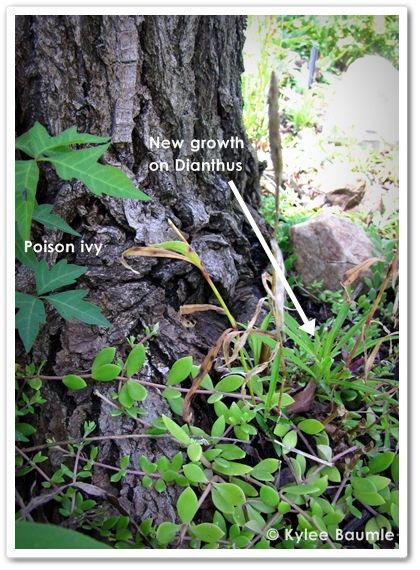 In fact, I'll bet if you look at the base of a lot of your perennials, you'll find that they're already doing just that. Besides my daylilies, several of my smaller grasses are doing it, and the dianthus, too. Just getting that yellowing and brown dead stuff out of the garden will make it look better, and I'll feel better about things, too.
Don't get me wrong - I'm all for keeping seed heads for the birds and I'll compost my trimmings, but if cleaning things up a bit makes the gardener happier, that makes for happier recipients of the gardener's efforts in the long run. Sort of along the lines of "If mama ain't happy, ain't nobody happy." It's better than chucking it altogether when things look less than optimum. It's all in a gardener's year...
Are you listening,
Gina
?
Besides, there are plenty of good things going on out there, too, if you look closely.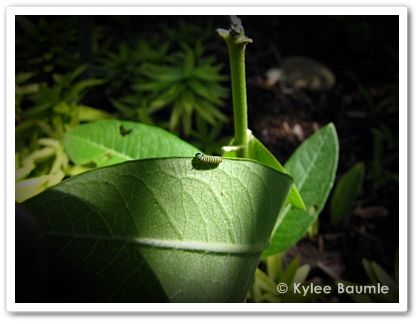 Three-day-old monarch caterpillar. Size? One-eighth of an inch!