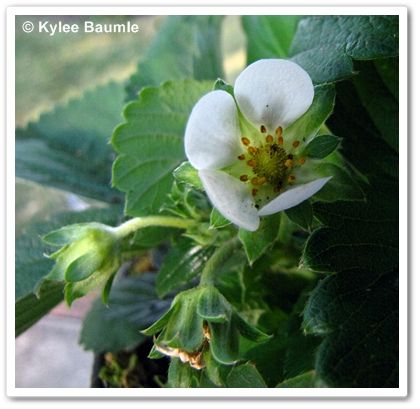 Here at Our Little Acre, we've grown strawberries in a patch in the garden for many years. It's one of my favorite fruits and I love to be able to just go to the garden in June and eat my way through the patch. But what if we didn't have an acre on which to grow them? Just how much space does one really need to grow strawberries, or any number of other edibles, for that matter?
Following
the visit to P. Allen Smith's farm
earlier this year, Chris Sabbarese from
Corona Tools
issued a challenge to the attendees. We were sent three 'Tribute' strawberry plants from
Stark Bro's
and were to come up with a creative way to grow them in a small space. Called "Strawberry Fields for Everyone," it was a contest and there would be a prize awarded to the gardener who tallied the most points, based on production, creativity, and whomever garnered the most comments and questions on our blog in regard to our method of growing.
When I received my berry plants, I immediately planted them up in a plain old clay pot until I could get the container I wanted, which would grow the strawberries in very little space. Before I could get the plants transferred to it though, one plant died. That one never really took off and grew like the other two, and I messaged Chris to say that I was already out of the contest. He said, "Not so fast...share your idea anyway."
But winning the contest isn't really the point, is it? Showing various ways in which gardeners can grow things that they don't think they have enough room for is a way of sharing and encouraging others - something that gardeners are known for and that bloggers have an opportunity to do every time they publish a post. And just think of how much tastier and healthier it would be if we could all grow even a little bit of our own food!
So here is my idea, in which I used an item some of
you
might already have, embellished with things
I
already had, and which takes up only a small amount of air space: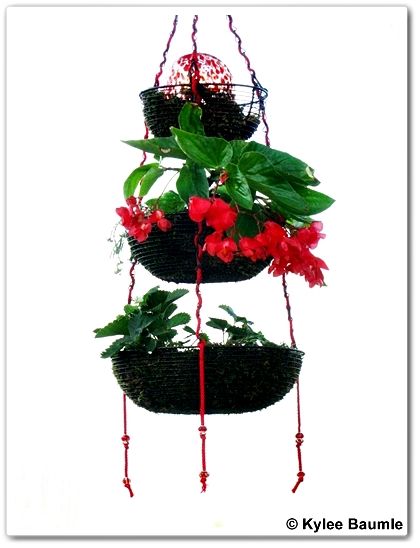 To do this yourself, you'll need:
a tiered fruit basket (don't forget to check the thrift stores!)
a package of dried sheet moss to line the baskets (coir will work, too)
ribbon or cord in the color of your choice
decorative beads
I got my tiered baskets at Sur La Table for $10, on sale. The silver mesh ones would work well too and are equally inexpensive. Sheet moss can be found at stores such as Hobby Lobby, Michael's, and Walmart and a package sells for around three dollars. The decorative beads were some that I had laying around, but they can be purchased inexpensively in the craft section of stores such as the ones I mentioned.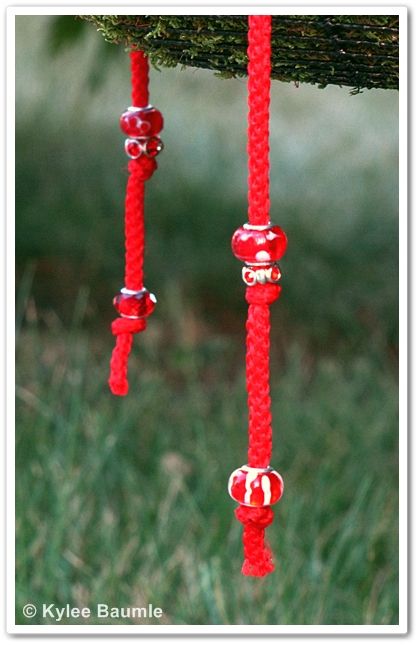 My first idea was to use ribbon to weave into the chains the baskets hang from, but then I remembered all the unused macrame cord that has been in a box in the basement for oh, let's see...30 years? (Don't say a word - I know you have skeletons in your closets, too.) The great thing about using the macrame cord is that this particular cord is appropriate for inside or outside use and is fade and rot resistant. I'll be able to re-use this planter for many years to come.
After weaving the cord through the chains, I left a foot of it hanging below, to which I attached glass beads. The beads look especially pretty when the sun shines on them.
Since we were only given three plants, I put those in the bottom basket and filled the other two baskets with other plants and a glass ball. I chose an angel-wing begonia because it flowers non-stop in a bright red, later adding Snow Princess®
Lobularia
by Proven Winners, another great performer. (In these photos, the
Lobularia
is new and hasn't yet matured into the drift of tiny white flowers for which it's known.) I used a general potting soil for planting.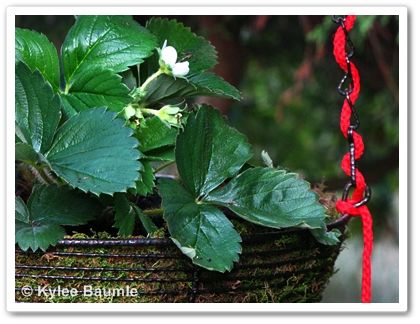 In the top basket, I placed a glass ball that I had floating in one of our little ponds in the garden. It coordinates nicely with both the glass beads on the cord, as well as providing a beautiful look when the sun shines through it. By using this as well as the red cord, the red-flowering begonias, and the red beads, they compliment the deep green foliage of the strawberry plants and provide color even when they aren't fruiting or blooming.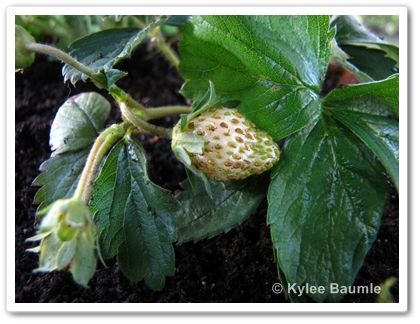 This hasn't been the best year for growing
anything
in my part of the country except maybe cacti, but I've got a few berries coming on now and the two plants are now FOUR!
'Tribute' is a day-neutral berry, meaning it will produce fruit for most of the summer, unlike the June-bearing ones that many of us are familiar with. Hung in a sunny window or outside, the three baskets would hold enough strawberry plants to provide enough berries for numerous servings throughout the season.
If you like my idea and would like to help me win the prize (which just happens to be an iPad2!),
please leave a comment here and let me know what you think
. Have you done something similar? Do you have an idea for growing edibles in small spaces that you'd like to share? I know I said earlier that it wasn't really about the contest, but who wouldn't want to win an iPad??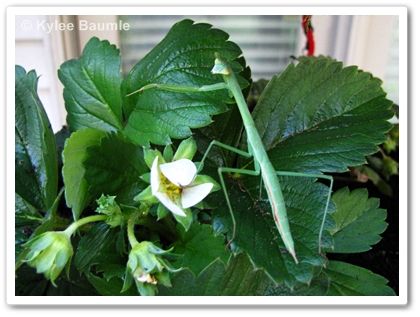 Look who likes hanging out in the strawberries! Yay for natural pest control!
UPDATE!
The first ripe strawberry was picked today, August 10th. Yum! Very juicy and very sweet!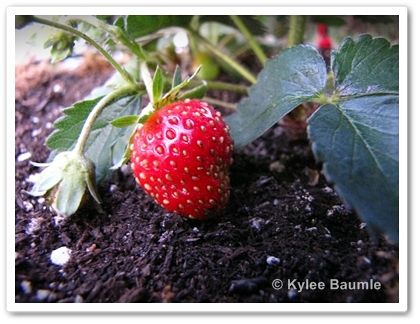 There are several more in various stages of growth. I might end up with
enough to put atop some shortcake!
For more information about the "Strawberry Fields for Everyone" project, please visit Corona Tools' site dedicated to the project.


The three strawberry plants were provided to all entrants by Stark Bro's, and Corona Tools sent a trowel to help with the planting.