Until Memorial Day weekend of this year, I'd never even heard of an ebelskiver, much less eaten one. That's not surprising, in a way, because I'm somewhat of a picky eater, I don't particularly enjoy cooking, and I haven't been all that adventurous in either department in the past. I am the proud owner of a raclette grill though, and have been for about 25 years. It's one of our family's favorite meals.

As I was going through emails at the end of last month, there were all those holiday sales and being one who hates missing a good bargain, I skimmed through until this caught my eye: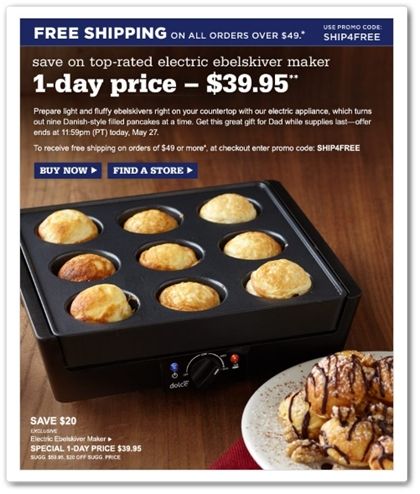 Williams-Sonoma was tempting me. I bit.
If you've lived a barren and deprived life like I have, and you didn't know what an ebelskiver was either, here's Wikipedia's definition:
Æbleskiver (Danish meaning apple slices (singular: æbleskive)) are traditional Danish pancakes in a distinctive shape of a sphere. Somewhat similar in texture to American pancakes crossed with a popover, æbleskiver are solid like a pancake but light and fluffy like a popover. The English language spelling is usually aebleskiver or ebleskiver.
(Williams-Sonoma spells it "ebelskiver.")
Sunday, we used the ebelskiver maker for the first time, and oh baby... Why these delicious little pancake balls had not entered my life before this, I have no idea, but thank you, Williams-Sonoma.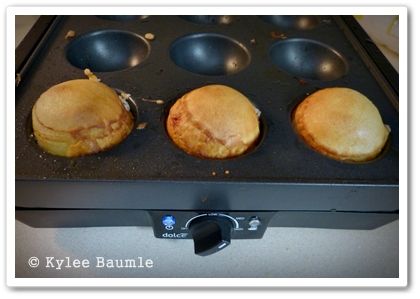 I'd also purchased the special
ebelskiver pancake mix
, so I stirred some up. To cook them, first a small chunk of butter was put in each well of the maker. Once that melted, I put two tablespoons of batter into each well, and then I added filling. We used fresh strawberries, but you can use jam, nuts, or whatever your little heart desires. An additional two tablespoons of batter was added to the top. When the sides began to pull away, it was time to turn the ebelskivers over to cook the other side. (This was easier than you might think.)
Once done, I spooned more fresh strawberries over the top and sprinkled them with powdered sugar. Then we ate them. YUM!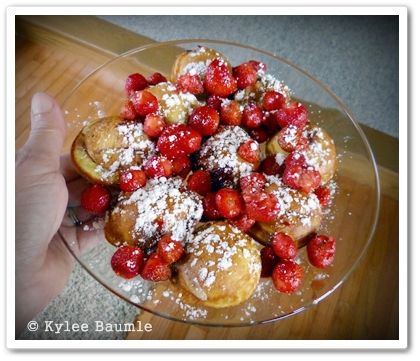 My first ebelskivers!
Ebelskivers are best eaten freshly-made and warm, but leftovers kept in the refrigerator aren't too bad reheated or eaten cold either.