I called Mom earlier last week and told her that I'd gotten an e-mail from
Hoen's Greenhouse and Garden Center
in Toledo, stating they had Meyer lemons. I'd wanted a Meyer lemon tree for some time, and since I'd not seen one anywhere since I'd decided I wanted one, I asked her if she wanted to go with me to Hoen's to get one.
Toledo is an hour and a half north of me, so it isn't a place I go very often. Mom is always up for an adventure, so of course she said yes, and Friday morning, we took off for points north. Just an hour north, on the way to Toledo, is Waterville, hometown of George Carruth, the sculptor. His studio,
Garden Smiles
, is there and we always stop in to see what wonderful new pieces he has for sale. In addition to his own creations, there are unique works by other artists - things you just don't see everywhere.
We enjoyed Garden Smiles and found some Christmas gifts there, then went around the corner to
Joe Cooper's Florist Shop
, another place we frequent when we're in town. Half an hour later, we walked into
Costco
. It's the nearest one to us and whenever I'm in a Costco neighborhood, I pay them a visit. I found a few Christmas gifts there, too.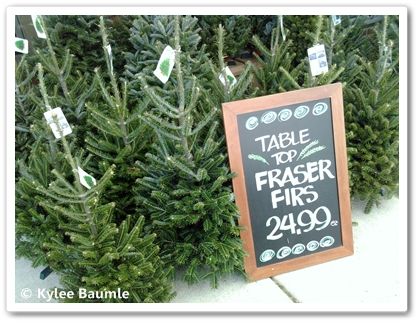 These small trees in front of Fresh Market were charming!
In the same shopping center is a
Fresh Market
. I'd never been in one of these stores before and Mom urged me to go, since we were right there. I'm so glad I did! What a beautiful store, with so many unusual food items.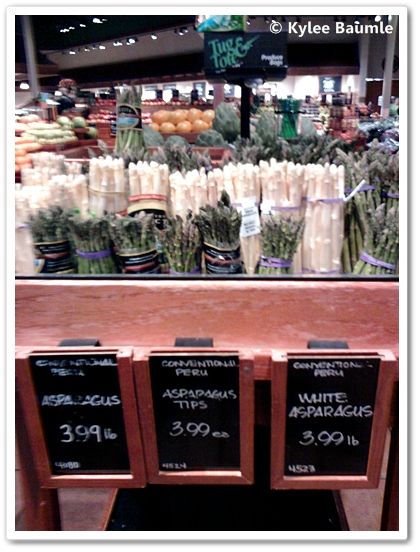 This is also the first time I've ever seen white asparagus.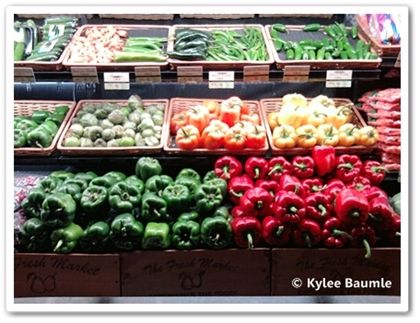 Cell phone photos don't do these beautiful vegetables justice!
They had very attractive rosemary trees, which I'd been wanting, but by the time we had strolled up and down the aisles and checked out, I forgot about them and didn't get one. I would remember this later and have regrets. But I did find some lingonberry jam! I bought two jars.
Stein Mart
was next door, and I had coupons, so that meant we had to go in there, too. I did a little more Christmas shopping and by the time we walked back to the car, it was nearly 3:00 and we were hungry. We were on the north side of town and we still had to go to
Hoen's
for my lemon tree, so we headed back south and decided we would find a place to eat down that way.
After a late lunch at
Panera's
, we walked into Hoen's and started browsing the aisles. The real attention getters were understandably the poinsettias.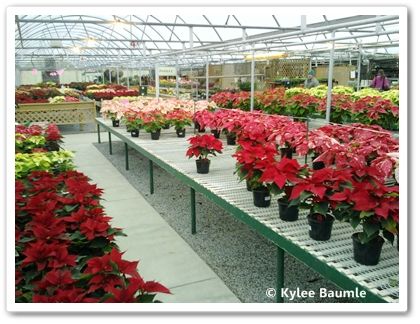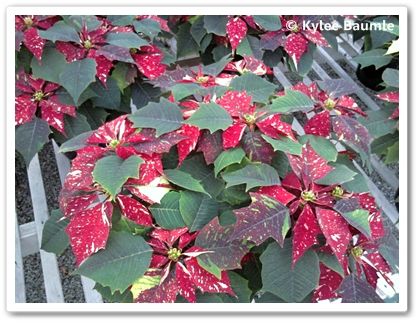 When I got all the way to the back I spied some very small agaves - bunches of them! I've been wanting an agave (or two) ever since I first saw Pam Penick's fabulous Whale's Tongue on her
Digging
blog. (Go
here
to see it for yourself!)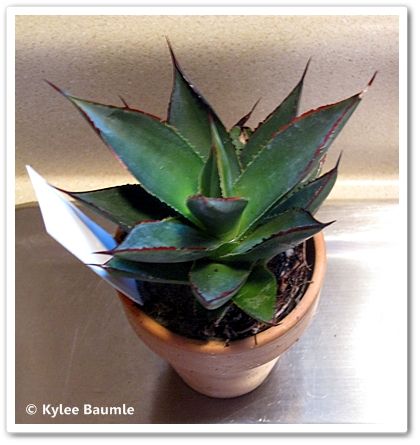 Agave 'Blue Glow'
As I walked around with the little
Agave
'Blue Glow' in my hand, an attractive woman came up to me and said, "I don't want to discourage you, but those are just seedling agaves we're growing and aren't really for sale." My heart sank. Then she told me they had some larger ones, although they'd suffered some cold damage from a propane accident they'd had recently. But of course, I wanted to see them anyway!
Sure enough, they had some spotted leaves, but oh my goodness, the Agave celsii 'Nova' were of a decent size and I still wanted one, in spite of their imperfections. She helped me pick one out - with pups! Then she told me if I still wanted to buy one or more of the seedlings, I could. I decided to get one of those, too.
As we walked and talked together, I asked her if she was Theresa Hoen, and indeed she was. She and her husband Bob are the owners and operators of the greenhouse and garden center. I told Theresa that I'd driven an hour and a half just to get a Meyer lemon. She seemed to be amazed to hear this.
Meyer lemon tree (Citrus x. meyeri 'Meyer') at Hoen's Greenhouse
and Garden Center in Toledo, OH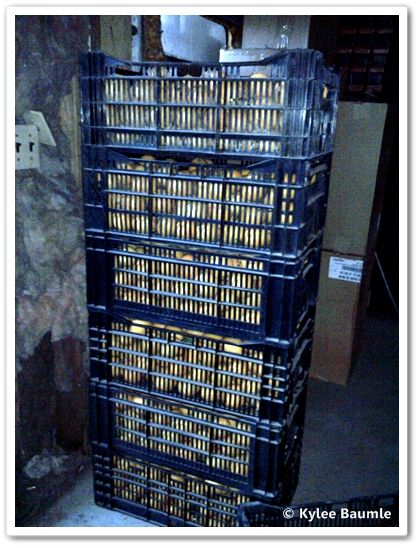 She told me about their large lemon tree that they'd just harvested and how that harvest was quite a large one. I wanted to see the lemon tree, and she was happy to show it to me. It was amazing to see a lemon tree of that size growing inside! It still had many, many lemons on it, in spite of the several crates they'd already picked.
It was then that I asked her to take me to the Meyers, so we headed toward the front of the store. We slowed to a stop at the front register, where Theresa waved her hand towards the Meyer lemons - two baskets of large and small fruits. Just the fruits. I told her I was interested in their trees and she told me they didn't have any trees for sale, only the fruits.
So intent was I on having a Meyer lemon tree, I'd read into that e-mail that they had lemon trees, not just lemons! No wonder she was amazed that I'd driven that far for Meyer lemons! Ha! Theresa told me they'd been thinking about propagating trees from their large one, and she said if she and Bob decided to do that, she'd let me know so I could get one.
I felt a little silly for having misunderstood about the lemons, but I bought two of them and grabbed a copy of their recipe for lemon cake. There was no way I was going home without Meyer lemons of some sort! I was a little disappointed to not get a tree, but only slightly, because now I had an AGAVE! Two of them!
We left for home as it was beginning to get dark. As we went by Defiance, we decided to stop at Lowe's to see what house plants they had and guess what we found? Meyer lemon trees. No kidding. Sure, they were pathetic little things that looked extremely anemic, but they were marked down from $20 to $5. I asked the associate if they had any more and she said, "No, and the only reason those are still there is because I haven't had the heart to throw them out yet." I then asked if she'd take two dollars for them and she said she would.
I picked out the best one of the Improved Meyer lemon trees (Citrus x. meyeri 'Improved Meyer')as well as a Navel Orange. Both will be a challenge to rehabilitate, but for two dollars each, it will be a cheap experiment. At least I'll try, with the first order of business being to feed them, which she told me Lowe's isn't allowed to do. We'll see how successful I am at reviving these. Stay tuned!
Our last stop before home was also in Defiance, at the home of daughter, Kara. It was a two-fer, as other daughter Jenna was there also, for a party Kara was having that night. We'd had a long day into night, but much was accomplished. I'd made a major dent in my Christmas shopping, got my Meyer lemon tree
and
lemons, and the unexpected bonus of
two
agaves!