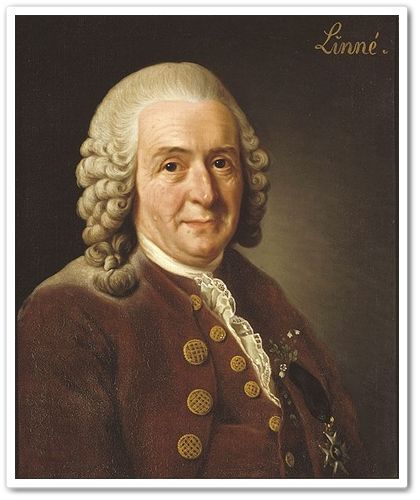 Carl Linnaaus
My friend, Christopher Tidrick (
From the Soil
blog), has a new meme launching today that he calls Linnaeus Day. It is so named in honor of Carl Linnaeus (1707-1778), the Swede who is credited with the origin of plant taxonomy, or the naming of plants. He prepared the way for the use of binomial nomenclature, using Latin to provide each living thing with a unique name.
On Linnaeus Day, Chris challenges us to pick a plant from our garden and find out more about it. This is a wonderful project for information junkies like me. I find history of just about anything to be fascinating and when it involves one of my favorite pastimes, it's irresistible.
Since I have an acre to work with here, I'm doing my best to fill it up, growing hundreds of different plants in the gardens and landscape. How could I choose one to research? My inspiration came in the form of a beautiful red bird that frequents our bird feeders and it so happened that it posed for my camera yesterday, as I was trying to think of which plant I'd research.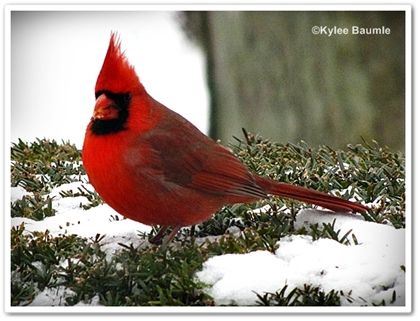 Ohio's state bird, the cardinal, just outside our window
What does that have to do with my choice of plants for Linnaeus Day? I grow a red-twig dogwood in our gardens – three of them, in fact – whose botanical name is Cornus sericea 'Cardinal'. Winter is its true time to shine, because once it's lost its leaves for the winter, it allows the branches to be seen. And in winter, their normally green branches turn bright red. (Dirr notes that the red winter color is not as good in Zone 7, where it's more of a yellow, with a trace of orange.)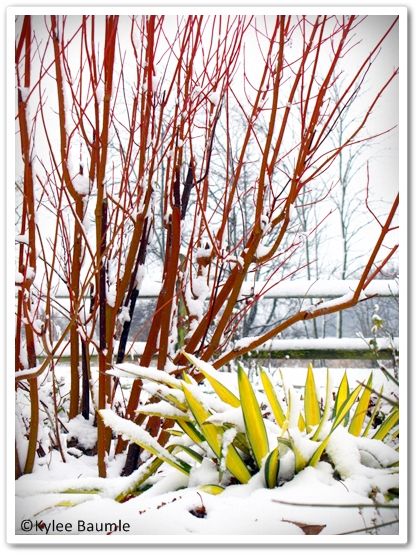 Cornus sericea 'Cardinal' with Yucca filamentosa 'Color Guard' in December
To keep this shrub producing the best red branches in winter, it's advised to prune the older branches in the spring, as the deepest red color is shown on the younger growth. Pruning isn't necessary though for growth's sake, unless you want to rein in this fast grower.
I remember when I got mine (2008) and I planted them in a group of three. My mom came for a visit and promptly advised me that I'd better spread them apart a little more, unless I wanted one ginormous shrub, because she knew their growth habit. I promptly followed her advice, and it wasn't long before I was glad I did.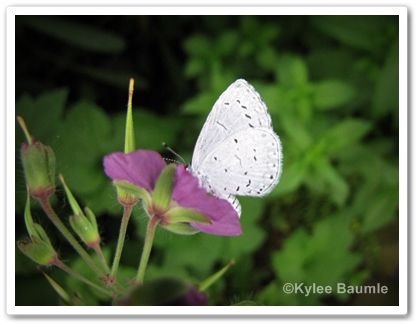 Azure butterfly on Geranium phaeum 'Lavender Pinwheel'
While researching information about this particular shrub, I learned that it's a host plant for the spring and summer azure butterflies. We have both azures, but they look so similar, I can't tell them apart when I see them flitting about in the yard and gardens.
'Cardinal' was developed by Dr. Harold Pellet in conjunction with the
University of Minnesota Landscape Arboretum
, which released it in 1987.
The University's Woody Landscape Plant Breeding and Genetics program was formally initiated in 1954 to breed trees and shrubs capable of withstanding Minnesota's harsh climate. Since that time, the program has been responsible for the release of 46 cold hardy woody landscape plants.¹
Cornus sericea 'Cardinal'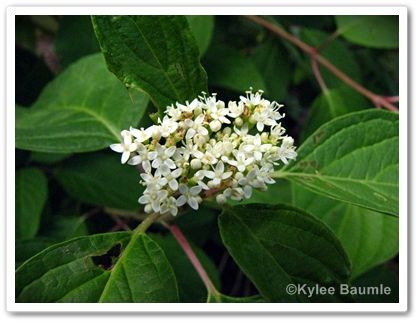 Deciduous shrub – Hardy in Zones 2-7
Light: Full sun to Part shade
Soil: Moist, acidic to mildly alkaline
Mature size: 8-10 feet wide and high
Fruit: Clusters of white berries follow tiny white spring blooms
__________________________________
Information gathered from the following sources: