About a year ago, I came across a photo online of a beautiful bloom. I read the caption, then read more about the plant sporting it. Ah...it was a tropical, so I kind of dismissed it because finding certain tropicals in the north can be as much a waste of time as shoveling the snow while it's still snowing.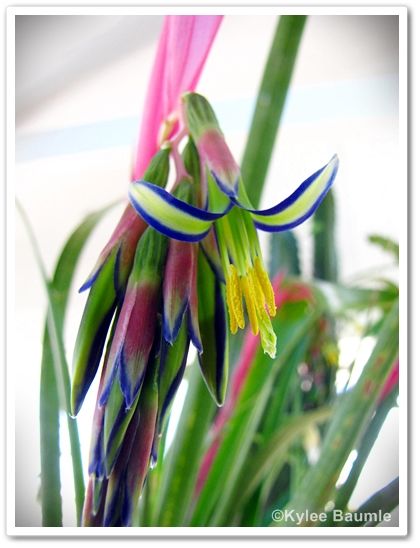 Just a few short weeks later, I attended the Fort Wayne Home and Garden Show, as I usually do each year. Making a bee line for the Foellinger-Freimann Botanical Conservatory's booth, I was anxious to see what they had to offer for sale. They have great stuff and sometimes unusual plants, for quite reasonable prices.

I picked a couple of things out, paid for them, and had them hold them until I was ready to leave the show. As I was walking away to see what else was at the show, something caught my eye that I hadn't seen, somehow. It wasn't in bloom, but the stiff spears of foliage made me take a closer look. When I read the tag - Billbergia nutans or Queen's Tears - I couldn't believe it. This was the plant that I'd read about.

This one wasn't in bloom and wasn't exactly something that would warrant anything more than a passing glance. I'm not sure why I checked it out, but I snatched it right up and took it home with the rest of my treasures. It was bursting out of its small plastic pot, so much so that it was misshapen, so I made a mental note to repot it into something slightly larger when I got the time. I put it in the conservatory.

I forgot about the repotting, but it must not have minded, because it bloomed a few weeks later. It was as beautiful as I'd seen, even though it only had a couple of blooms.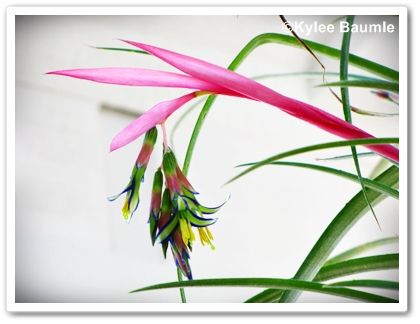 Spring came and things got busy around here. The
Billbergia
finished blooming and I kept putting off the repotting. I left it in the conservatory for the summer, watering it as it needed. Soon it was fall and time to start loading up the conservatory with the tender plants that had enjoyed the summer outside. Still, the
Billbergia
was waiting for repotting, and I knew I couldn't put it off any longer.
Earlier this week, it rewarded me for giving it more room. There are eight shoots of blooms on it this year and I'm not sure it's done shooting them out yet. Normal time for them to bloom is mid-spring, so it's early. Last year, it bloomed in mid-April.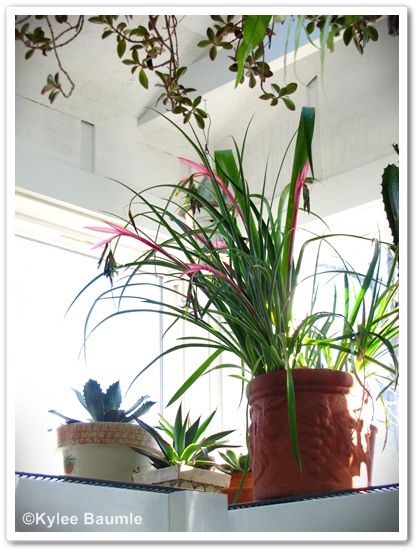 They're as beautiful as ever, as seen in the photos here. This plant, which is a terrestrial epiphyte, couldn't be easier to care for, in fact, it tends to thrive on neglect, I've found. It's also called Friendship Plant because it produces "pups," which can eventually be separated from the mother plant and potted up.
While they might be common in warmer climates, they aren't that easily found here where I live. Keep your eyes open and you might find one, too.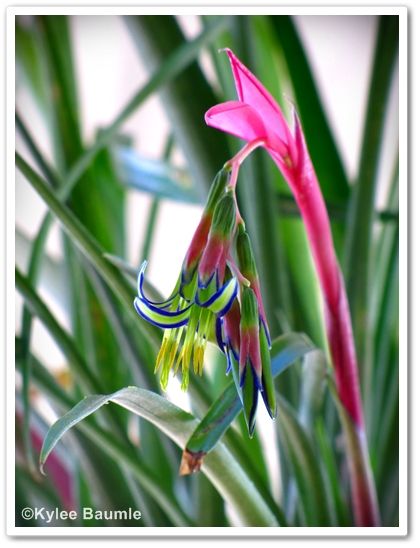 Billbergia nutans




Zone 9-11




Bright indirect light. If grown outside, keep in shade

.