Ask me if I like Brussels sprouts and I'm likely to turn up my nose. But I really don't have a good reason to do that, because to be honest, I've never tasted them. But now I want to.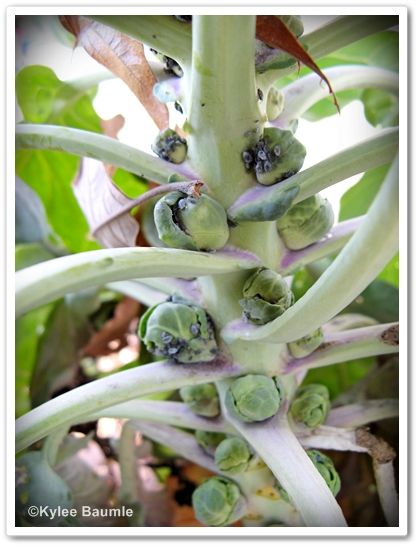 I grew Brussels sprouts in 2008, but I never ate them.
It wasn't because of the aphids either.
Annie White, Editor-at-Large of
Inside Grower
, brought an interesting little tidbit of information to my attention in her latest newsletter. It seems that there is a genetic predisposition for liking Brussels sprouts or disliking them. About half the population has a gene type that causes the vegetable to taste bitter to them. The other half has a mutation of the gene that allows them to eat Brussels sprouts without tasting the bitterness.
Brussels sprouts contain PTC - Phenylthiocarbamide - and people who can't taste it are more likely to enjoy eating them. This discovery was made by the
Eden Project
in Cornwall, Great Britain.
I grew Brussels sprouts once, four years ago, but I never ate them. Now that there's this genetic link to liking these or not, I want to grow them again and this time, I'll eat them. I'll eat them at least once, just to find out if I'm a "taster" or not. Then I'll make my husband eat them to see if he likes them. And then - you know what's coming, don't you? - I'll make our girls eat them to see whose genes they inherited.
Yeah, it will be a downright scientific experiment.