Before I attended the Garden2Blog event in Little Rock earlier this month, I knew there was a story associated with the 'Peace' rose, but I'd never bothered to really check out what it was. Thanks to Steve Hutton, from The Conard-Pyle Company, and the book For Love of a Rose by Antonia Ridge, I now know "the rest of the story."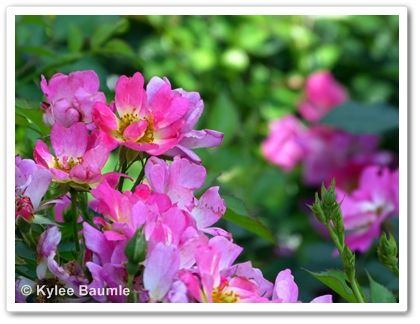 P. Allen Smith put in a beautiful rose garden on his property just outside of Little Rock, highlighting old-fashioned roses through modern day varieties, such as Knock Out® and Drift® Roses. When I visited there last spring, the garden was in the beginning stages, but this year I got to see it in all its glory.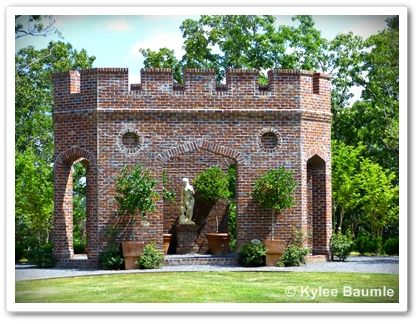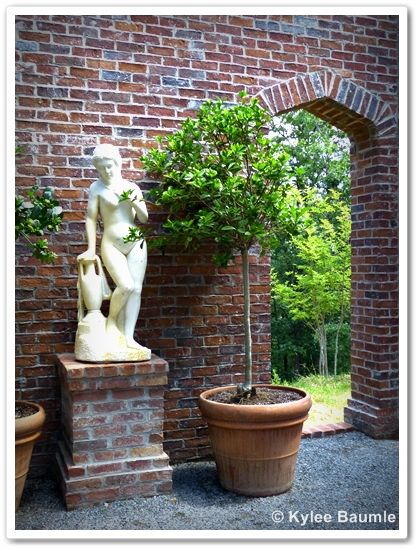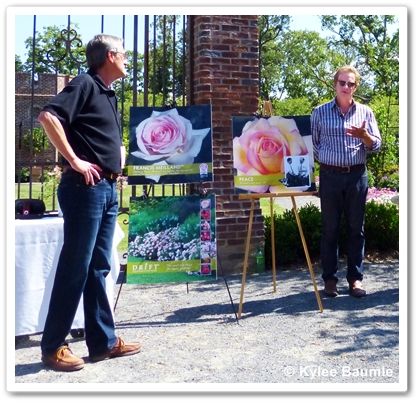 Steve Hutton (left) of Conard-Pyle, joins P. Allen Smith in
sharing their love of roses in Allen's rose garden. That's
'Peace' shown in the large photo next to Allen.
One of the sponsors of Garden2Blog was Conard-Pyle and attendees were schooled on the history of several of the roses introduced by their company. That included 'Peace'. It was developed during the years prior to World War II and introduced to the world on the day that Berlin fell (April 25, 1945). Its name reflected the hope of many.
But let's back up a few years. Late in the 1930s, Francis Meilland, a rose breeder, produced a rose seedling that was known simply as 3-35-40, among others. This seedling was eventually one of just 50 seedlings chosen from hundreds to be grown on. As time went on, this particular rose caught the attention of other growers because of its beauty and other desirable characteristics.
Meilland, fearing for the future of this rose and others, because of the war, sent cuttings to growers in Italy, Germany, Turkey and the US. In fact, the packet sent to Mr. Robert Pyle in Pennsylvania was cargo on the last plane to leave France before the German invasion. All arrived safely, except for the Turkey-bound one, and the rose was grown on during the war.
Each grower gave the rose a different name. In France, it was 'Madame A. Meilland', named for Meilland's mother. In Italy, it was known as 'Gioia' ('Joy'), in Germany, 'Gloria Dei' ('Glory Be to God'), and in the US, 'Peace'. Eventually, it was decided that 'Peace' would be the trade name.
As the date of introduction was chosen many months ahead, it was a coincidence that Berlin fell on the same day, and one month later, it was also coincidental that on the date that 'Peace' received the All-American Award, a peace treaty was signed in Japan.
"We are persuaded that this greatest new rose of our time should be named for the world's greatest desire: PEACE.
We believe that this rose is destined to live on as a classic in our grandchildren's gardens and for generations to come. We would use the word "Peace" to preserve the knowledge that we have gained the hard way the Peace is increasingly essential to all mankind, to be treasured with greater wisdom, watchfulness, and foresight than the human race has so far been able to maintain for any great length of time.
Towards that end, with our hopes for the future, we dedicate this lovely new rose to:


'PEACE'."¹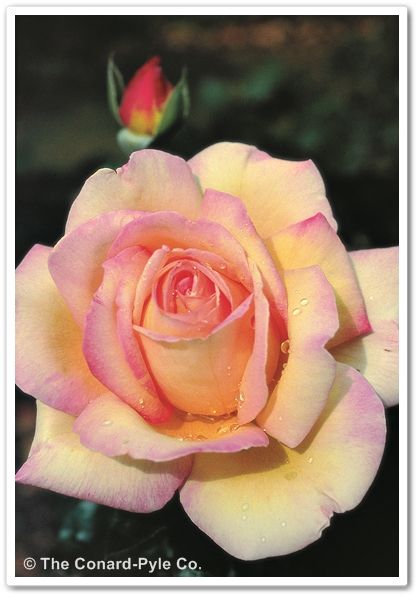 'Peace'
'Peace' is the world's most popular rose of all time. A hybrid tea rose, it is a vigorous grower, very hardy, and quite disease resistant. On Mother's Day this year, daughter Jenna gifted me with a 'Peace' rose of my own.
~~~~~~~~~~~~~~~~~~~~~~~~~~~~~~~~~~~
¹Antonia Ridge,
For Love of a Rose
(London: Faber & Faber, 1965) 210.