Christmas 2011

Many of you have gotten to know my mom through my blog a little bit and several of you have had the pleasure of meeting her in person. You know that she's a whirling dervish, with a passion for gardening and the energy of three people. That's why she has accomplished so much in her life. My dad has done his best to keep up with her, helping her implement many of her ideas, and the two of them will celebrate their 60th wedding anniversary on June 8th this year.
On more than one occasion, Mom has talked about starting a blog. I know she'd have a lot to say. But she has never gotten around to it, because that would mean she'd have to sit down too long. So I asked her if she would like to do a guest post here on Our Little Acre. As proof that the grass doesn't have a chance to grow under her feet, it was in my inbox about an hour after I'd made the suggestion.
My mom has been a lifelong gardener and though I know she wished I'd taken the same interest in it years ago, I'm a world-reknowned procrastinator. Better late than never though. But make no mistake - she has been the inspiration for me, and I'm doing my best to pass that passion for growing on to my own girls. My 97-year-old grandma was a gardener, too. So the legacy continues...

~~~~~~~~~~~~~~~~~~~~~~~~~


Having grown up as a farm girl, I have always been close to the earth. I have driven a tractor in preparing the soil for planting soybeans, corn, and wheat - principal crops that my father grew. We still have the family farm.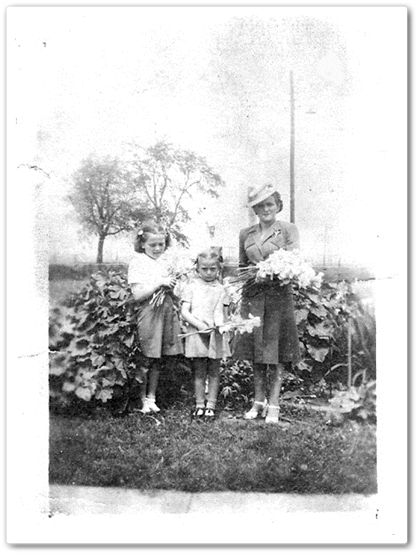 Mom, my Aunt Kay, and Grandma
1944
Through all these years, I knew the need to preserve the land for future generations. Dad always said they could always make more money, but they cannot make more land. We had a vegetable garden, livestock, and learned to preserve our food. We enjoyed the beauty of the landscape.
It has always been important to impart all of this to Kylee. We had her in 4H where she had a flower garden project. Not until I shared a major flower show with her did she become inspired. Many, many, flower shows we have now attended. It is so much fun sharing a passion with your best friend.
Through Kylee's blog and her community of gardeners, I have had the opportunity to meet so many wonderful gardeners, so filled with knowledge on most any subject. I love the educational seminars, display gardens, new products and the introduction of new plants at the shows. Other gardeners have taught me so much.
I am active within our city, being instrumental in establishing a children's garden, and I belong to two garden clubs, and help with the landscaping of our church. I glean as much information as I can from my peers and bring it home to execute it.
It is so fun to pick up a magazine or book and to be able to put a face to the writer. By Kylee and I traveling together we get to see gardening in different parts of the country. Even though we are in different zones, we are in unison - stewards of the earth.
First, Kylee learned from me; now I learn from her. God is good.

~~~~~~~~~~~~~~~~~~~~~~~~~


Happy Mother's Day, Mom. Thank you for the lessons you've taught me, in gardening and life. I love you and hope we can share it all for many more years.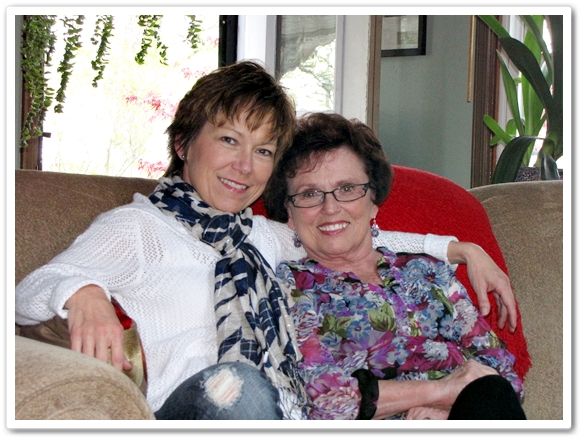 Mother's Day 2011