On Monday, Mom and I drove down to Columbus (OH) to spend the day attending the annual OFA Short Course trade show held at the Greater Columbus Convention Center. One day is really not long enough to see everything you want to see, but we absolutely couldn't find one hotel room so we could spend the night. (After more than three hours of looking online, I gave up.)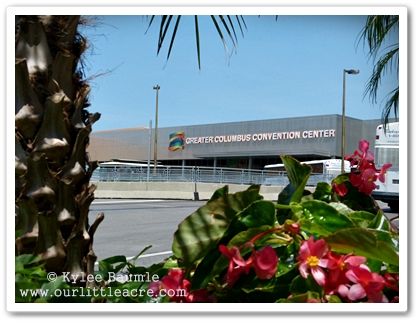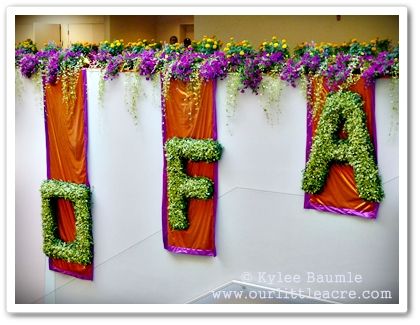 However, we made good use of our time and we got to meet up with several people, including Danielle Ernest and Susan Martin from
Proven Winners
, Jessica Reinhardt from
Dramm
, and Maria Zampini from
UpShoot
/
HGTV Home Plants
. We didn't have much time to chat, but we briefly saw Katie Elzer-Peters of
The Garden of Words
(and other things). Kate Copsey of
America's Homegrown Veggies Radio
and Brenda Haas of Twitter's
#gardenchat
were there, too.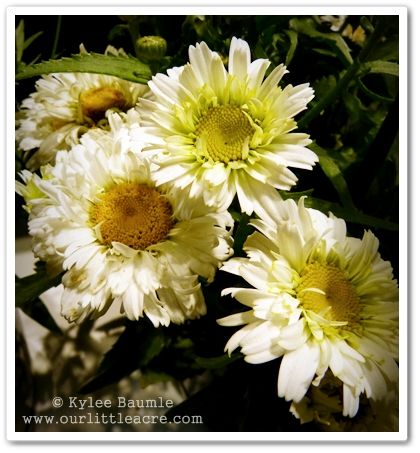 Leucanthemum x superbum 'Freak'
Blooms of Bressingham
provided lunch for members of Region III GWA (Garden Writers Association) at Max and Erma's, and a short meeting was held. They also gave us plant samples of one of their new introductions,
Leucanthemum
x
superbum
'Freak'. I'm a big fan of frilly white daisies, so I'll happily add this to 'Wirral Pride' and 'Aglaia'.
Speaking of trial plants, the prolific plant breeder Dan Heims of
Terra Nova Nurseries
shared some plants with me - three heucheras and a
Heucherella
hand picked by him for our hot, dry summers. I'll be trying
Heuchera
'Sugar Berry' and variegated
Heuchera
'Galaxy' both of which are part of the
Little Cutie™ Series
, In addition, he gave me
Heuchera
'Delta Dawn', which is supposed to be an improvement over 'Miracle', one I currently have in my garden.
Heucherella
'Buttered Rum' also came home with me.
It's always fun at the
Plants Nouveau
booth. Angela Treadwell-Palmer won me over with her tutu at a garden writers event in Dallas two years ago. Well, that and her fabulous plants. This time, I met her new business partner, Linda Guy, and the two of them make for a powerful duo. I oohed and ahhed over the hydrangea blooms and of course, the echinaceas.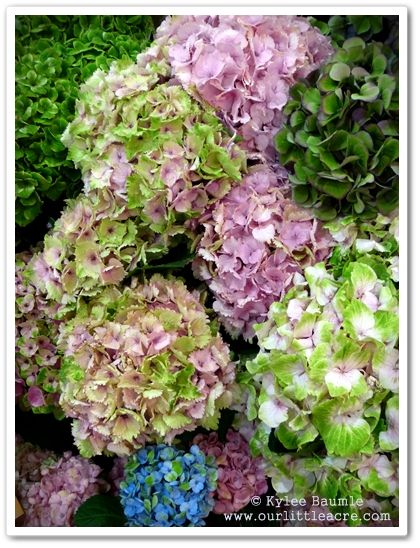 In addition to giving me some new brunneras to try (
Brunnera macrophylla
'Sea Heart' and 'Silver Heart'), she sent me home with a fabulous Everlasting™
Hydrangea macrophylla
'Revolution'. I can't wait to see it bloom in my own garden. This plant is hardy to Zone 5 and is a repeat bloomer that's very prolific about it. Just look at the colors in its blooms!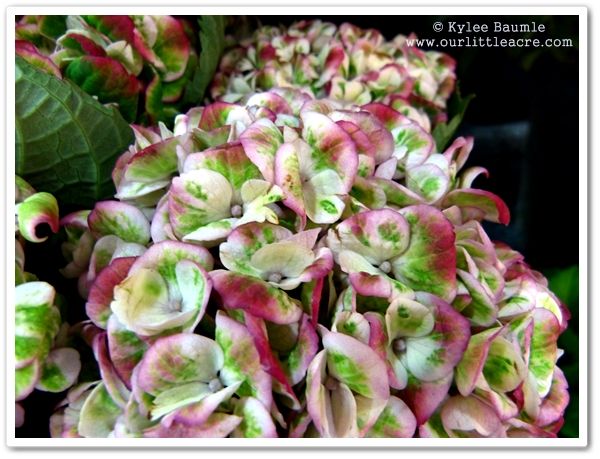 Everlasting™ Hydrangea macrophylla 'Revolution'
I got to see my publisher - Paul Kelly of
St. Lynn's Press
- of the book that I'm writing with
Jenny Peterson
and met the graphic designer, Holly Rosborough, who put together the
BLAD
for it.
Indoor Plant Décor
will be published and released in April 2013.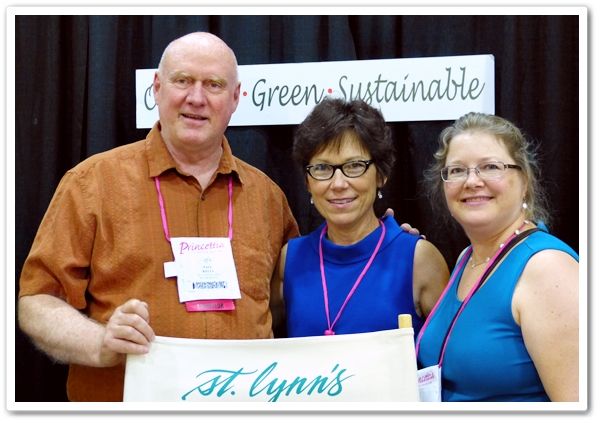 Paul Kelly, me, and Holly Rosborough
Work is in progress and next week I'll be flying to Austin, Texas, for a jam-packed seven days of photography fun with Jenny. A trip to the
Ladybird Johnson Wildlife Center
is planned, as well as visits with gardening friends Pam Penick of
Digging
and Diana Kirby of
Sharing Nature's Garden
.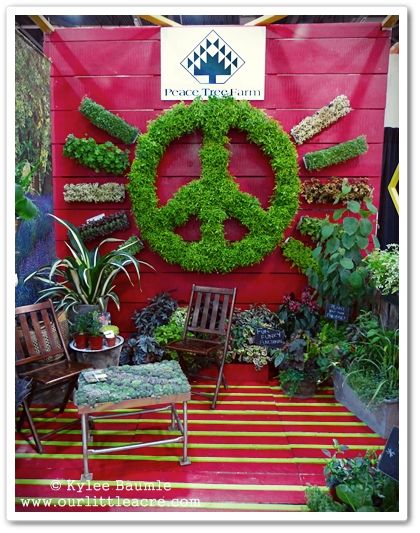 How can you not love this? ♥
As far as booths were concerned, from what we saw, nothing held a candle to Lloyd Traven and crew of
Peace Tree Farm
, a wholesale nursery in Kintnersville, PA (that's just east of Allentown). Using all repurposed items in their design, they certainly appealed to my inner hippie with their living peace sign.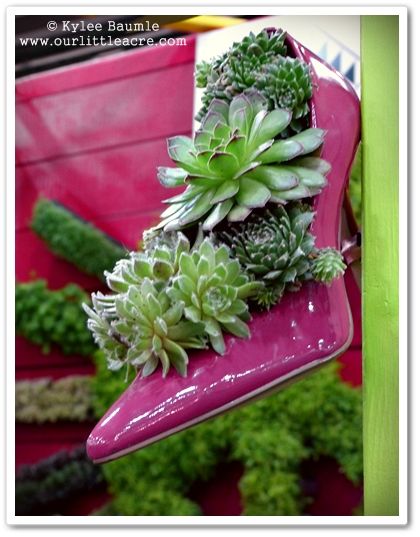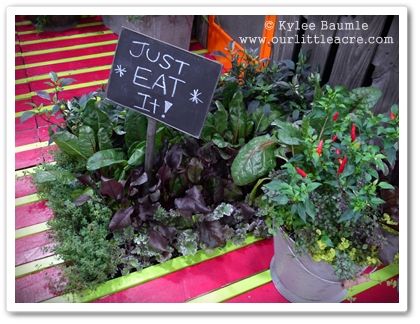 Even the flooring was a great use of pallets, the darling of the recycled garden products world right now. Groovy, Lloyd.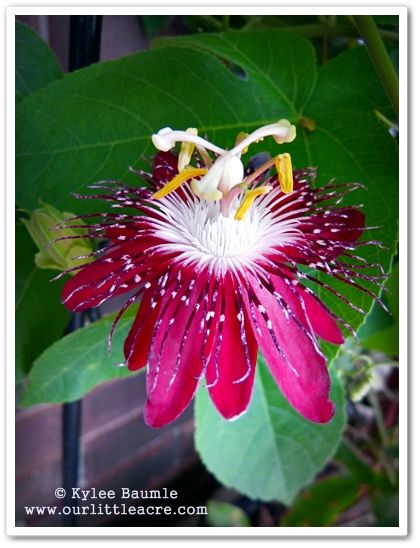 Passiflora
All in all, it was a fun day that we wrapped up with a stop at
Oakland Nursery
, where I couldn't leave without buying a red-blooming
Passiflora
that was nearly as big as the 'Clear Sky' one I lost over the winter. There wasn't an ID tag on this one, but I suspect it's 'Lady Margaret'.
The next gardening show will be in Chicago when
IGC Show
holds its annual trade show at Navy Pier in mid-August. That is
always
a good time!
More from OFA: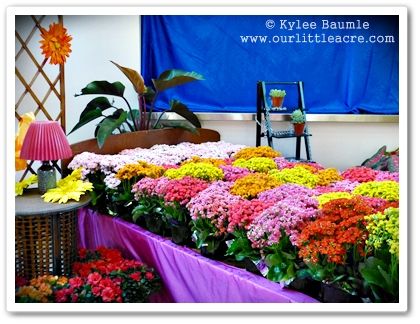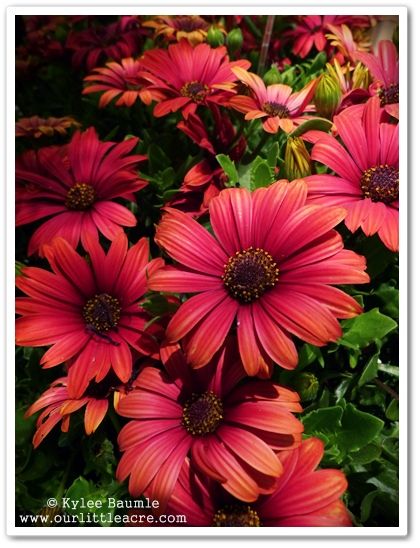 Osteospermum Sunscape® Daisy Cape Daisy Fireburst™ from Ecke Ranch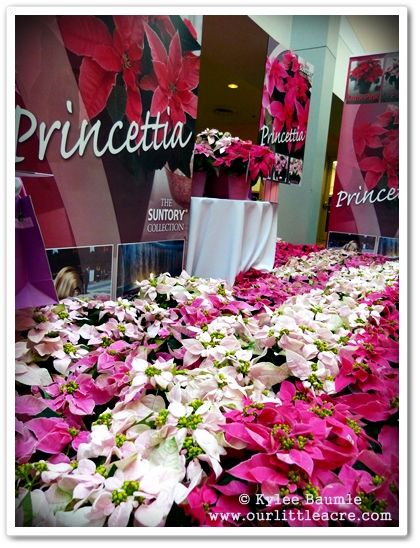 Pink Poinsettias!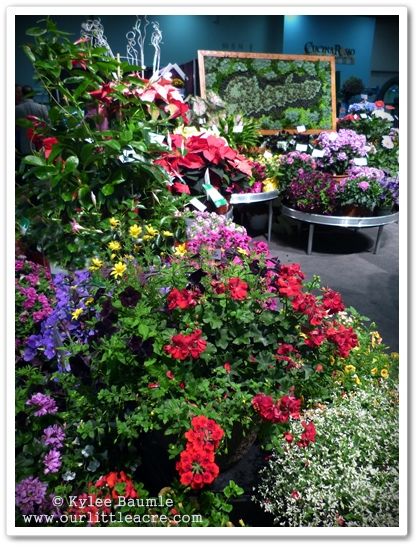 Love the vertical gardening frame from Gloeckner. They had this last year, too.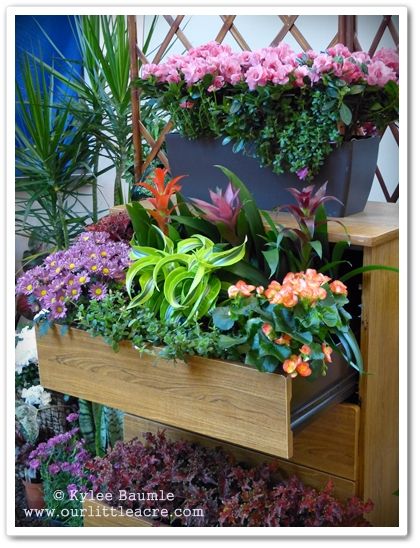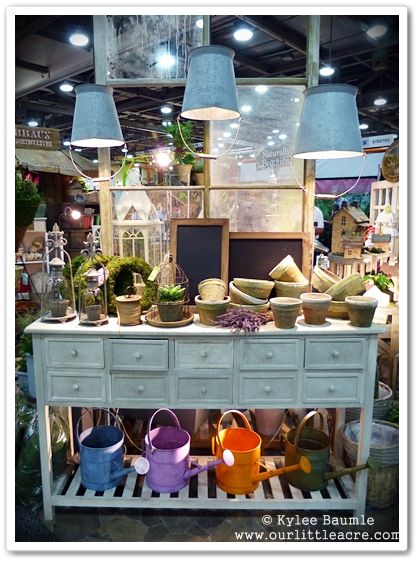 This light fixture made from buckets was a big hit at the Braun Horticulture
display. Their booth is always a favorite stop for me.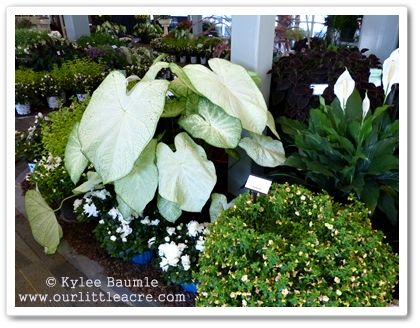 Love these gigantic caladiums!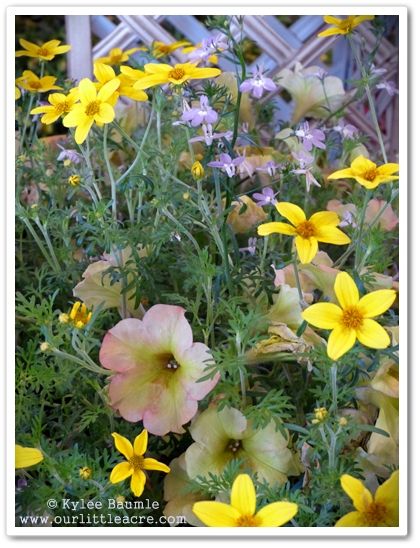 Bidens 'Sunbeam'
Lobelia Waterfall Light Lavender
Petunia Suncatcher Pink Lemonade
from BallFloraPlant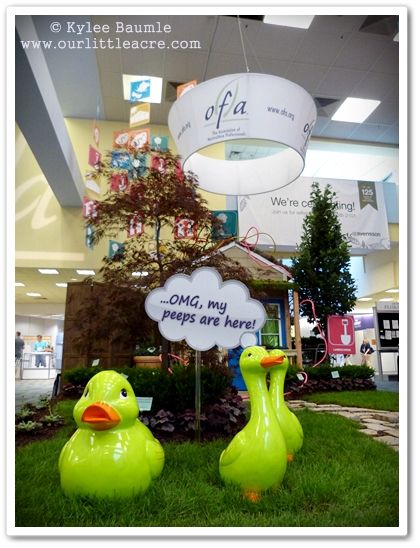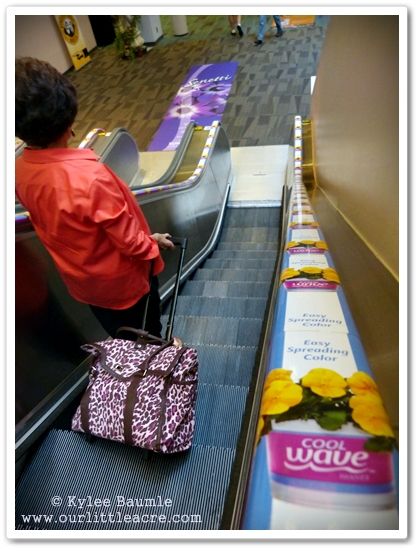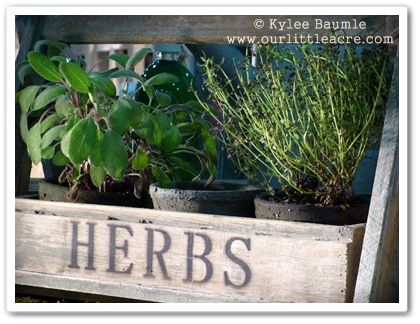 Another from Braun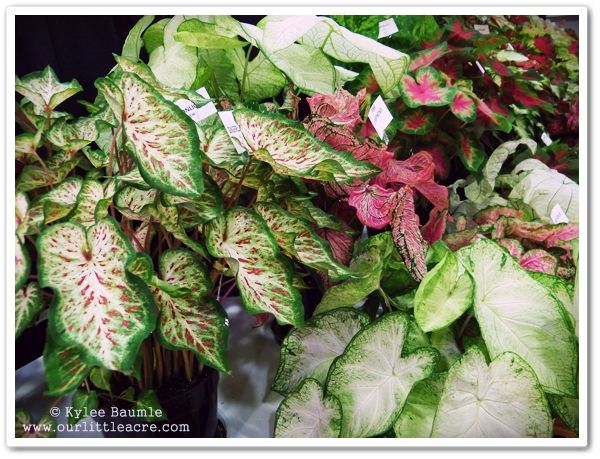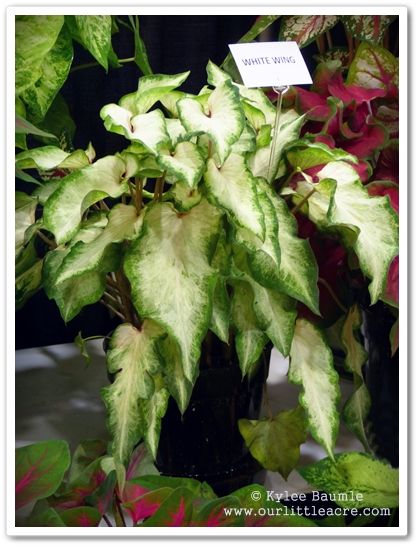 *
My admission fee to the OFA Short Course was paid by the Region III Garden Writers Association.