I don't even remember where I heard about kale chips, and it was only a couple of years ago. The first time I saw kale growing in a garden was on a garden tour somewhere and it was that frilly type called dinosaur or Lacinato kale. Gorgeous plants, they were, and I didn't really care if I liked kale or not, I wanted to grow it in my garden.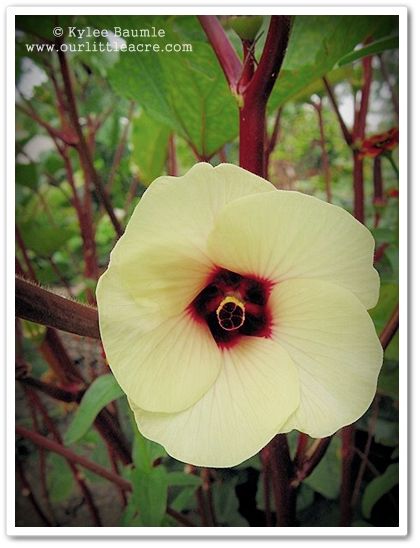 Burgundy okra bloom
There have been other times when I grew vegetables for the pure pleasure of seeing the beautiful plants, with no intention of eating their fruits. Take okra, for example. One year I grew purple/red veggies and those burgundy okra plants were handsome things! Not just the leaves either; their flowers were like ivory hibiscus, giving evidence to their genetics. But I never ate a single okra.
Then somewhere along the garden path, someone mentioned kale chips. Chips? As in potato chips? Hmmm... I was told they were delicious and why, for goodness sake, would anyone pay their expensive price in the store when you can easily grow your own kale and make them yourself? Well, alrighty then.
This spring, I decided it was the year I would grow kale and make those chips. I knew you could do them in the oven, but from what I'd read, they're much better done in a dehydrator. Maybe I'd just try them in the oven first, to see if I liked them.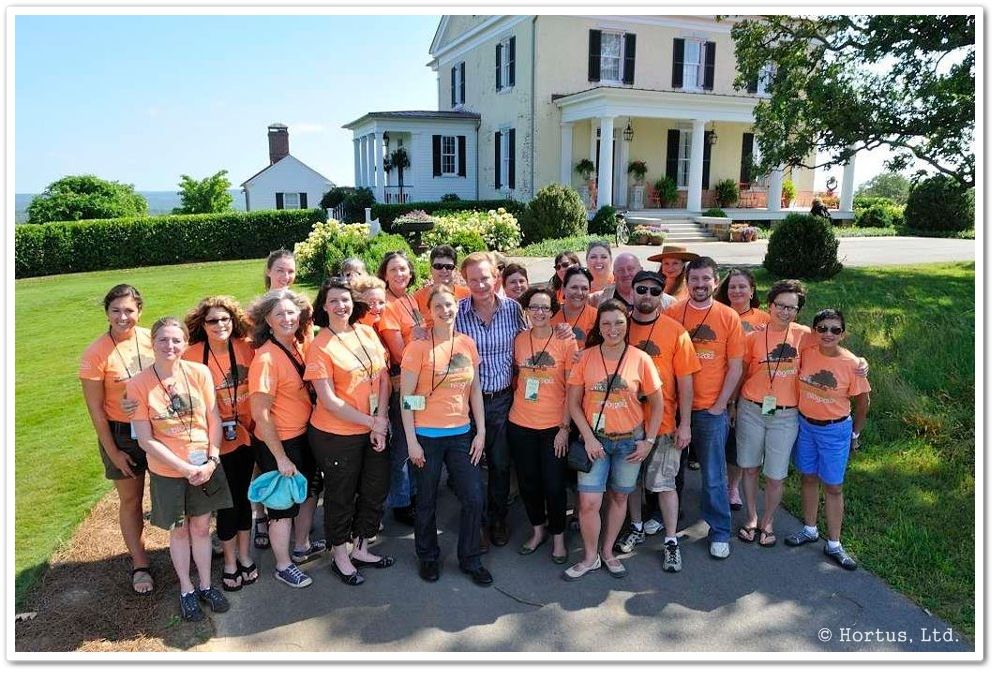 Garden2Blog 2012 group photo courtesy of P. Allen Smith & Hortus, Ltd.
In May, I attended the
Garden2Blog
event in Little Rock, Arkansas, at the home of
P. Allen Smith
. It was my second time to attend G2B and I knew there would all kinds of shenanigans and merriment going on. Sponsors are generally very creative in the way that they introduce their products to the attendees and this year would prove to be no different than last.
QR Code for
Our Little Acre
Bonnie Plants
was also in their second year there and having long been a Bonnie Plants customer, I was glad to see this. So what did they have in store for us this year? They incorporated social media with a scavenger hunt. We were to search among the rows of the one-acre vegetable and fruit garden for signs that had a QR (Quick Response) Code on them, scan it with our smart phone and tweet the message that came up. The message would tell us what prize we won. And there were good ones, too - t-shirts, caps, a garden apron, a garden hod, and a dehydrator, just to name a few.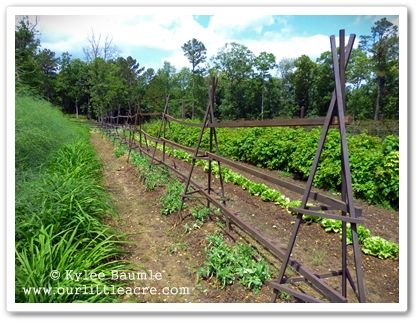 Just part of Allen's one-acre vegetable and fruit garden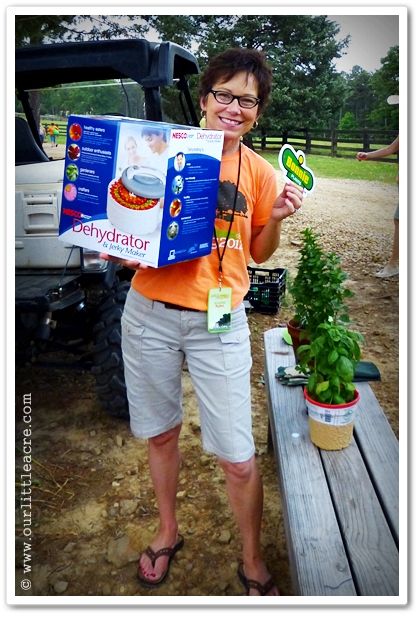 When I saw the dehydrator, I thought to myself, "That would be really cool to win that, since I want to grow kale and make chips." Soon, we were turned loose in the garden and though it took me a little while, I found one of the designated signs and ran to get it. My cell phone's battery was nearly dead and my reception at Moss Mountain Farm was dismal, to say the least, but I scanned it, the message appeared and I HAD WON THE DEHYDRATOR! I jumped up and down and was so darn happy; I nearly acted like one of those crazy people on
The Price is Right
.
When I got home, I planted my kale ('Red Russian') and in spite of the heinously hot and dry late spring and summer we've had, the kale grew and a couple of weeks ago I harvested it for the first. I'm organic here, so the kale suffered some effects from insects who apparently like the stuff, but it was good enough for us. Those insect holes don't have a whole lot of taste anyway.
Now it was time to put the dehydrator to use. It was a
Nesco FD-61 Snackmaster Encore Dehydrator and Jerky Maker
and ooh! I could make jerky if I wanted to, too! But first, the kale chips.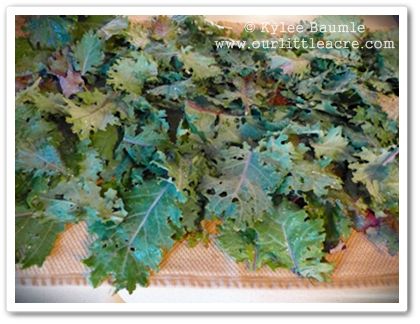 I cut the leaves, brought them in and washed them, and laid them out to dry on a cloth towel. I cut some of the larger leaves into smaller pieces, then coated them with a recipe I found online:
1 T. olive oil
1 T. apple cider vinegar
1 t. salt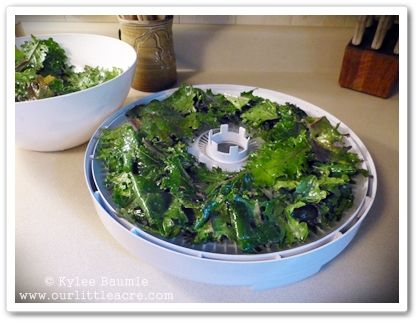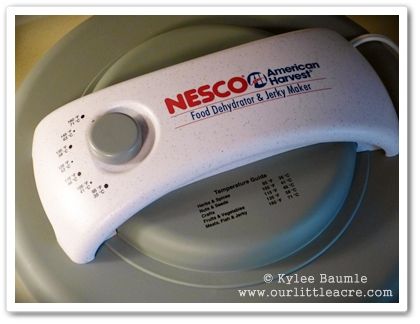 I spread the coated kale out evenly over three of the trays, about three leaves deep. They were loosely layered so that the air could get between them. I plugged in the unit and set the temperature at 135° F. for one hour. I then reduced the temperature to 115° F for two more hours and just like that, they were done.
Romie tasted them first, with some trepidation, but at first bite his eyes it up and he said, "Mmm, these are good!" I asked him to describe the flavor and he had a hard time doing that and said I'd just have to try them myself. I did, and immediately LOVED the texture. It's a very fine, crispy crunch that almost melts in your mouth. Eating these 'Red Russian' kale chips was almost like eating air.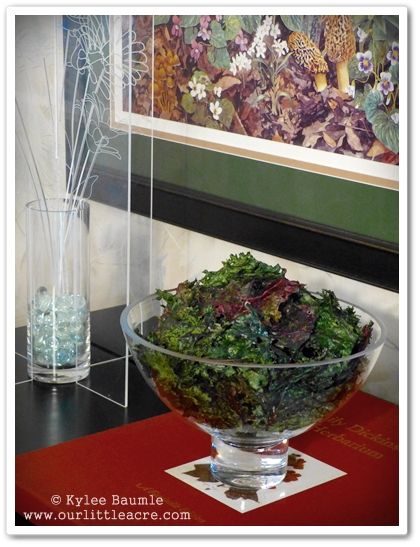 Kale chips!
As far as the taste was concerned, it
was
hard to describe. I liked it while I was eating it, but the aftertaste reminded me of tea. I don't like tea. So Romie gets to eat this batch of kale chips all by himself. I don't think that will take too long, since they're so light. I'd like to make some more, but make them with more seasonings to give them a little more flavor. I also think the dinosaur kale would make better chips because it has thicker leaves.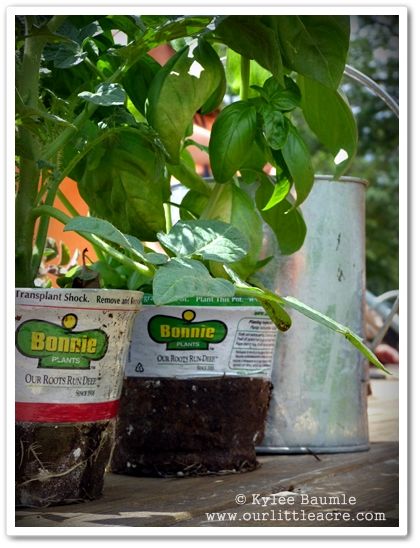 I have other plans for the dehydrator, too. We grow grapes, but this is a no-grape year, due to the hot weather and no rain. I'd wanted to do my own raisins, and I still might, but I'll have to buy the grapes to do those. It was so easy using the dehydrator, I'm going to find all kinds of things to do in it.
Thank you,
Bonnie Plants
! This was one great gift!
*My travel, most accommodations, and most meals were provided by Hortus, Ltd. and P. Allen Smith for my attendance at Garden2Blog. I received sponsor samples and other products at no charge as a result of my attendance. All opinions stated here by me are my own and were not solicited.