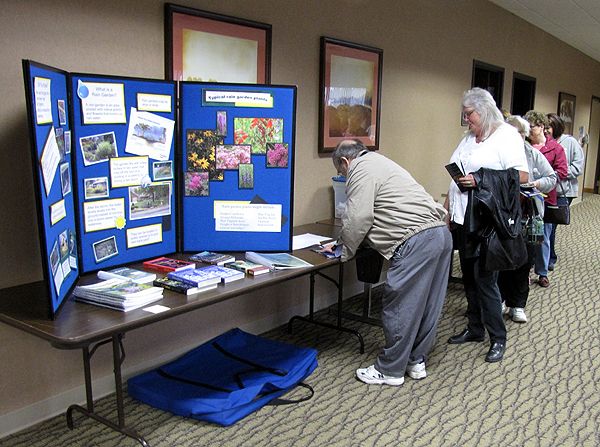 Last Saturday, as part of a writing assignment for
Indiana Gardener
, Mom and I attended a workshop in Ft. Wayne where we learned about rain gardens and how they can help control runoff.

This was just one of a series of workshops the city is administering in response to their 2008 violation of the Clean Water Act. They were given the option of paying a fine, or to put that money into a program of educating the public about the importance of controlling runoff and encouraging them to build rain gardens.
In a city, runoff is a problem due to the absence of ground for rain to soak into. Though storm sewers are incorporated into the infrastructure, it's many times not enough, as evidenced by areas of flooding in streets and parking lots as well as private residences. Pollutants in the air and on surfaces become incorporated into this runoff which then goes into the rivers.
We were given a manual which explains in detail what a rain garden is, why it's important, and how to make one. The morning was spent having this demonstrated to us by Annie Stoffel from Earth Source and Aaron Hutton from Malcolm Pirnie. During breaks, they answered questions from homeowners and helped them design their rain gardens.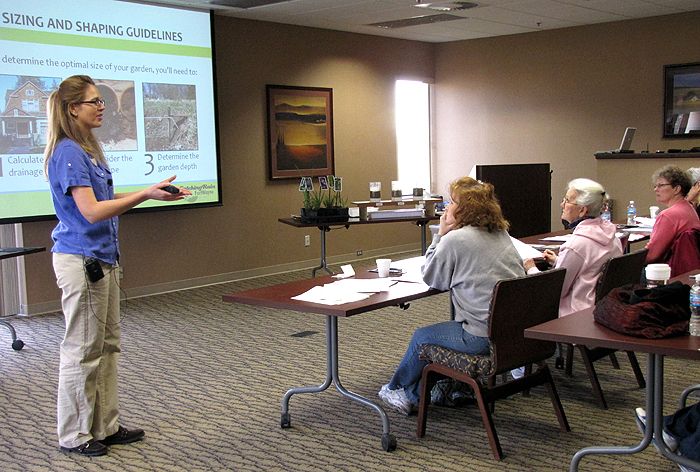 Annie Stoffel, from Earth Source, explains how to create a rain garden.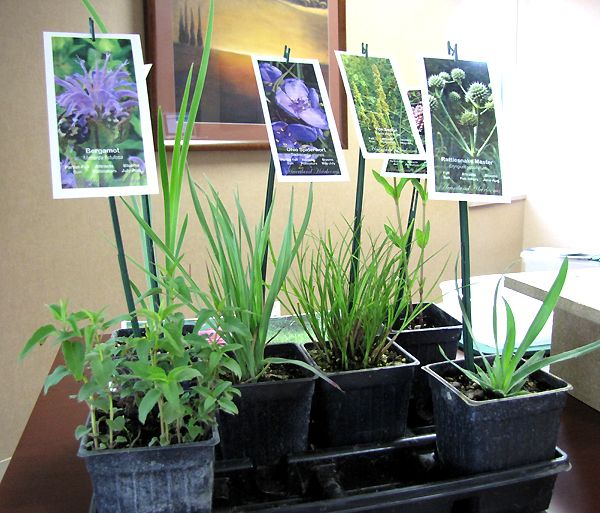 The city of Fort Wayne provides incentives for those who create a rain garden. Homeowners have a choice of getting their plants at a 50% savings, up to $250, as long as they choose from
a specified list
, or they can choose to be paid $1 per square foot of rain garden up to $150.
Attending the workshops is generally limited to residents of the city of Ft. Wayne, but because I was there in a media capacity, I was allowed to attend. I'm so glad. I found it to be well thought out and incredibly interesting. I'm sure I'll make use of some of what I learned in my own garden.
Actually I already have.
A couple of springs ago, I finally got tired of the water laying in the path between the trellis and the neighbor's hedge. When it would fill up after a rain, it would overflow into the trellis garden and plants ended up floating. So I dug out the low area a little more, laid down a layer of stone and inlaid stepping stones. What this did was create a deeper trough for the water to lay until the ground could absorb it, which prevented overflow into the garden. The stones allowed us to walk through the area, even when it held water, which eventually soaked into the ground.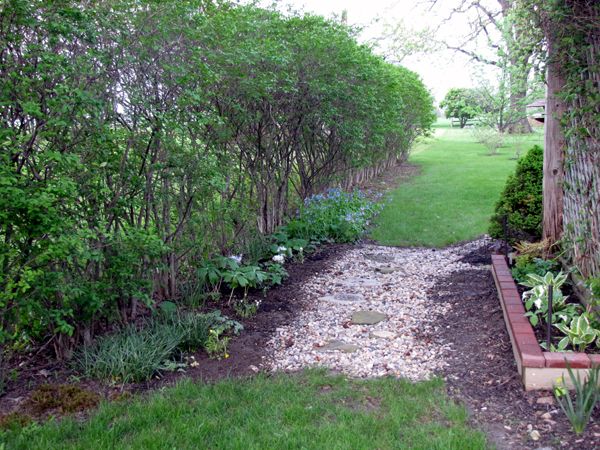 A rain garden serves much the same purpose, except that plants are used that thrive in wet conditions. These plants use up a lot of the water, plus their roots aerate the soil, allowing it to absorb rain water better.
For more information on Ft. Wayne's
Catching Rain
program, visit their website at
http://catchingrainfw.org/
.