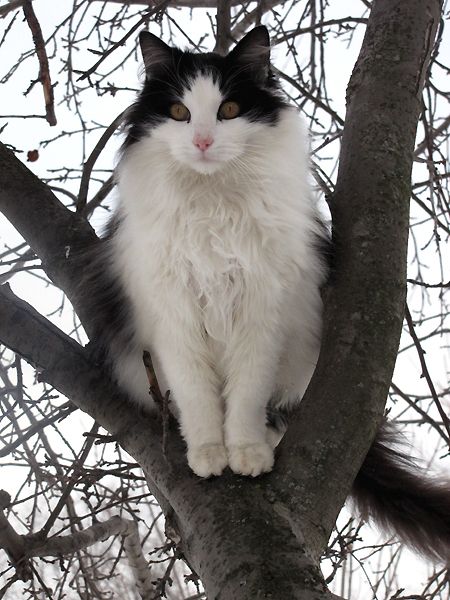 I'd intended to post about the Chicago Flower and Garden Show that Mom and I attended last weekend, but sometimes things happen that take precedence over other things.

As I was working on my flower show post, Romie stuck his head in the door and asked me if I'd seen Luna today.

"Yes, I saw him this morning when I left for work."

The neighbor had just walked over to tell us there was a black-and-white cat laying on the bridge. She'd heard him get hit this morning and wondered if it wasn't ours. Romie walked down to the bridge as I awaited the news with a sick feeling in my stomach. When I saw him walking back with the cat, I knew it was our Luna.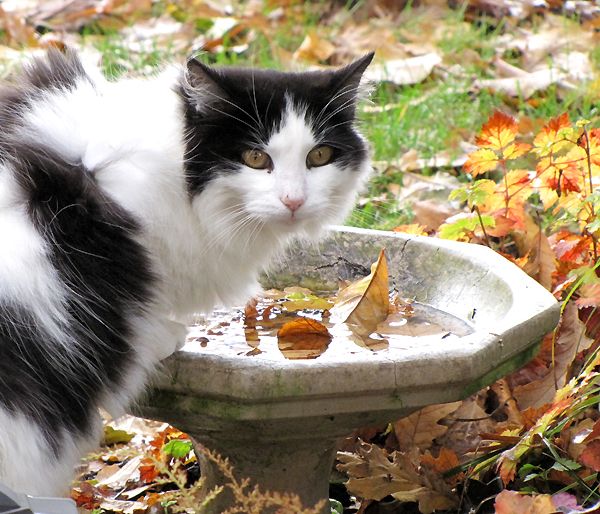 Many of you know we have quite a few cats here at Our Little Acre. We didn't mean to have this many, but they seem to find their way here. We try to find homes for them, but cats are really plentiful in our rural area, where many don't see the need to spay or neuter. (All of our cats are spayed or neutered.)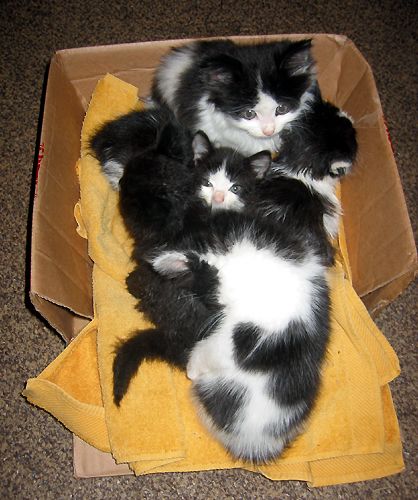 Luna at the top, and Baby peeking out below
Luna came to live here when he and his littermates were part of what we surmised was a whole barnload of cats that were dumped at the cemetery near our house. There were cats of least three different ages, with the five kittens being the youngest. We think they weren't much more than four or five weeks old when we found them in August of 2004 in a muddy field of weeds.
We brought the kittens home and gave them all baths and fed them some canned kitty food we just happened to have on hand. At that time, we only had one outside cat, Jinx, and one inside cat, Simon.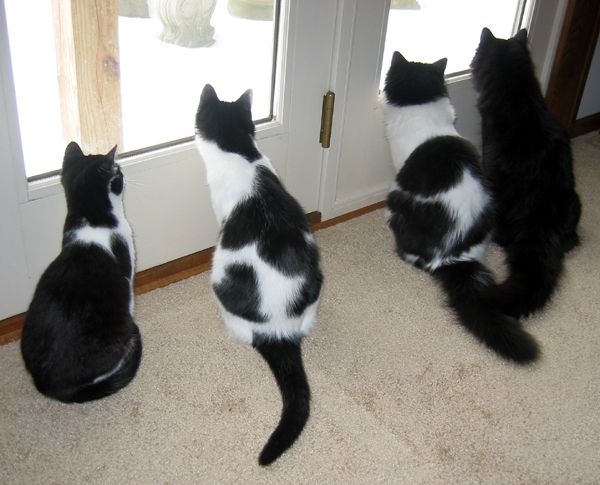 Luna, second from the right, birdwatching with three of his siblings
We named the new kittens Oreo, Boo, Augie, Baby and Luna. Each of them got their name for a reason. Oreo was a short-haired black-and-white, Boo was a long-haired black, and Baby was a short-haired black-and-white that was the runt of the litter. Augie was a short-haired black-and-white and since we'd already used Oreo, we shortened "August" since that was when we'd found them. That night, there was a full moon, thus Luna got his name.
Luna, as a kitten, in September 2004
We called Luna our hippie cat, because of his carefree personality. He didn't care if he had clean fur, likely because he knew it was just going to get dirty again anyway. We were always happy when he got caught in the rain because he licked himself dry and got clean in the process. But soon, he was off having good times once again and before you knew it, the white fur wasn't too white anymore.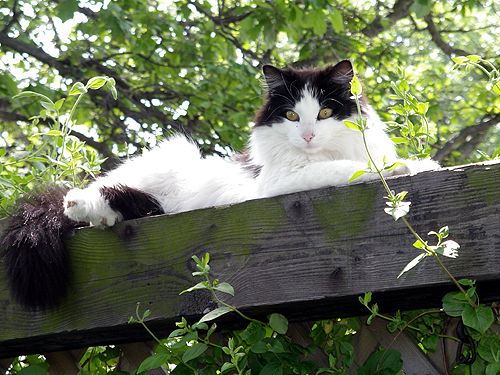 Luna liked to lay on top of the honeysuckle trellis
Luna enjoyed hunting across the road around our neighbors metal barn. The native grasses are allowed to grow tall there and being a good mouser, he knew where to find them. Though we live on a road that doesn't have much traffic, we had commented numerous times that one day he was likely to cross it at the wrong time, but we tried not to think about that.
Now that day has come, and Luna is wearing angel wings. (Thanks, elayne, for telling me that.) We'll miss him and we'll always remember his good-time, laid back personality and his squeaky meow. He has joined our other beloved pets in the garden and over the rainbow bridge.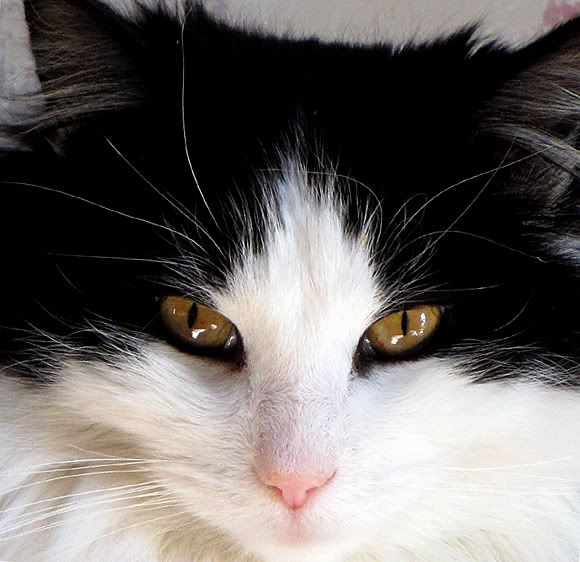 Luna
2004 - 2010