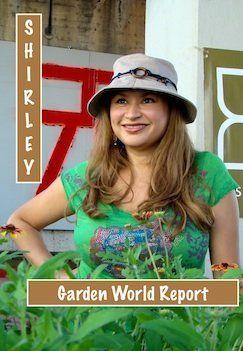 A few weeks ago, the Energizer
®
bunny of the gardening world - Shirley Bovshow - contacted me and asked if I'd contribute to a new episode of
Garden World Report
. If you know Shirley, her enthusiasm is contagious and before you know it, she has you believing you can garden in the middle of February. Even in Ohio.
But...you CAN! And that's just what Shirley wanted me to share with the gardening world.
So, I put on my coat and headed out into one of the snowstorms we were having and showed my garden under snow. No gardening going on there! But we northerners still manage to get our gardening fix in other ways and that's just what I share with you on Shirley's
Garden World Report
. The new show debuted yesterday, March 11th.
My segment begins at 6:40 in the video.
We may not be as fortunate as some people we know that can garden outside year round, but because of
Garden World Report
, we get to live vicariously through those who can. There are so many wonderful ideas presented, and we can plan for the warmer days of spring!
Thank you, Shirley!
Shirley Bovshow
is a professional landscape designer, garden television host, gardening coach, blogger, speaker and new media broadcaster based in Los Angeles.