As I'd mentioned before, we wanted to get new apple trees this spring. I ordered some from Miller Nurseries on the recommendation by Lisa at Get In the Garden. Lisa lives near the nursery and buys many things from them, so I took her at her word. The trees arrived on Friday.

We didn't have time to plant the trees the day they came, so on Friday evening, I put them in a bucket of water to soak the roots. We wanted to get them in the ground before the rain that was forecast for the next day.


The existing 'Red Delicious' tree will be taken down, due to its fungus rot and the fact that its apple production has been way down in recent years. It's been in the ground here for nearly 33 years, so it's pretty well lived its life expectancy. The other apple tree was lost to rot earlier last year, so it was definitely time for new trees.
We'd had plenty of rain, so we knew the ground was going to be a bit muddy, but it was workable.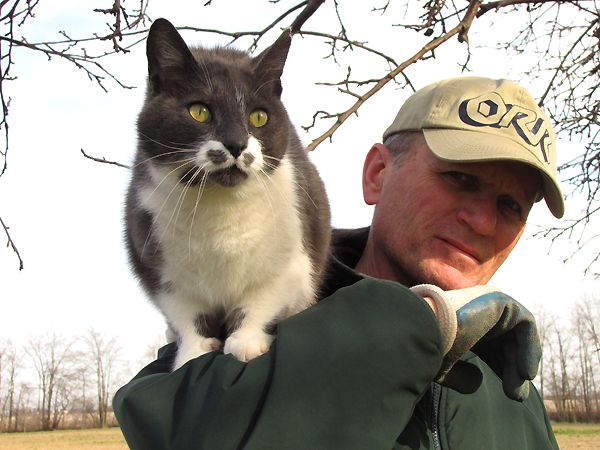 Romie had his trusty sidekick, Jack, there to help.
We followed the directions that were sent with the trees, digging the hole so that the graft was just above ground level and giving the roots four inches beyond their roots for wiggle room. We mounded the soil in the middle, put the tree in the hole, spread the roots out, then started to backfill.
"Black Gold"
We mixed some of our luscious dark compost into the soil at the rate of one-third compost to two-thirds soil. We tamped down the soil to rid it of air pockets and watered them in.
I really wanted to plant some 'Honey Crisp' apple trees, since I discovered how truly delicious they are last fall, so we planted two of those. They need a pollinator so we chose 'Gala' for one of them, since we also like those. We got an 'IdaRed' because I remember as a teenager that some orchard owners we knew were partial to those for eating.
Now that these are planted, all that's left is for us to take down the old apple tree. I hate to see it go, since it's been here as long as we have and it's really a nice looking tree. But we'll have four nice-looking trees in a few years with some delicious apples, too!