I've got a death grip on autumn this year. Maybe it's because last year we had the winter that Would. Not. End. I don't look forward to what happens after Christmas, but perhaps we'll be pleasantly surprised with a mild and short winter. In the meantime, we're enjoying extended warm weather and one of the most colorful autumns I can remember in recent years.

We've got flowers still blooming, including the dandelions, and I'll show you those in a bit (sans dandelions), but for now, let's enjoy the fall color of the trees, shrubs and plants from the garden.



I can't hardly wait until my Oakleaf Hydrangea (Hydrangea quercifolia 'Snow Queen') is larger, because in its infancy, it really stands out in the garden in fall.



I have lost the tag for this Sedum that grows in the sedum bed by our front door, but it catches fire in fall. It may be Sedum rupestre 'Blue Spruce.' I've had this awhile and that name sounds familiar.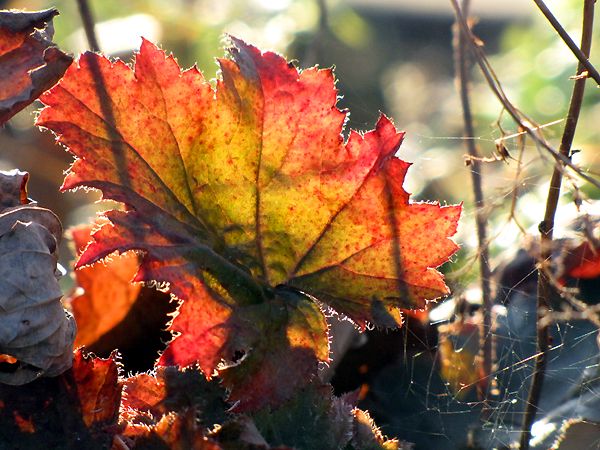 An unnamed Heuchera glows when backlit by the sun.




New to the garden this year, Ajuga reptans 'Golden Glow' turns pinkish in fall.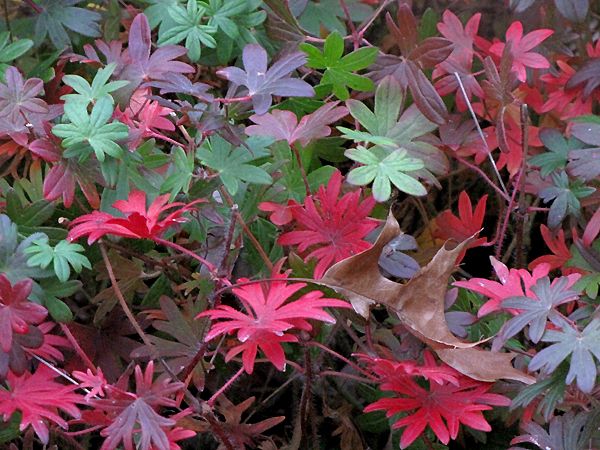 Geranium sanguinium var. striatum has beautiful foliage all during the growing season, but never more so than in autumn.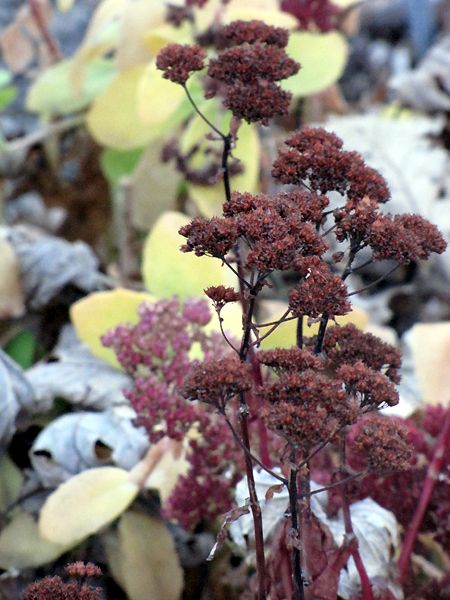 Hylotelephium 'Purple Emperor' with yellowing foliage of Hylotelephium 'Autumn Fire' in the background.



Tiarella cordifolia 'Brandywine' competes for attention with its cousin, Heuchera 'Southern Comfort.'



I'm not sure if this Miscanthus sinensis 'Gracillimus' belongs here in autumn foliage or November's Garden Bloggers' Bloom Day.



Another new perennial to the garden this summer is Heuchera villosa 'Christa.' This is a somewhat drastic color change from summer, where it is more golden.



Fallen Japanese Maple (Acer palmatum'Emperor I') leaves turn even the most mundane objects into works of art.



At our front door, the bird fountain enjoys the final days of unfrozen water underneath the Snow Fountain Weeping Japanese Cherry tree (Prunus 'Snow Fountain').



Two Cleveland Pear (Pyrus calleryana 'Cleveland Select') trees line our drive and are illuminated by late day sun against a crystal clear blue sky.



And the view is just as lovely as we watch the setting sun shine through the same tree...