"But I remember more dearly autumn afternoons in bottoms that lay intensely silent under old great trees."


~ C.S. Lewis
We're enjoying Indian Summer, Version 2.0, and the high temperature yesterday was officially 72° F. The record high for the date is 73° F, which was set in 1915, nearly 100 years ago! (Picturing my grandma, who was born in 1914, toddling around in the fall warmth...)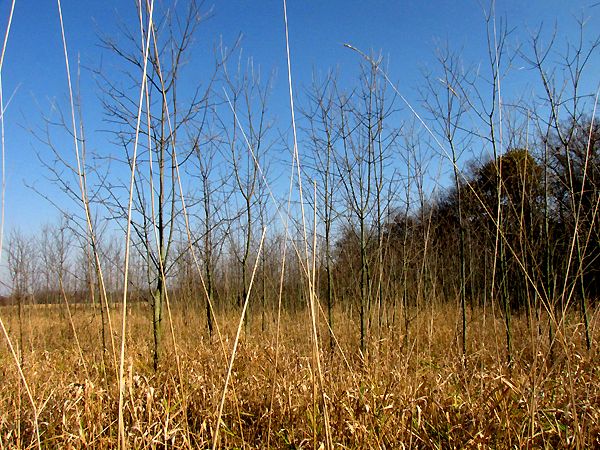 There are all kinds of things to be done in weather like this, and all of them are an attempt to make the most of it, because you never know when reality will come to stay. I can recall some pretty snowy Novembers.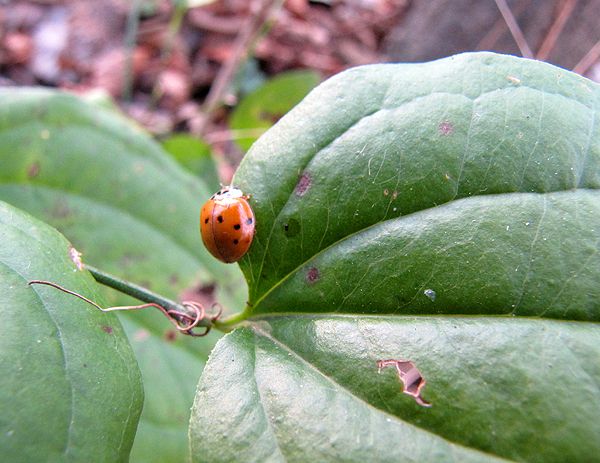 Earlier this summer, Romie and I made our first visit to the Flat Rock Nature Preserve, located just a few miles from us. We made a hasty retreat on that trip, after just a few minutes in the woods, due to the clouds of mosquitoes that insisted on accompanying our foray. Yesterday, we returned and while there were no mosquitoes, the Asian Lady Beetles were out en force, but we can live with that.


Join us as we walk through the woods: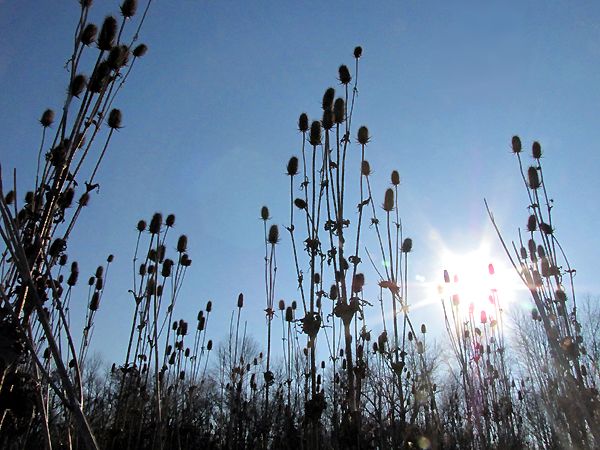 As we began our walk, there wasn't a cloud in the sky. The teasel stood tall in a great expanse as we approached the trail head from the parking area.
Good-looking goldenrod (
Solidago
sp.) fuzz going on here, between the teasel field and the woods.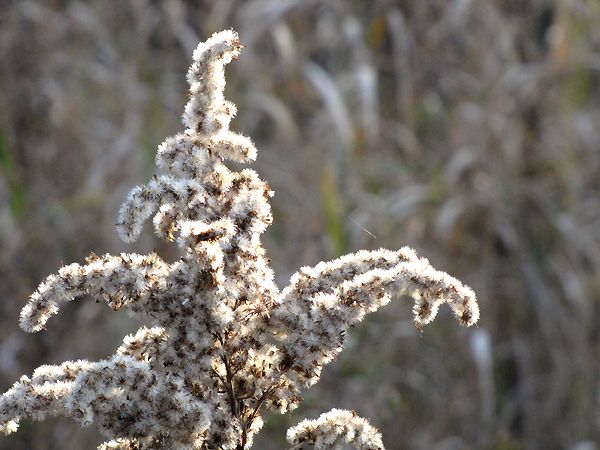 Here's a closer look.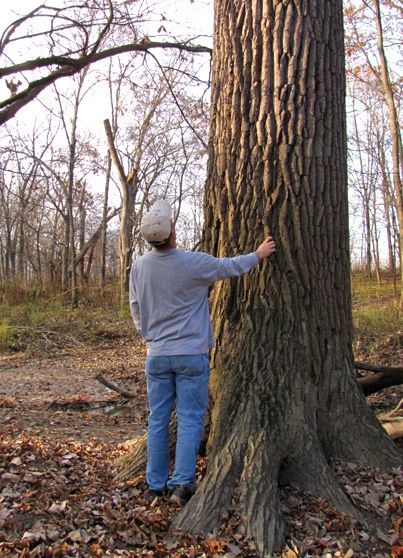 There are some larger trees than this one, but this is typical of the larger ones in this woods.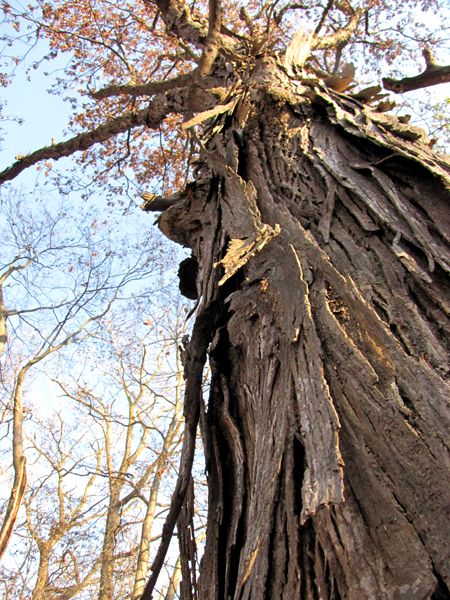 Oh, a Shagbark Hickory! (
Carya ovata
) That means there must be...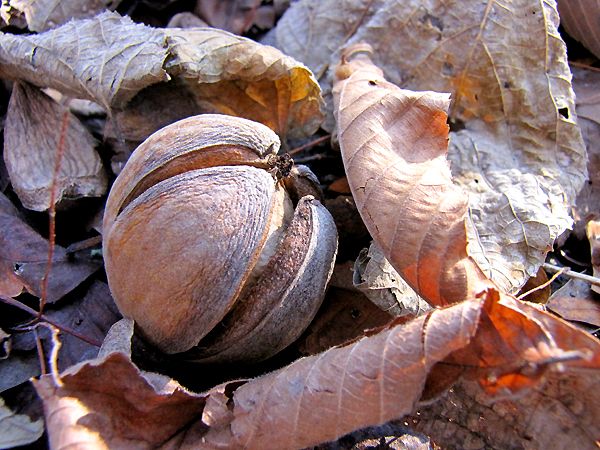 ...nuts!
Actually, we saw the nuts first, then we looked up.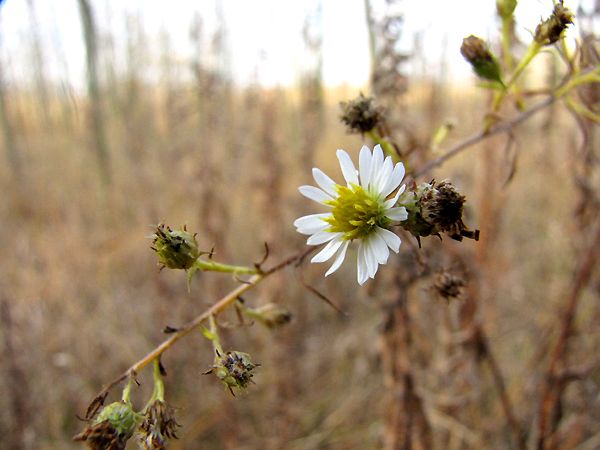 I'm thinking this is a Heath Aster (
Aster ericoides
) still in bloom.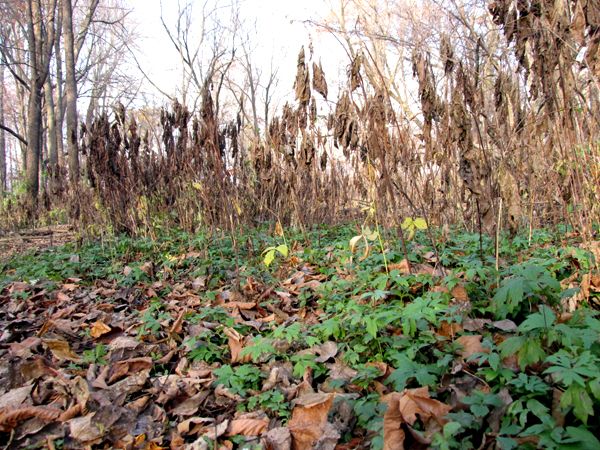 It's a matter of life and death on the woods' floor...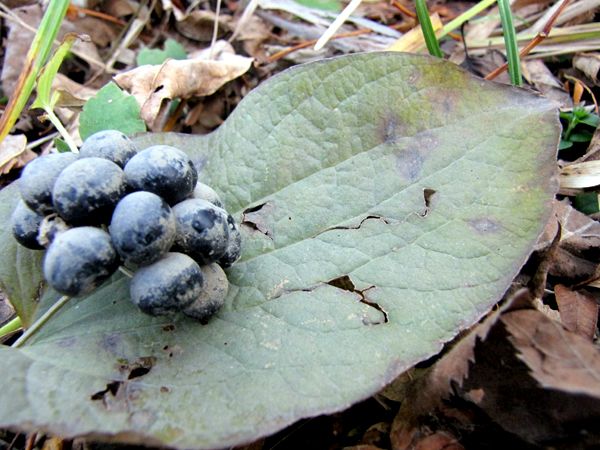 Mud-covered leaves and berries of I-don't-know-what. ID help appreciated!
*Tom Arbour had ID'ed this as Carrion Flower (
Smilax herbacea
).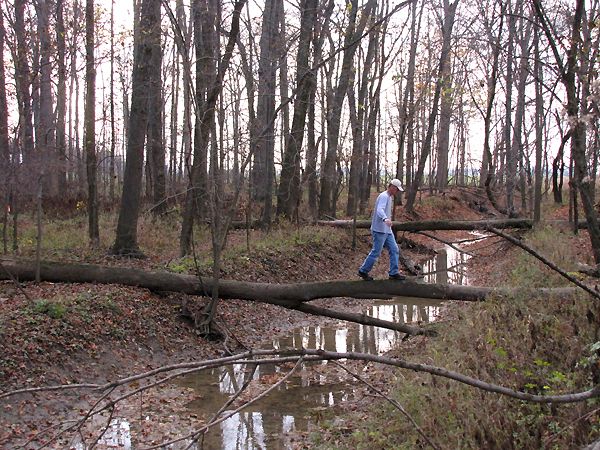 Trails are marked, but there's no way to get to the one at the back of the preserve except for crossing water. Romie has MUCH better balance than I do. I got wet feet crossing at a different spot. I knew better than to try walking across a log!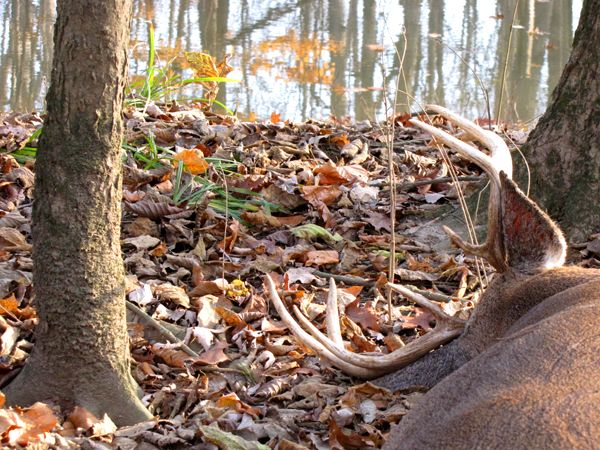 Sadly, we came upon this 8-point buck that had died recently. We couldn't really determine how it died, but we suspected it had been hit by a hunter and retreated to the woods to die.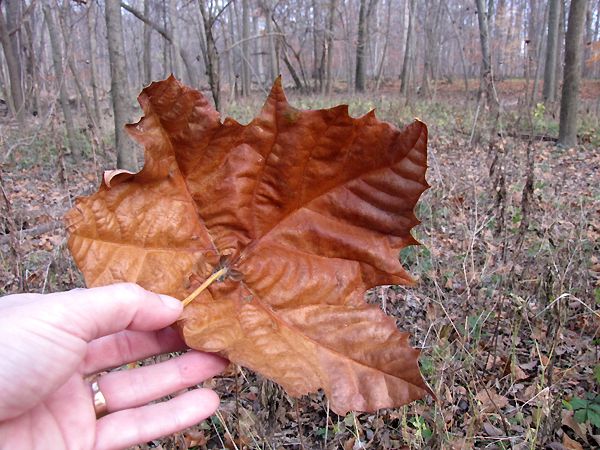 Sycamore (
Platanus occidentalis
) leaves are gigantic! They can be up to nine inches across. I love the tree's mottled bark.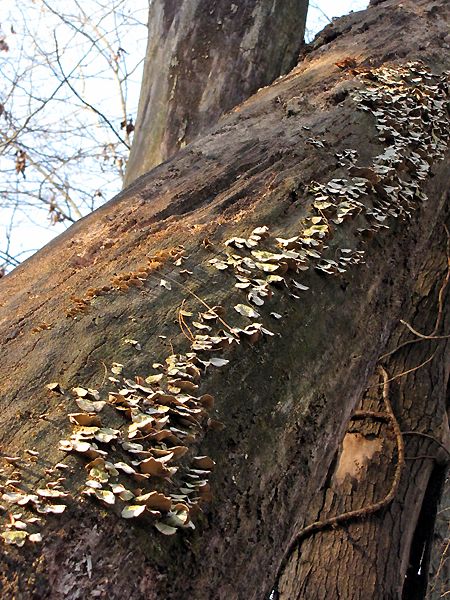 A dead tree had fallen over into the crotch of another tree and it had become decorated with lichens.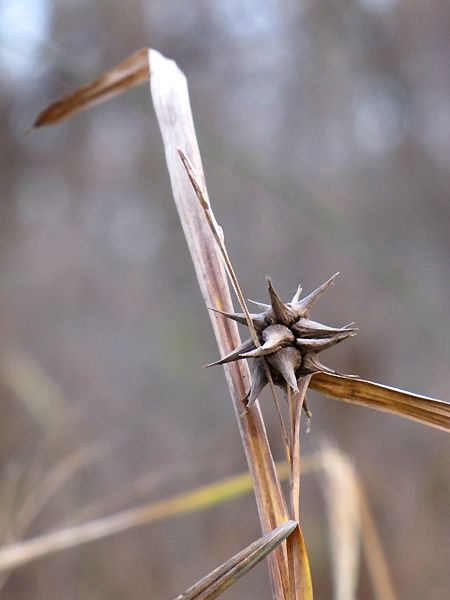 I love Gray's Sedge (
Carex grayi
) as much in fall as I do in summer, when they're green.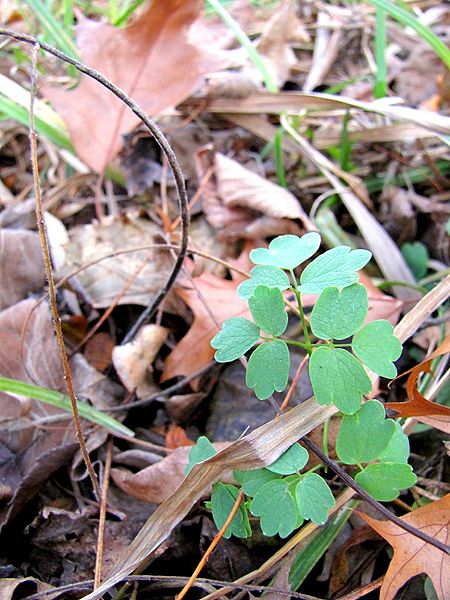 I was surprised to see some green Rue (
Thalictrum aquilegifolium
), since all mine has turned yellow and dropped its leaves. Perhaps this is a seedling from seed dropped earlier in the season.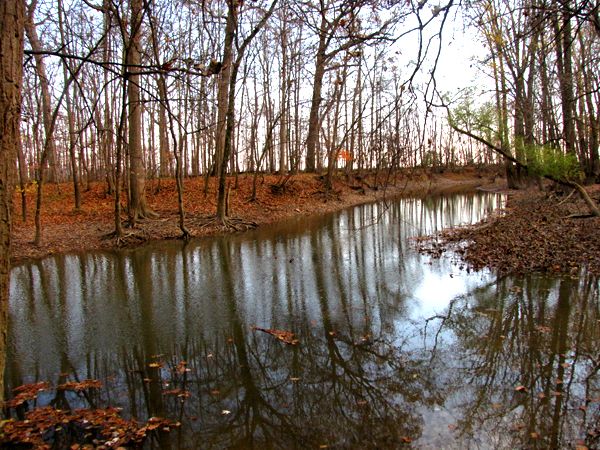 One of my very favorite photos of the day. This pretty much sums up the ambience of the walk through the woods - peaceful and beautiful.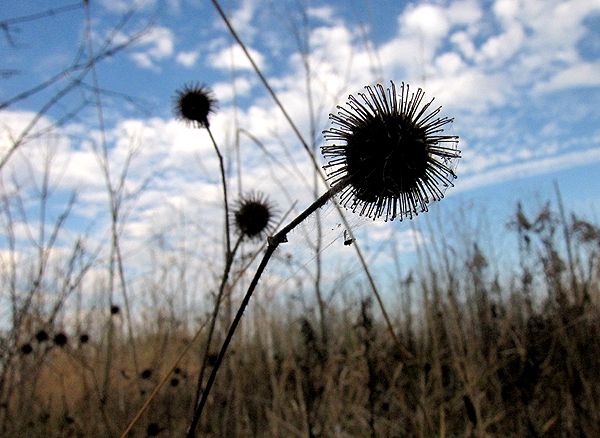 Some seed heads look great silhouetted against a blue sky. Clouds started moving in as we made our way back to the car.
While we thought we were alone in the woods, the drying vegetation provided auditory clues that we weren't. As we passed by several spots, rustling leaves told us the woods was full of creatures. Thankfully, we didn't see any snakes, even though as part of the former
Great Black Swamp
, they're pretty common in areas such as this. That would have ruined Romie's good time.
_________________
** Many thanks to Tom Arbour, of Ohio Nature Blog, for help in identifying some of these native Ohio plants.