Ever since I saw the compost bins at the Gene Stratton Porter gardens at Rome City, Indiana, shown to me by Earth Girl, I had compost bin envy. I knew this was something I wanted, something I needed for Our Little Acre.

It began quite simply. I picked a spot a little ways from the gardens and started throwing the results of deadheading, mowing, failed plant experiments, leaves, etc., on a pile.



By the time fall came, a large pile had accumulated. I worried that some of it might blow away over the winter, so I stretched some netting over it to hold it in place (garden staples worked great) and began planning a more permanent way to contain it.
In the spring of 2008, my ever-so-handy-and-helpful husband constructed a wood bin for the compost.


It has two doors that open outward so we can get to the compost easily when it's time to harvest it. I actually do that when it's not entirely broken down and work it into the ground in the fall. By spring, it has finished decomposing and the soil is all the better for it.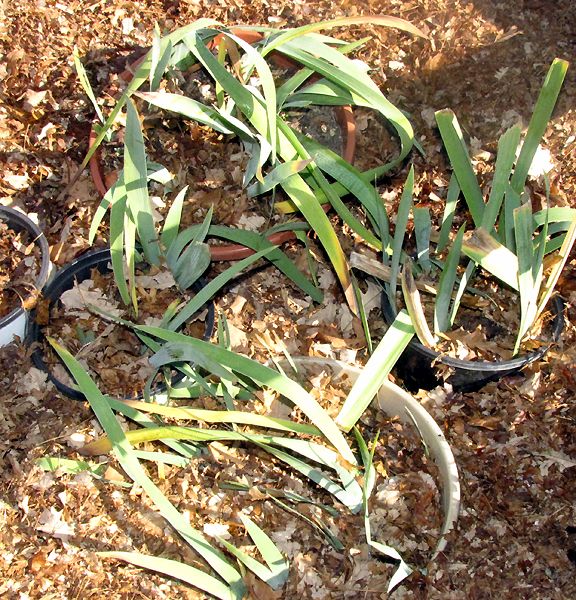 Currently, I've got some potted Irises sitting in the bin for overwintering. The compost will help keep the pots warm until spring, when I'll plant them in the gardens somewhere. I potted them up earlier this summer when I cleaned out the Irises and got rid of the Iris borers. These are in pots as replacements, if needed, for the replanted Irises. If all the others make it through the winter, I'll replant these in other locations yet to be determined.


Composting has been one of the best things we've ever done for the gardens here.
I wrote previously about our compost bin in December 2008. You can read about it here:
"The Circle of Life in a Compost Bin"
and be sure to see what we found in the compost when we transferred it to the bin!



Want to see some compost solutions from other gardeners? Visit
May Dreams Gardens
and follow the links listed in the comments section there.