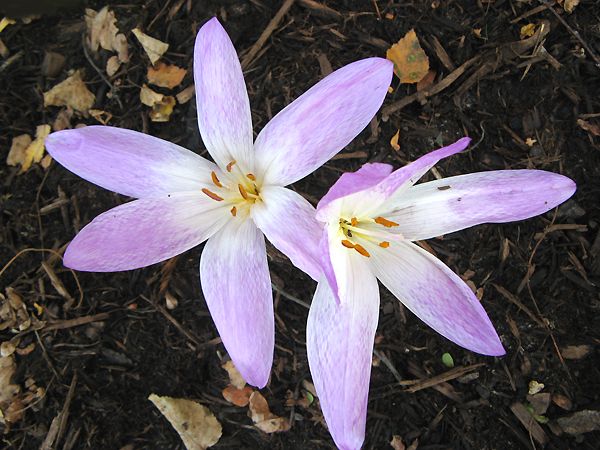 When Mom and I first visited Schedel Arboretum and Gardens in the fall of 2007, we came upon a beautiful ground flower that resembled giant crocuses. We'd not seen any like them in person before, but I'd recently seen photos of and read about Colchicums, and was pretty sure that's what they were.

Colchicums are sometimes known as "Fall Crocus," though they aren't crocuses at all. While I do have a true fall crocus growing and blooming here (Crocus kotschyanus), I'd not ever invested in Colchicums. I say "invested" because they aren't the cheapest bulb you can buy for the garden. But this fall, Park Seed had some for about four dollars each (including shipping), so I bought nine.

The ideal time for planting Colchicums is late in August, but I wasn't passing up this opportunity to own these beauties. (Plant them 5" deep in a dry location and give them good drainage.) The 'Water Lily' bulbs arrived at the end of September and I got them planted. Some had anemic buds beginning, but I didn't expect to see those finish out by blooming in my garden this fall.

A few weeks ago, I was walking through the garden and don't you know, those Colchicums were blooming!


They've been an attention-getter as more leaves fall and their glowing lavender petals shine through the drab brown carpet of leaves. Each bloom measures 4-5 inches across. I'd say my money was well-spent and next year the show should be even better.

Oh, and there's one more thing to like about

Colchicums

: Squirrels, rabbits and deer

don't

like them.