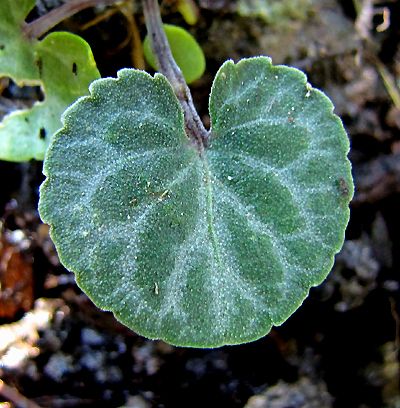 Remember the Korean Violet (Viola koreana 'Sylettas') I was so thrilled to find after its long absence from my garden? I transplanted the tiny thing to a safer location, surrounded it with small rocks so it wouldn't get lost among its larger neighbors and crossed my fingers that it would thrive and reproduce.

Amazingly enough, shortly after that I found yet another seedling growing between the bricks of the patio. How that got there is an even bigger miracle than finding the first one, since it was nowhere near the original location of the plants that had originally grown in the garden and disappeared several years ago. I transplanted that one next to the first one and hoped for the best.


Sadly, the second seedling did not make it. I had to remove a brick from the patio to get it out and likely it was too much trauma for the little guy. But all is well with the first one! Not only did it thrive, but it had bloomed at some point. I missed the actual bloom, but I sure noticed the open seed pod.

If all continues going in this direction, I may have a nice colony of Korean Violets again someday!